Hardware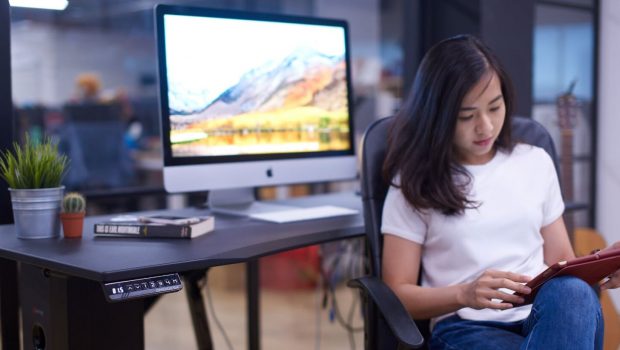 Published on November 17th, 2019 | by James Wright
Omnidesk Pro Review (Aftershock Omnidesk Pro)
Summary: The Omnidesk Pro from Aftershock is indeed a flawless product that we cannot fault. Whether you're a gaming, content creator, PC enthusiast, office worker or just someone who needs an electric desk, this product does it all and best of all, it is a smartdesk with proven health benefits!

Us mere mortals (aka the human species) were never designed to sit at desks for large amounts of time with research confirming that this is not ideal for us and get this… may lead to health-related issues such as high blood pressure and even heart disease. Don't believe us? Check out https://www.betterhealth.vic.gov.au/health/healthyliving/the-dangers-of-sitting
So without bringing in the Grim Reaper… <cue Bill & Ted's air guitar> …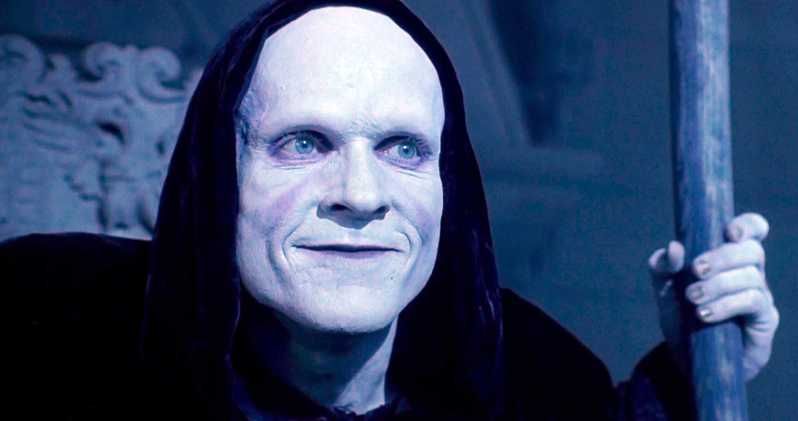 … into this review, it's also a problem for gamers because you either sit on the couch or sit at a desk. In other words we're doomed if we don't something about it. While exercise is great, including regular gaming breaks, sometimes we need some help.
This is where standing disks come into the equation that allows users to both sit and stand while at their desk and more importantly, keeps us moving more, supports better posture and even burns more calories. Needless to say, there's plenty of health benefits if you use a standing desk because as we all know, we should be outside running around while we hunt Mammoths… but of course, this is not possible in our modern and technological embedded world.
Although we have reviewed hydraulic standing desks in the past at Impulse Gamer, today we're checking out the totally impressive, versatile and all-in-in Omnidesk Pro electric standing desk. Unlike hydraulic desks which require physical interaction to lift the desk to your preferred height, this is all automated thanks to modern-day sorcery and mind you, totally damn cool (and quiet) in the process.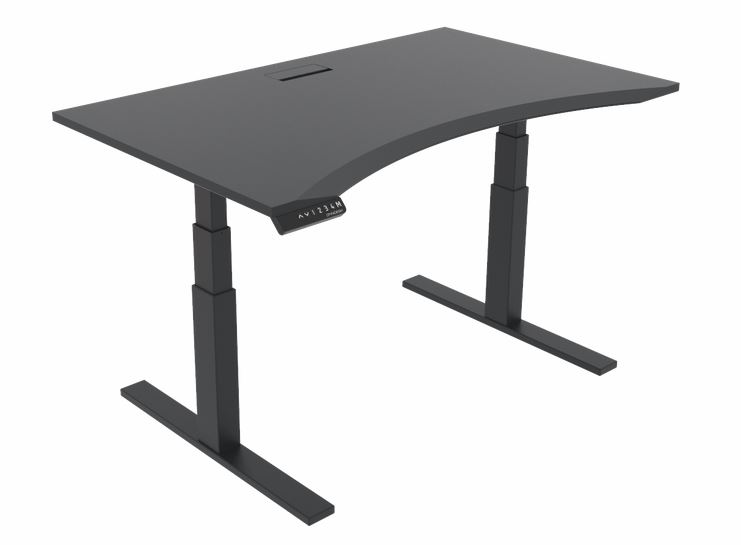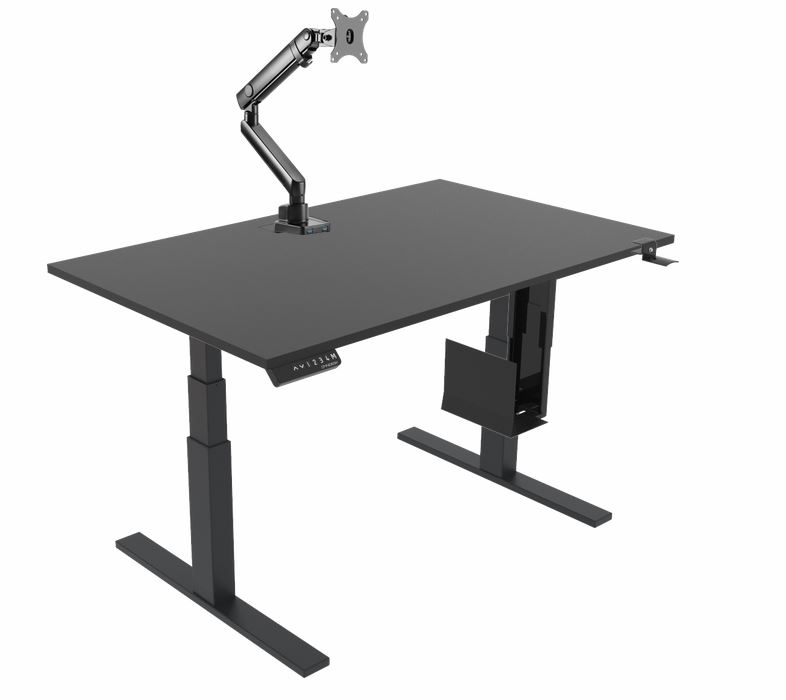 The Omnidesk Pro also features a modular design which means you can purchase additional accessories such as monitor arms and pop-up sockets to fine-tune your desk. Furthermore, the Omnidesk Pro allows for a range of different table tops (e.g. the desktop) and the desk is adjustable in heights from 60 to 125cm that makes it ideal for a whole range of people. Check out the customisation options available for the Omnidesk Pro below;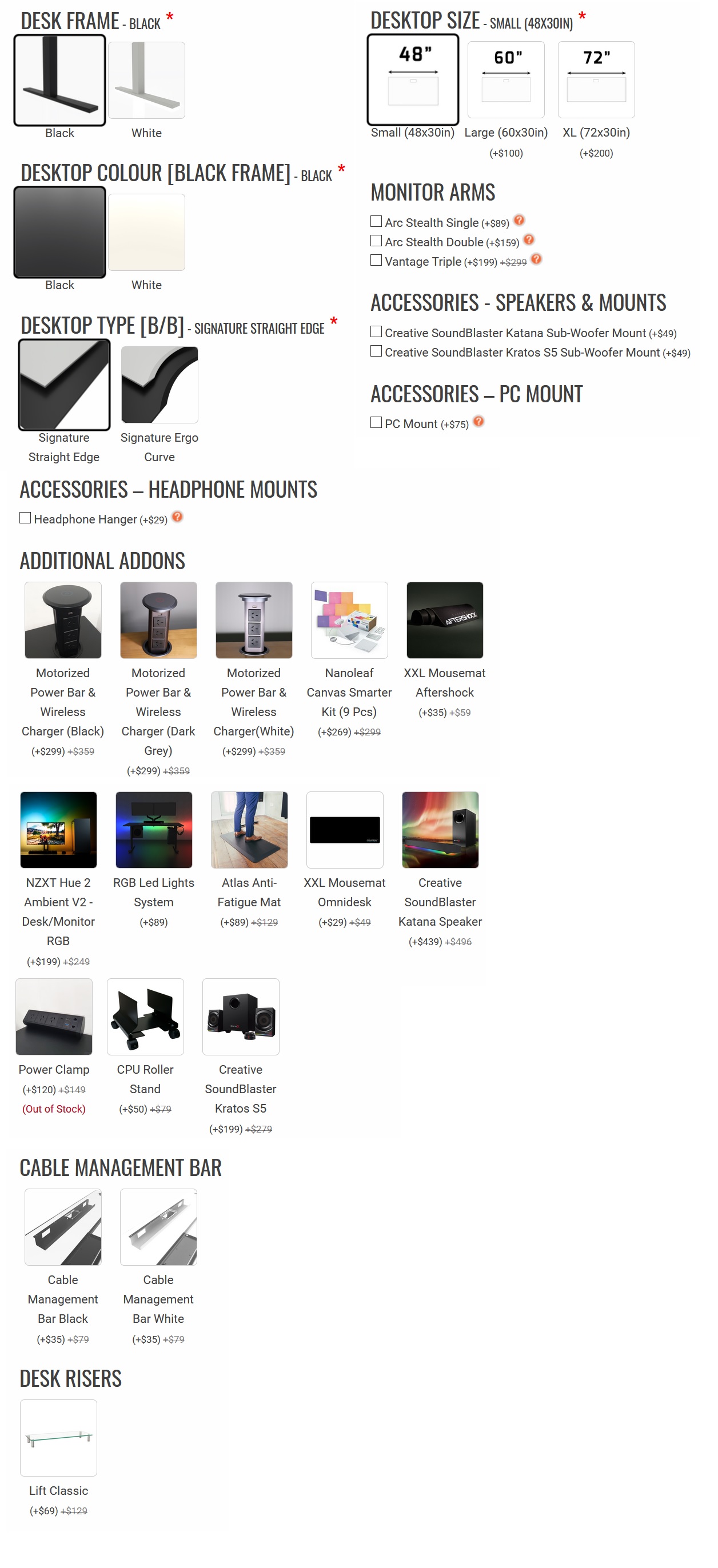 Oh… if you visit https://theomnidesk.com.au/products/omnidesk-pro#info, selecting the various customisation options and accessories is like decking out your character in a first person shooter with their payload in terms of items/weapons and the Omnidesk website will even adjust the total in real-time. This makes selecting your dream desk an easy process that will even be delivered to your home within 5 to 7 business days.
While most standing desks have a limit of how much weight you can place on them, the Omnidesk Pro boasts an insane payload of 130kg which means it will easily lift one or two people, depending on your weight and yes, we tried this. While you would probably never need this much weight, it does show the strength of this standing desk thanks to its dual motor and 3-year warranty.
It's also good for changing light bulbs… no way? Yes way!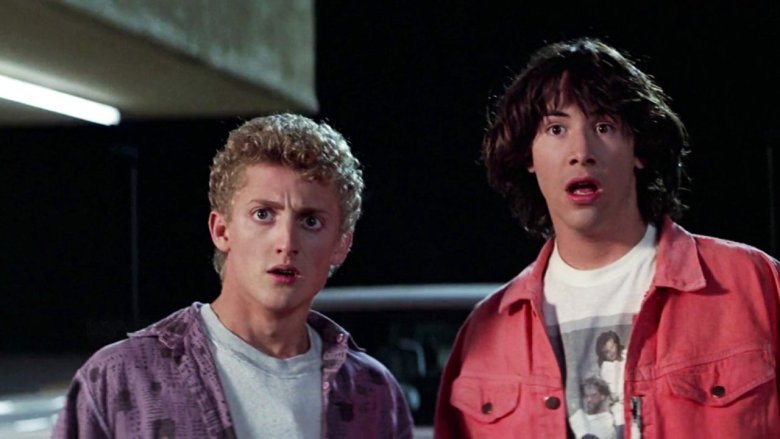 The items that Aftershock provided to Impulse Gamer for this comprehensive review included the Omnidesk Pro Electric Standing Desk ($600) with the signature ergo curve, the XL desktop – 72 x 30″ ($300), ARC Stealth Single monitor arm ($89), the motorised power bar & wireless charger ($299) plus the Atlas anti-fatigue mat($89). So while there is an initial investment with this desk, it is an investment that will keep on giving well after you have upgraded and purchased new computers after your current gaming rig. Furthermore, everything comes flat-packed, a 3 Year Warranty and get this, a Risk-Free 100 day trial so needless to say, you're in very good hands.
The Setup
If you are just getting the Omnidesk Pro itself, it comes in two boxes, one being the top of the desk (e.g. the desktop) and a very heavy second box that has the legs and the motors. You almost need Thor strength to carry that second box into your home or office and an extra set of hands will definitely help.
While there may look like quite a lot of items to put together when you unpack all the boxes, the designers give you everything you need and if you do get stuck, Aftershock Australia have an installation video available. The installation of the desk is definitely more user friendly than Ikea products as all the bits and pieces are relatively straight forward in piecing together. The only tricky part was attaching the legs to the table which does require two people, unless you want to do the balancing trick.
One issue that we had with the install process was the cable management system that goes underneath the desk. As this bar is one size fits all (e.g. it works on all desks), it was a little too small but with some fiddling, can you get juggle the cables in so they don't fall out. Furthermore, the cables have ties plus tape to hold them in place as well.
In essence, you're basically putting together life-size LEGO and in terms of "build time", it took about one hour to successfully put the main Omnidesk Pro together. Needless to say, once installed, we were quite chuffed at the end result and more importantly, all the cables of the desk were nicely hidden thanks to the aforementioned cable management system.
You can also put your PC or gaming consoles into a rectangular hole at the back of the desktop (with a cover) for your cables to go down. Aesthetically speaking, the Omnidesk Pro is an impressive looking product and you can tell from the final product that quite a bit of design work has gone into its creation in order to make it very usable for the end user.
Setup Gallery
In terms of pop-up motorised power bar wireless charger, our model desktop purposely did not have the pre-drilled spot for this product as you need to inform Aftershock if this is something you want when you choose your modular design. However a quick trip to Bunnings and the purchase of a hole saw cutting kit which attaches to your drill, we had our hole ready for the pop-up motorised power bar wireless charger. There are also instructions to help as well!
Controls
In terms of controlling the Omnidesk electrics, there is a small controller attached to the desk that has arrows (up/down) to raise and lower the desk, a memory set button and 4 preset height buttons. These four presets are also setup by the user which is great if other people are using this desk as well. Once you have found your perfect desk height(s), you then record it into the devices memory and by pushing the numbers, the desk automatically goes to the correct height. There is even a USB port on this controller and the person who created this should receive some kind of ingenious award because you'll be very surprised at how useful it is.
Furthermore, it's a very stable desk which does allow you to lean on the desk and at its full height, it is still quite stable. Some standing desks, especially if they are a little on the heavy side of peripherals can start to move slightly, however this was almost a moot point with the Omnidesk Pro. The dual motors of this desk is quite quiet and from going from the lowest height to the highest takes around 20 seconds. One issue we had with hydraulic desks in the past was crushing items trapped in its path from top to bottom and thankfully this is not the case with the Omnidesk Pro as it has a sensor that stops the desk from lowering should it hit something.
Then you have the excellent motorised power bar & wireless charger which which is one of the most useful things available for this desk. Once it is is connected to the mains, to raise the pop-up bar, you simply hold down the power button for 3-seconds and it automatically raises up. This gives you access to three main connections (e.g. power) plus a USB port. To make the pop-up bar lower, you just push the power button and it will lower back into the desk. Besides the cool factor of this accessory, this item really helps reduce cable clutter and having an easy to access USB port is another bonus.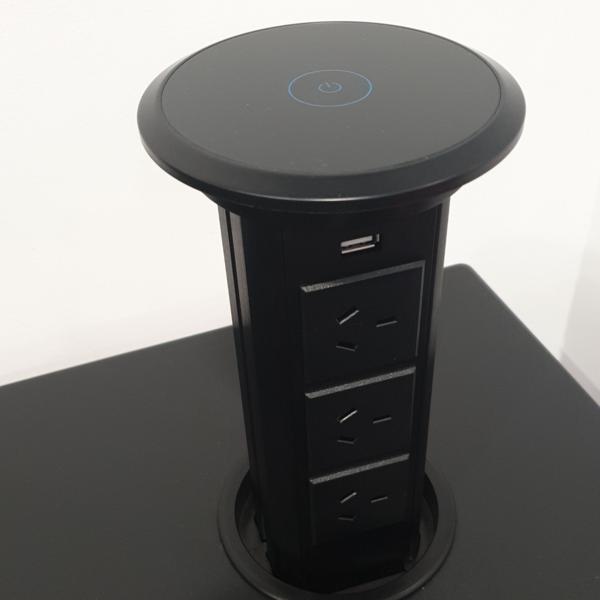 Gaming & the everyday
Gaming, gaming and gaming!
While PC gaming, I found the entire experience of the Omnidesk a pleasant one, especially for strategy games such as StarCraft II and Diablo III. We also tried console gaming with our PlayStation 4 with Fortnite II, Control and Red Dead Redemption 2. Playing console games with the desk did require us to break the "couch" mold, especially standing but surprisingly it worked well.
Another surprising accessory that we founded beneficial was the Atlas anti-fatigue mat which helps reduce fatigue while standing as it removes some of the pressure on your body. There's also been studies that standing mats may reduce headaches, lower back pain and foot pressure. While the mat is big, it is cushioned and you do notice the reduced pressure on your body and while I do suffer from some foot pain in my right foot, I did notice that this was subsiding. However I had to move my mat when I wanted to use my gaming chair.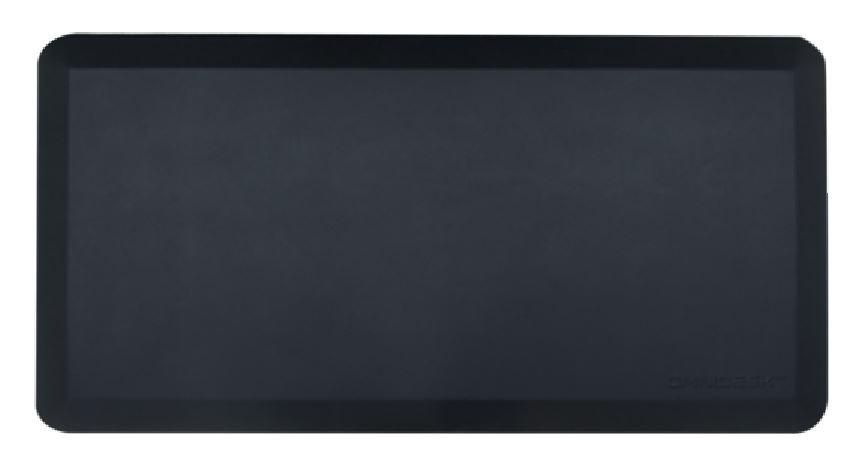 Besides gaming, using the desk for surfing the net, applications or even just drawing (e.g. pen and pad), it is quite a flawless experience.  Another great element of this product is that you can keep everything off the top part of the desk and even attach a PC under it if you purchase the additional accessory. As a result, it gives you more desk real estate and keeps things a hell of a lot neater.
Final Thoughts?
The Omnidesk Pro almost borders on a "smart desk" from its clever design, appearance, excellent customisation options plus how easy it is to use… and install. Sure, the setup of the desk may make people a little apprehensive but fortunately the developers and distributors have made this process a relatively stress free one and if you're looking for an affordably priced electric standing desk, especially from a gamer point of view, then the Omnidesk Pro meets this criteria perfectly and unlike hydraulic standing desks, the transition from sit to stand or stand to sit is super easy.
Brilliant!
Omnidesk pro written by Andrew Bistak & James Wright
Product Gallery
Specifications
72" x 30" (152cm x 76cm)
Adjustable height from 60-125cm
Payload: 130kg (weight desk can hold)
Desk weight: 28kg
Dual Motor
3 Year Warranty
4 memory presets
Official Blurb
Our flagship fully height adjustable desk allows any user to achieve their ideal position, be it sitting or standing. Brought to you by the team that created AFTERSHOCK PC, the OMNIDESK PRO is a fully modular and upgradeable electric desk platform that will open doors to infinite possibilities with your setup. With choices of accessories, size, shape and finishes, create a setup that is truly yours and transform the way you work or play. Customize your OMNIDESK PRO today to suit your exact needs.