Events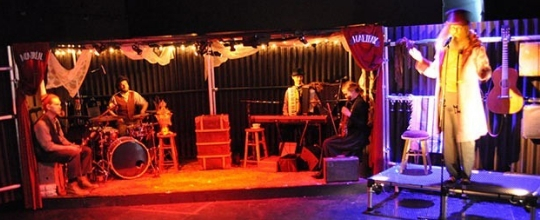 Published on November 23rd, 2018 | by Admin
Old Stock: A Refugee Love Story
A dark, funny and high-energy klezmer-folk tale inspired by the real-life story of two Romanian Jews seeking refuge in Canada in 1908, Old Stock: A Refugee Love Story can be seen at Arts Centre Melbourne's Fairfax Studio from 29 January – 2 February 2019.
It's early 20th century Halifax and Chaim and Chaya, hounded from home, are waiting for immigration to decide their future, under threat of tuberculosis and typhus. Will they survive in this new land?
With neo-klezmer songs written by director Christian Barry and acclaimed genre-bending performer and musician Ben Caplan, this quirky one-act musical is written by award-winning playwright Hannah Moscovitch, who based it on the story of her own Jewish great-grandparents.
This bewitching music-theatre hybrid and cautionary tale for modern times – performed with instruments ranging from fiddle to clarinet, accordion, banjo and megaphone – was nominated for six Drama Desk Awards for its recent off-Broadway season, won multiple Edinburgh Fringe awards and was a New York Times Critic's Pick.
Canadian folk musician Ben Caplan is a songwriter, performer and entertainer in the most time-honoured sense of the word. While he occasionally performs solo, or with Symphony Nova Scotia, Ben Caplan has cultivated a band of side players for many years and has performed all over the world from Australia to Europe, including Glastonbury, and across North America with his band The Casual Smokers.
2b is a Canadian-based internationally-acclaimed theatre company creating works for the regional, national, and international stages. Artistic co-directors Christian Barry and Anthony Black share a commitment to create, develop, and produce new work that is distinguished by innovation in staging, polish in design, and virtuosity in performance.
Herald Angel Award & Scotsman Fringe First Award Winner.
"A thing of raw and unmissable beauty. A marvel of 21st century storytelling." ★★★★★ Herald Scotland
"Astonishingly captivating." ★★★★★ Musical Theatre Review
"Breath-taking brilliance." ★★★★★ Broadway Baby
"Stylish, playful, and clever… Irresistible." ★★★★ The Scotsman
"Bewitching" ★★★★ Time Out NY Critic's Pick
"A noisy treasure… Rarely loses its sense of madcap urgency." New York Times
Arts Centre Melbourne presents 2b theatre company's
Old Stock: A Refugee Love Story
29 January – 2 February, 2019
Arts Centre Melbourne, Fairfax Studio
Tickets now on sale at www.artscentremelbourne.com.au
Created by Hannah Moscovitch, Ben Caplan, & Christian Barry
Starring Ben Caplan
Playwright: Hannah Moscovitch
Director: Christian Barry
Songs by Ben Caplan & Christian Barry*
*Except for Traveler's Curse by Geoff Berner & The Happy People by Danny Rubenstein
CAST
Ben Caplan: The Wanderer
Dani Oore: Chaim, Woodwinds
Mary Fay Coady: Chaya, Violin
Graham Scott: Keyboard, Accordion
Jamie Kronick: Drumset
Sydney Festival season details:
Belvoir Street Theatre from 12 – 20 January, 2019
Tickets www.sydneyfestival.org.au