Books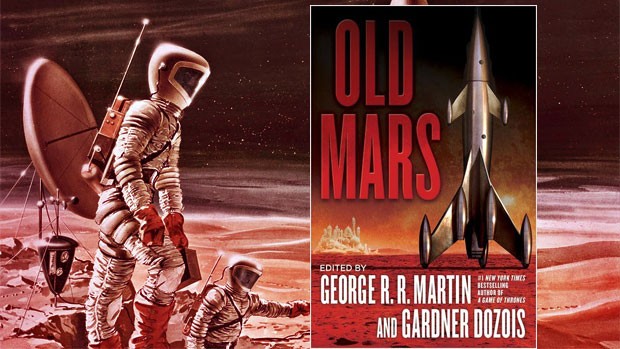 Published on December 2nd, 2015 | by Admin
Old Mars Review
Summary: Old Mars is a great collection of retro sci-fi stories which some unexpected twists to be found along the way!
George R. R. Martin (Game of Thrones) and Gardner R. Dozois collect 15 all-new stories by some of the world's hottest sci-fi authors that revolve around the mysteries of space and the red planet itself. Best of all, these stories are self-contained which really allows you to immerse yourself into the novel and get a great taste of the authors such as Allen M. Stelle, Howard Waldrop and Chris Robinson who give the reader some exciting sci-fi stories with intrigue, action and plenty of unexpected twists. The stories also channel classic authors such as Edgar Rice Burroughs and George Orwell which help create these stories from a simpler era.
Furthermore, Old Mars features an introduction by George R. R. Martin called Red Planet Blues where he explains to the reader a little about his past, his writing, a history of Mars and love for science-fiction which really set the mood and collection of stories in this novel. In terms of authors and stories, Red Mars is a mixture of 50's inspired sci-fi or the Golden Age of this genre with some great plots that definitely makes this collection quite an eclectic one with some very diverse stories.
The stories included in this novel are as follows;
RED PLANET BLUES (Introduction) by George R.R. Martin MARTIAN BLOOD, by Allen M. Steele THE UGLY DUCKLING, by Matthew Hughes THE WRECK OF THE MARS ADVENTURE, by David D. Levine SWORDS OF ZAR-TU-KAN, by S.M. Stirling SHOALS, by Mary Rosenblum IN THE TOMBS OF THE MARTIAN KINGS, by Mike Resnick OUT OF SCARLIGHT, by Liz Williams THE DEAD SEA-BOTTOM SCROLLS, by Howard Waldrop A MAN WITHOUT HONOR, by James S.A. Corey WRITTEN IN DUST, by Melinda Snodgrass THE LOST CANAL, by Michael Moorcock THE SUNSTONE, by Phyllis Eisenstein KING OF THE CHEAP ROMANCE, by Joe R. Lansdale MARINER, by Chris Roberson THE QUEEN OF NIGHT'S ARIA, by Ian McDonald.
Without going into too much detail of each and every story, I'll touch upon my top five which include Martian Blood, The Ugly Duckling, The Last Canal, The Sunstone and The Dead Sea. Martian Blood has parallels to the John Carter Mars series that revolves around protagonist Jim Ramsey which is almost a scientific story that brings together the world of man and that of Mars and whether there is a connection between both species.
The Ugly Duckling is my favourite story in Old Mars as we are introduced to archaeologist Fred Mather as he goes undercover as a Miner in order to explore the ancient ruins of Mars, however when he discovers an artefact of Martian origin, his life soon takes on a new meaning of an existential proportion. The Last Canal has some shades of Mad Max and Conan as Mac Stone, a former slave holds the fate of this planet literally in his hands that involves action, drama and even time-travel.
The Sunstone is another archaeological story with a man returning to Mars to find his missing father, however as he follows the clues and joins forces with Martian called Rekari, an epic adventure ensues with him discovering his father's legacy, the Sunstone, a powerful object that unleashes an unexpected journey. Finally and for me anyway was The Dead Sea which for me felt like a Martian adventure of Australia's very own Burke and Wills as we follow two famous explorers as they travel between Tharsis and Solis Lacus.
Final Thoughts?
In the end, Old Mars is an entertaining anthology of the Golden Age of Science Fiction as it successfully incorporates a variety of themes and genres into 15 enjoyable tales with a healthy dose of intrigue and mystery. Sure, some of the stories are a little slow and at times clichéd but for the most part, it's a very enjoyable of over 540 pages of Mars goodness.
Recommended!