Comics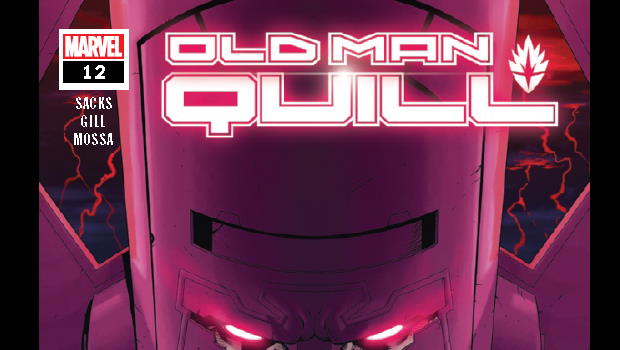 Published on December 18th, 2019 | by Chris O'Connor
Old Man Quill #12 Comic Review
Summary: Quill has lost so much that he has nothing left to loose and that might just be the motivation he needs to stare down Galactus!
When Galactus threatens Earth, Peter Quill might not be the most reliable person to stand in the way of oblivion… but maybe when he is needed the most, he can do what needs to be done.
Writing
What a way to send out a series… I mean all things have to end, but how they do so is what makes the difference. From Doom destroying the Ultimate Nullifier for fear it would be used against him… to Quill having visions of his past team mates and ultimately to standing before Galactus with nothing left to loose but a desire for revenge… it's a hell of an ending! I think the way Quill is written here makes me love him even more than I did… he's a broken man, he's lost just about everything he has to loose yet he won't give up the fight. The desire to avenge his lost loved ones is strong enough to see him stand before the colossal Galactus and not even flinch.
Artwork
That cover! What a way to grab the comic shoppers eye. It's a pretty compelling image and it's not misdirection at all, you do indeed get to see Quill and Galactus face off against each other and every panel of which shows a perfect sense of scale… the comparatively tiny Quill before the gargantuan Galactus. But there's a lot more here. The friends Quill has made and lost along the way. Doom and his domain.
Final Thoughts?
There's something about a revenge story that can be so satisfying when the end comes… but if you don't "stick the landing" all that build up can be for nothing. I'm happy to say this final part of the Wastelands saga is very satisfying. If you love Peter Quill or just a good revenge/western story then this should be right up your alley.
Comic Details
Publisher: Marvel
Writer: Ethan Sacks
Artist: Robert Gill
Cover Artist: John Tyler Christopher
Genre: Superhero
Format: 24Pgs, FC, Conclusion
Release Date: 4th December, 2019