Comics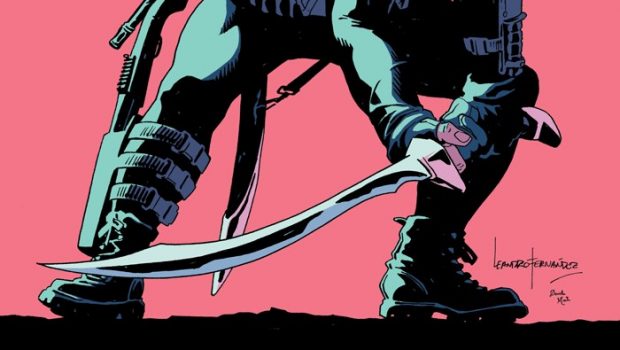 Published on March 31st, 2017 | by Dana Folkard
THE OLD GUARD #2 REVIEW
Summary: This is a gripping story with wonderful art to match.
The tension is high as The Old Guard has been betrayed and they swiftly try to deal with the situation before their secret is exposed. Desperate, on edge and stressed, they will do anything to protect one another from an enemy who wishes to capture them.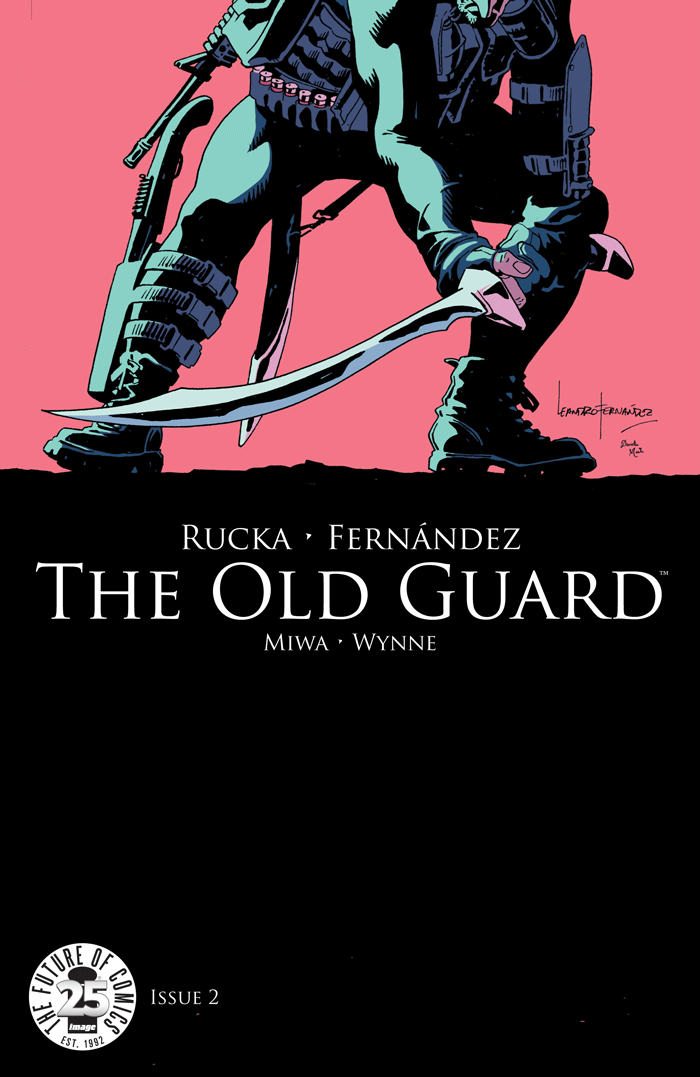 We begin this issue learning more about Andy, Nicky, Joe and Booker. Their individual origins are explored, as we see snippets of their past lives ranging from riding with Amir bin al-As against the Byzantine Empire to fighting during the First Crusade. We also learn about the significance of dreaming and how this forms a special connection that links them all together, like some kind of immortal bond. It is through dreaming that they connect and find one another, seeing visions of other immortals that are alone and lost in the world. We then jump to the present where The Old Guard are now on the hunt for Copley…the betraying, slimy bastard! However, their plans are abruptly interrupted, as they all have a shared dream that reveals a new immortal to them. After piecing together the cryptic puzzle of their dream, it is agreed that they must find her before their enemies do.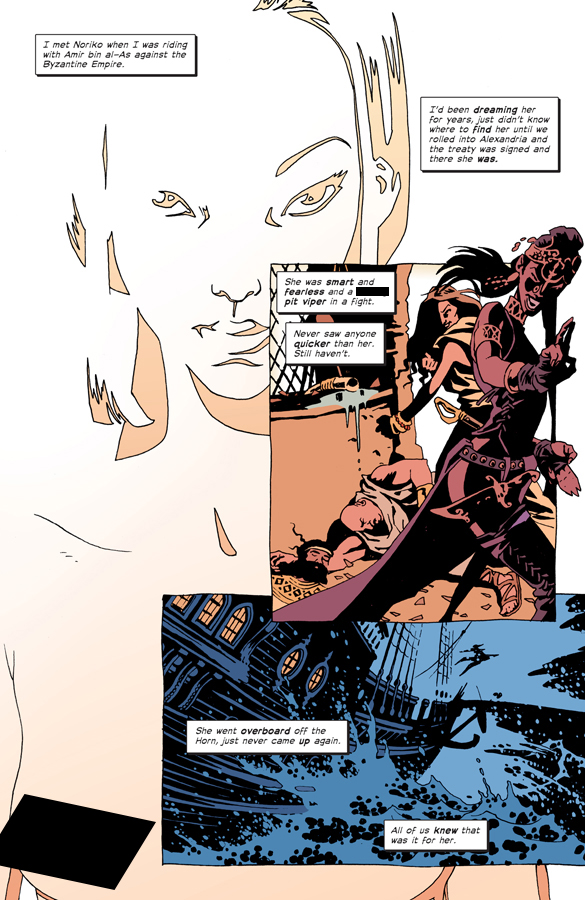 Second issue in and I've already grown attached to Andy and her hardass ways. I rather like how her internal monologue drives the narrative forward, as she tells us about their origins, special connections and how they met one another. Andy is cynical and jaded and can come across incredibly callous, especially to those who do not know very well and all that she has been through. We also discover that even though they call themselves immortal, that they are in fact not. They can die, however, it is completely random and they do not know why it happens. I like this sense of the unknown and that their "gift" is a mystery even to them. There is no rhyme or reason as to why they possess this immortality and this also extends to the cryptic dreams that connects them all to one another. I'm starting to form multiple questions and come up with theories about whether this is some kind of divine intervention or a magical curse. I guess that's something we will just have to wait to discover. We also see more of Nile, the youngest immortal to join their ragtag group. For her, this is all a bit overwhelming and stressful, especially with Andy being so brutal and treating her so harshly. I found that it actually made me cringe a little over how she treated Nile. However, Nile is no pushover and I enjoyed her feisty and witty banter and I look forward to seeing their relationship grow and discovering what kind of dynamic they will have in the future.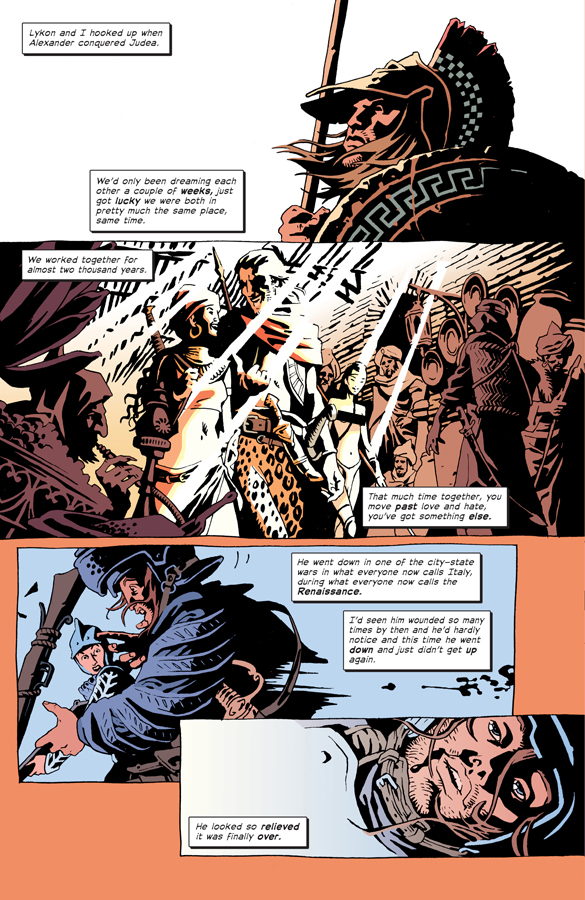 The art by Leandro Fernández is incredibly striking and gritty. I enjoy the diverse layering of images that makes each page visually dynamic and engaging. There is a lot going on but it's delivered in a tight and cohesive way, that doesn't confuse or overcrowd the page. The use of dark silhouettes gives everything a wonderful graphic quality, which I find to be compelling and exciting to look at. Colourist, Daniela Miwa, heightens this by using striking colours that are both vibrant and beautiful. The palette is somewhat unusual, as things are coloured in an interesting and uncanny way, with cool and warm tones layered over one another . I found this to be effective in creating eye-catching visuals that possess an epic and somewhat mystical quality.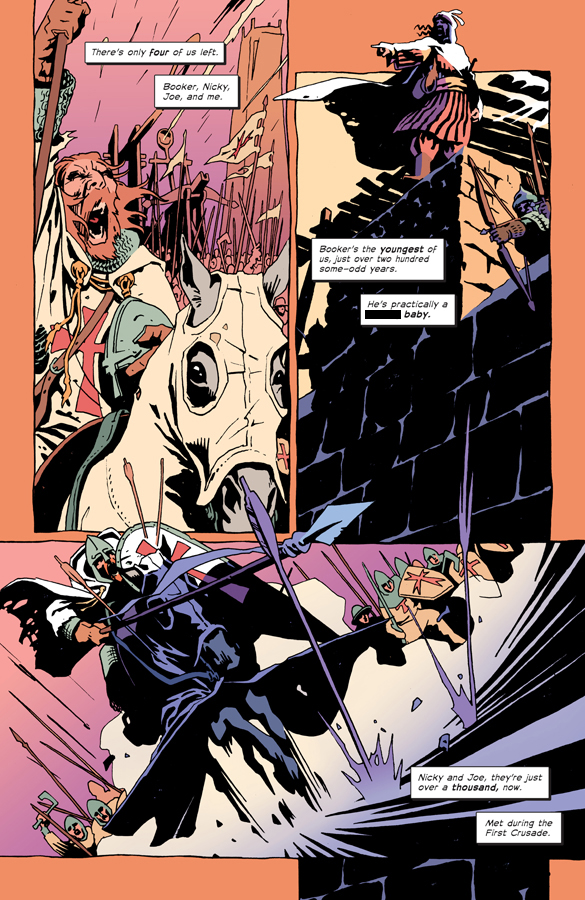 The Old Guard #2 has me hooked. Greg Rucka has created a compelling and gripping story, filled with interesting characters that all possess a unique past. The art is striking, dynamic and perfectly suited to this kind of story. There is depth here and I look forward to discovering more about Andy, her crew and the mystery behind their immortality.
I'm giving this issue 4.5 out of 5 stars!
Comic Details
Title: The Old Guard #2
Publisher: Image Comics
Creative Team: Greg Rucka, Leandro Fernández, Daniela Miwa, Jodi Wynne
Reviewer: Dana Folkard