Comics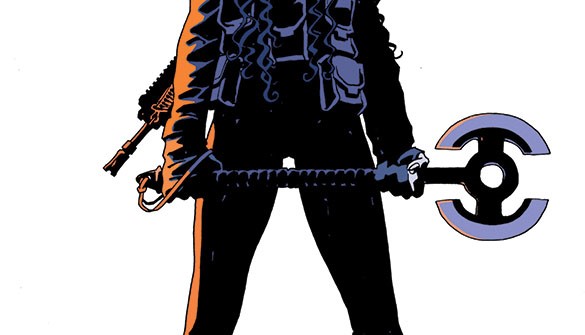 Published on February 23rd, 2017 | by Dana Folkard
THE OLD GUARD #1 REVIEW
Summary: An interesting concept and engaging story.
4
Gritty and action-packed!
Immortal warriors for hire trying to make a living in the modern age is the premise behind Greg Rucka and Leandro Fernández's new comic, The Old Guard. Friendship, love, loss and regret are the core themes in this thought-provoking story about old soldiers who never die.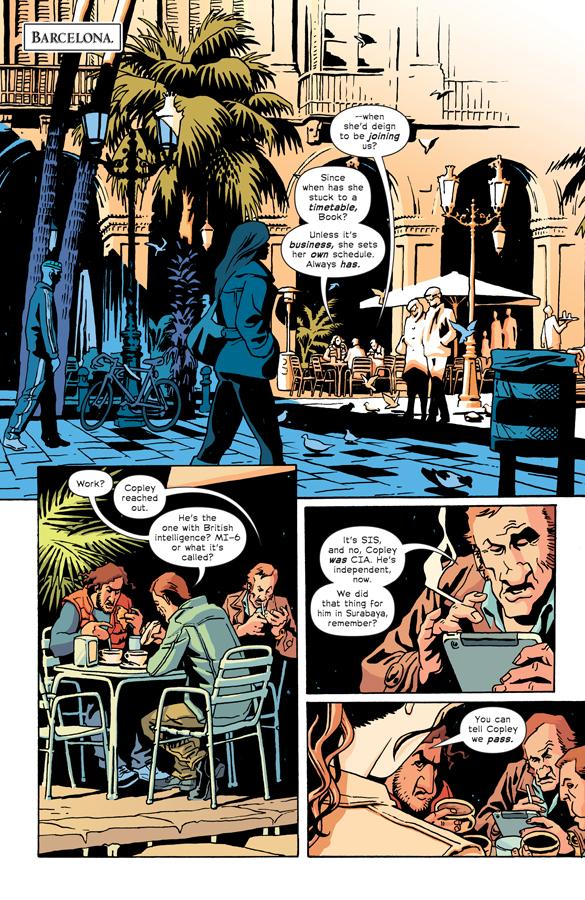 The story follows Andy, Nicky, Joe and Booker, four immortals who are living in a modern world. They go through life offering their services for hire, like some kind of ragtag group of hardcore mercenaries. Incredibly skilled and highly sought after, this group is the best in the business, always coming out unscathed with the job done. The main protagonist is Andy, a badass bade with a sharp tongue. She is tired of life and weary of going through the everyday motions and the slow decay of time. She is the leader of this group of immortals and after agreeing to take on a case from a previous client, finds herself and company in Northern Sudan searching for a group of young girls who have been abducted. Events intensify, as an unexpected plot is revealed, leaving them exposed and vulnerable.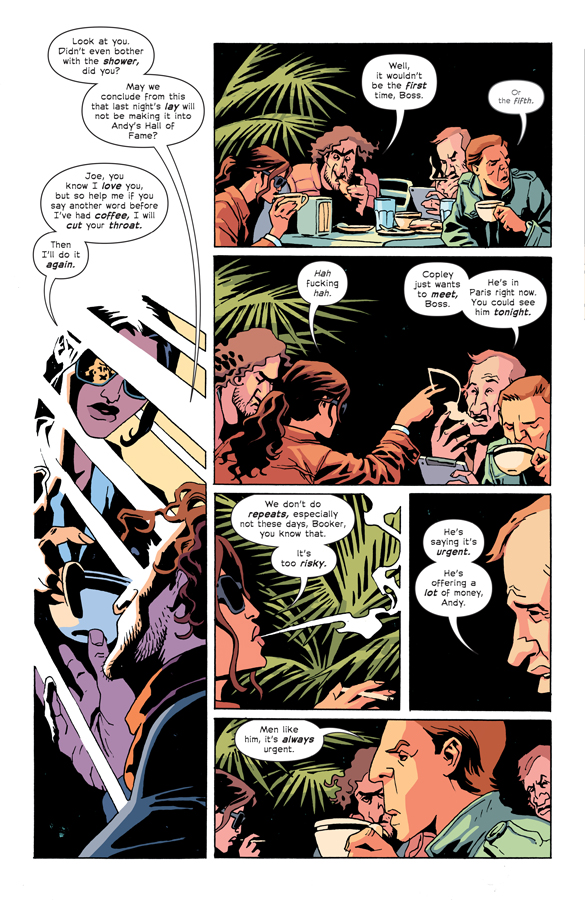 Greg Rucka has created an interesting character in Andy. She is strong, intense and sharp-witted. However, there is also a side to her that appears to be incredibly weary and numb. The long years of her life have made her a hardened woman, shaping her into a cynical and distrusting person. This to me is very relatable, as I could only imagine that living a long life filled with so much loss and regret would have this effect. She is also wary of trusting people, as immortality is something best keep a secret, as you never know who might try and harness that kind of power. I also enjoyed the mocking banter between Andy and her companions and felt that the energy between them all works really well. It felt like they all have a genuine dynamic that only close friends possess. I rather like the concept of immortals warriors, offering their services up for hire. I mean, you couldn't really find a more qualified applicant, when risking your life on a daily basis is in the job description. This kind of lifestyle however, would have to have some kind of negative impact on the individual, damaging them in some way, so I'm curious to see more of this side to these characters. A tender and more vulnerable side that is battle weary and emotionally exhausted from such constant chaos and inner turmoil.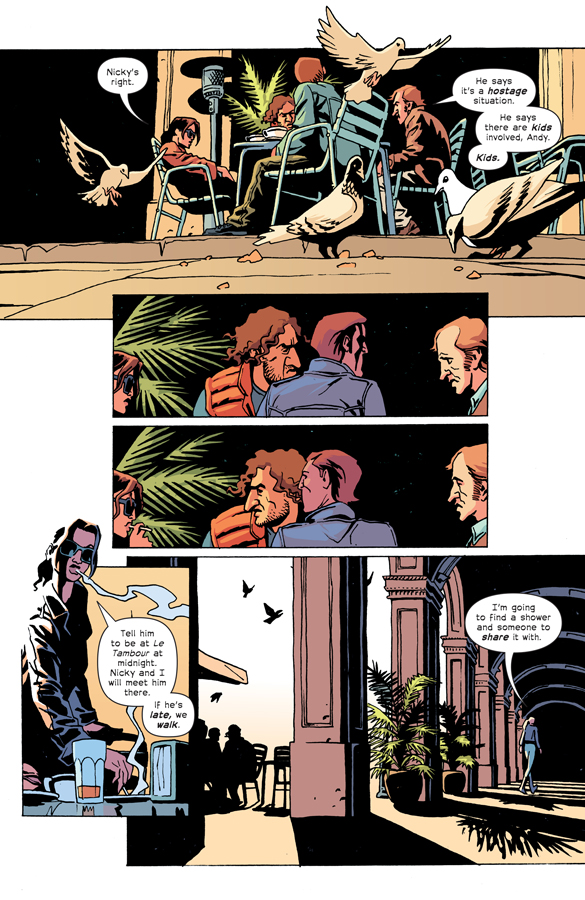 Leandro Fernández's art is gritty and graphic. The use of silhouettes and dark shading creates a striking visual narrative that is both intense and dramatic. All of the characters have a very unique look, making them individual and distinct. I also enjoyed the intensity and chaos of the action scenes. The fight sequences are brutal and at times extreme, with a lot of fluidity and movement. Andy's weapon of choice is the most wicked looking battle-axe. Seeing her wield this weapon, swinging it around her head is epic! Colourist, Daniela Miwa, employs a very unusual and striking colour palette. There is a vibrancy there that helps to create a realistic sense of light and reflection. This helps to create an ambience in each scene that reflects the tone of the story, which I found to be very clever.
The Old Guard #1 has me intrigued. It's engaging, gritty and thought-provoking. I think this is a creative concept that has the possibility of growing into a really interesting and well-rounded story. I'm curious to learn more about Andy and her companions and see where this immortal life will take them next. Trouble is brewing and I'm keen to know how it's going to unfold.
I'm giving this issue 4 out of 5 stars!
Comic Details
Title: The Old Guard #1
Publisher: Image Comics
Creative Team: Greg Rucka, Leandro Fernández, Daniela Miwa, Jodi Wynne
Reviewer: Dana Folkard