Hardware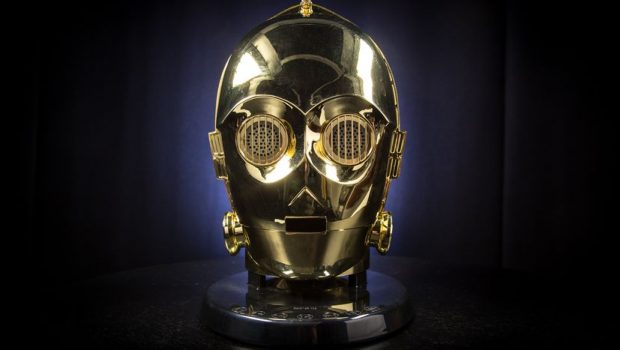 Published on April 26th, 2017 | by James Wright
Official Star Wars C-3PO Head Bluetooth Speaker Review
Summary: To quote an old protocol droid, the Official Star Wars C-3PO Head Bluetooth Speaker is WONDERFUL!
I do believe they think I'm some sort of god … and when your family and friends see this amazing officially licensed Star Wars product by ACWorldwide, they just might think that as well! So as you can see from the title, this highly detailed life-sized head of the galaxy's most popular protocol droid who is fluent in 6,000,000 forms of communication C-3PO, is not only an accurate collectible from the films but also doubles as a Bluetooth speaker , including the ability to receive calls and talk thanks to the clever hidden microphone. So not only is this a 'useful' item but its aesthetics will appeal to all fans of Star Wars.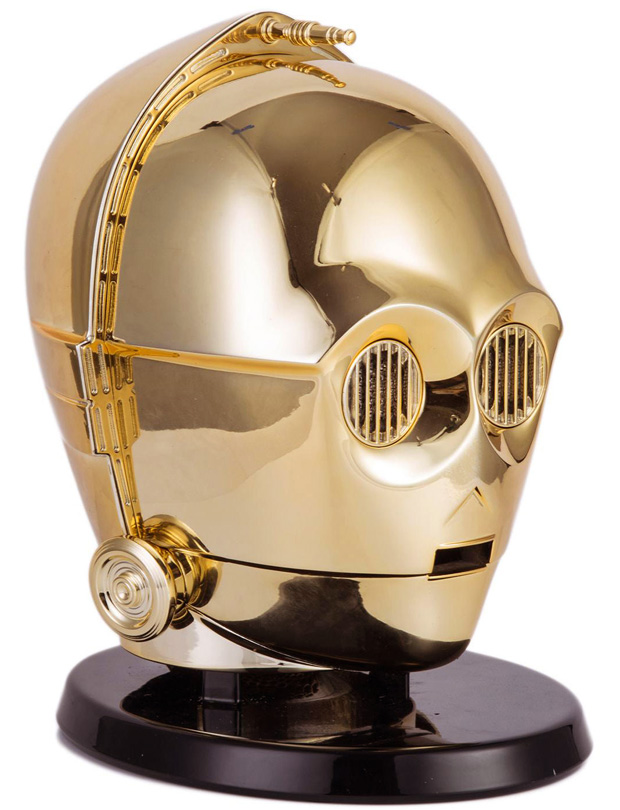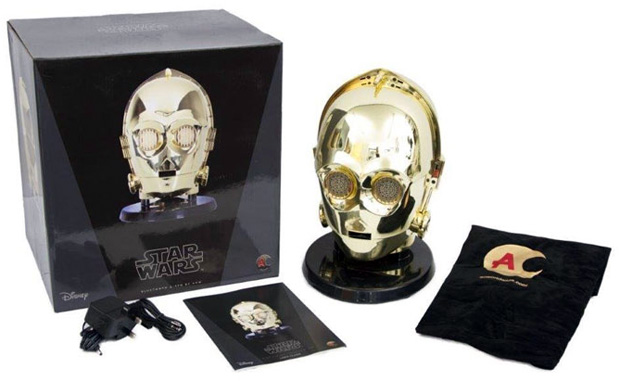 However the highlight of this Bluetooth Speaker is the attention to detail of this movie replica which looks like identical to C-3PO and is like this head was found in Cloud City (Star Wars Episode IV: The Empire Strikes Back) after our curious droid was blasted apart, only to be found and repaired by Chewbacca. So yeah, this replica is exact in almost every way and it should also be noted that ACWorldwide make a Storm Trooper and Darth Vader Bluetooth speaker as well which even allows you to pair two of these speakers. To quote the aforementioned villain of the Sith, impressive, most impressive!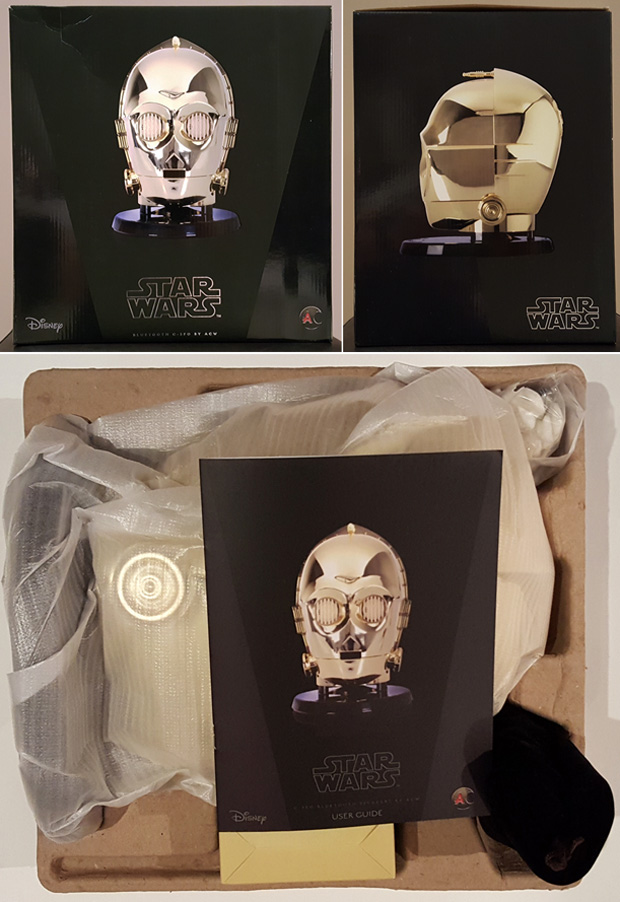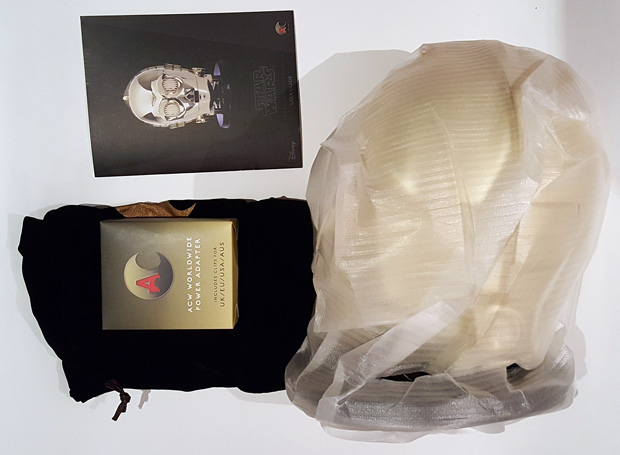 The Official Star Wars C-3PO Head Bluetooth Speaker is well packed by ACWorldwide and is protected by two cardboard molds to ensure it doesn't get damaged in transit and there is also a cover on the product for an extra layer of protection. Inside the box is the Bluetooth speaker itself, a manual, a cloth carrying case for transport plus a universal power adapter which allows this product to be used in the UK, EU, USA and Australia. This allows you to use the Bluetooth speaker while connected to the mains, however it also comes a rechargeable 8.4v 2200mAh lithium battery.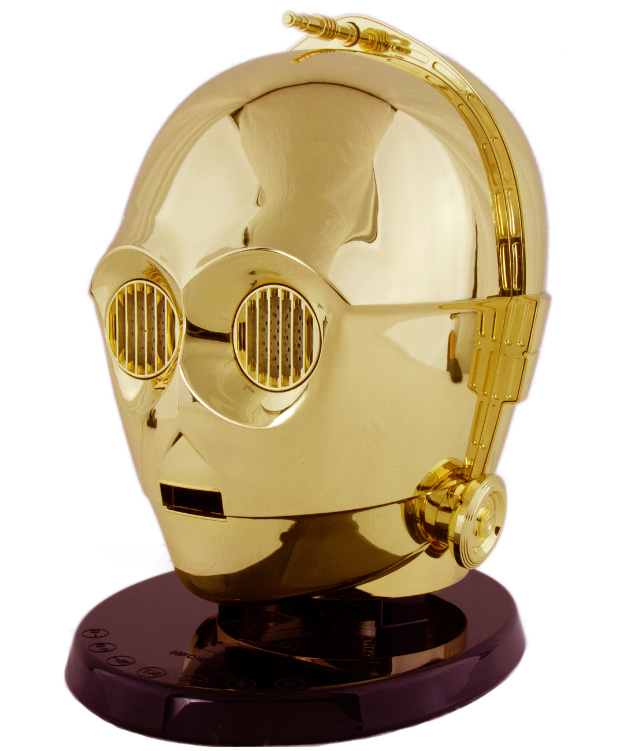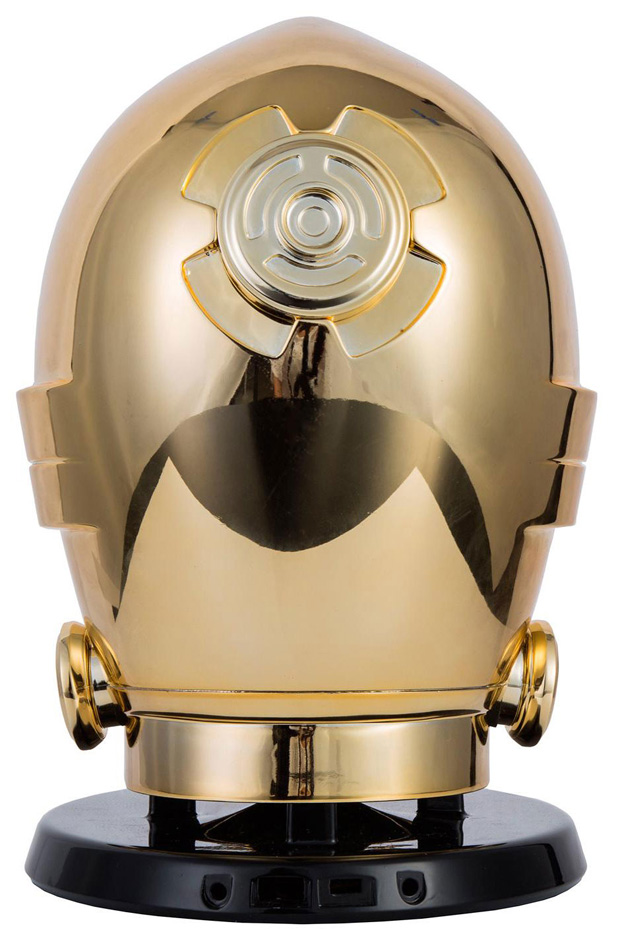 Apart from Bluetooth for audio, it does have an AUX (auxiliary) port on the back of the device which allows you to connect other wired audio devices with a 3.5mm cable like a games console or even your smartphone, provided it has this connection (I'm looking at your Apple). Interestingly enough it even comes with NFC (Near Field Communication) for instant pairing with compatible devices. Out of the box, it's also quite a heavy product and once again highlights the amazing detail of C-3PO!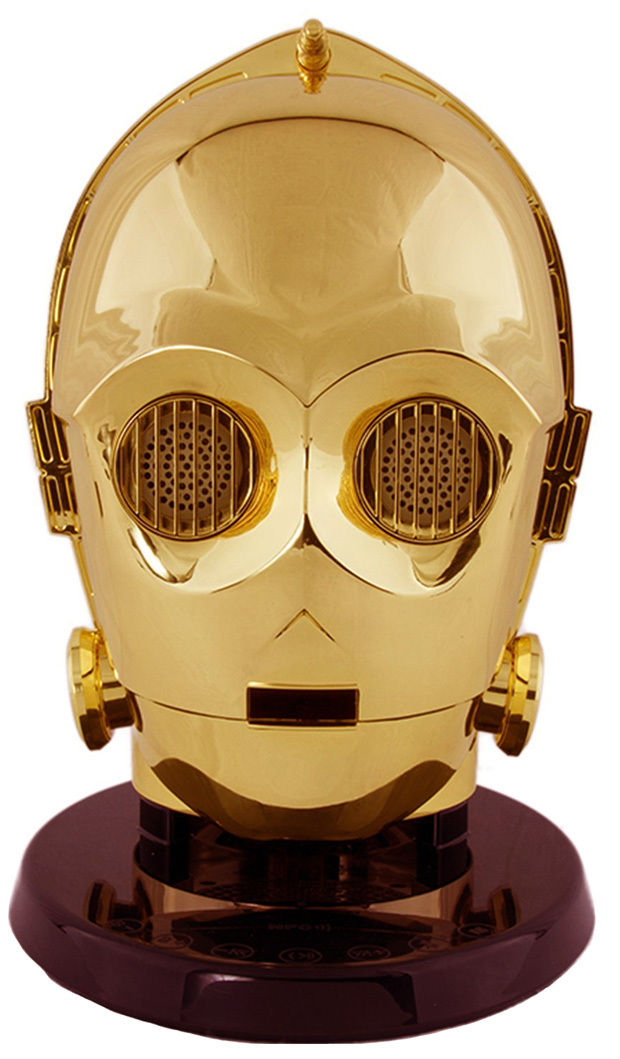 Pairing the Official Star Wars C-3PO Head Bluetooth Speaker is quite easily and when you push the Bluetooth button on the unit and hear the beep, you simply find the device on your smart phone which is aptly titled C3PO. Once paired, C-3PO's eyes will light up and it plays the famous I do believe they think I'm some sort of god soundbite. This then allows all audio to be streamed through the Bluetooth speaker, including phone calls.
The Audio quality is good, although don't expect to be blown away like Greedo when it comes to loudness and bass, given the relatively low output of the speakers. However for an average room, it's more than ample which produced good midranges and only some distortion when the volume goes to the maximum. So whether that's games, movies or music, it does the job well, given the watts of the speakers.
As mentioned, the unit comes with a rechargeable 8.4v 2200mAh lithium battery that will last around 5 hours. To charge, you simply connect the head into the mains and presto. In terms of navigating this unit, all the buttons are located on the front of base which allows you to increase/decrease bass, navigate your audio tracks, increase/decrease volume plus play and pause. Another good feature is that these buttons are touch sensitive so you simply just rest your finger on them. On the back of the unit is the auxiliary-in port, USB port to charge devices, power connection and a power button.
Below is short video of the audio coming out of the unit and when the phone rings. As you can see, when there is audio coming out of the Official Star Wars C-3PO Head Bluetooth Speaker, it's blue, however when you receive a call, the eyes of C-3PO light-up.
Final Thoughts?
I've been reviewing tech on Impulse Gamer for quite a long time and it's not that often that I'm blown away, however ACWorldwide have definitely challenged me in 2017 when it comes to one of the most coolest looking speakers that I've had the pleasure of using. Set-up is easy, audio is good but more importantly, it's identical to the head of C-3PO himself and that's where this product excels! The Official Star Wars C-3PO Head Bluetooth Speaker is one for the fans!
For more excellent tech items and accessories, check out http://www.mobilezap.com.au/59798/samsung/galaxy-s8.htm
Specifications
Output Speakers: 3W x 2 – 32mm 4 Ohms
Output Ported Subwoofer: 15W – 102mm 2.3 Ohms
Frequency Response: 20HZ -20KHZ
DC input: 9v, 2.5h
Battery: 8.4V,2200mAh
Battery time: 4-5 hours
Battery Charge Time: 2-3 hours
Bluetooth Version: CSR 4.0
Dimensions 30x25x20cm