News
Published on October 21st, 2019 | by Damien Straker
Official Nintendo Xmas Sweaters Revealed – Exclusive to Geek Store
It's beginning to look a lot like Christmas!
Geek Store, home of the best official video game, movie, TV show, and comic book merchandise, is always ready for Christmas. That's why we're already preparing for the festive season – thanks to our official range of knitted Xmas sweaters!
Designed and manufactured by the merchandise experts at Numskull, the range of official sweaters features 18 new designs – including Spyro, Gremlins, Ghostbusters, Harry Potter, Star Wars, and more!
If you're a fan of all things Nintendo, you'll want to jump in early on the set of official Nintendo sweaters, exclusive to Geek Store!
Super Mario Christmas Jumper / Ugly Sweater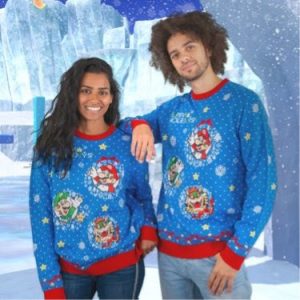 Ohhhh, Mamma Mia! What better garment to wear this festive season than rocking a 100% knitted Super Mario Christmas jumper? Charm the socks off Princess Peach with this winter piece, as it showcases all your favourite Mario characters in patch embroidery throughout the front. Not to forget, the gorgeous snowflake details and Power Stars dotted around makes this a staple wardrobe addition for any Mario enthusiast.
Official Pokémon Christmas Jumper / Ugly Sweater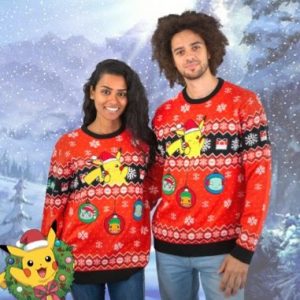 Do you want to be the very best? Like no one ever was? Fulfil your potential as a true Pokémon master for Christmas with this high-quality knitted jumper. Emblazoned with a patch embroidery of Pikachu rocking a Santa hat and the three original starter Pokémon, this winter sweater is one for all Pokémon fans looking to embody the Christmas spirit!
Official Super Mario Princess Peach Christmas Jumper / Ugly Sweater
Gain a loyal following of Toads for the festive season with this high-quality knitted Christmas jumper, capturing Princess Peach' iconic colours of pink. To add a classic seasonal taste, its decorated with cute snowflakes, bells and stars. Emblazoned with a patch embroidery of Princess Peach herself, this winter garment is sure to make you feel like a royal member of the Mushroom Kingdom!
– Official Nintendo products
– Exclusive to Geek Store
– 100% knitted (not printed!)
– Handcrafted high-quality patch embroidery and enhanced details
– Premium quality yarn for extra comfort
– Unisex design and fit, and can be worn all year round
– Available in sizes 2XS, XS, S, M, L, XL, 2XL, 3XL, 4XL
– Worldwide shipping – available right now!
– Princess Peach size 4XL and Super Mario size S are currently on preorder, estimated release mid-November
Geek Store's exclusive Nintendo Christmas sweaters are available worldwide here.