Games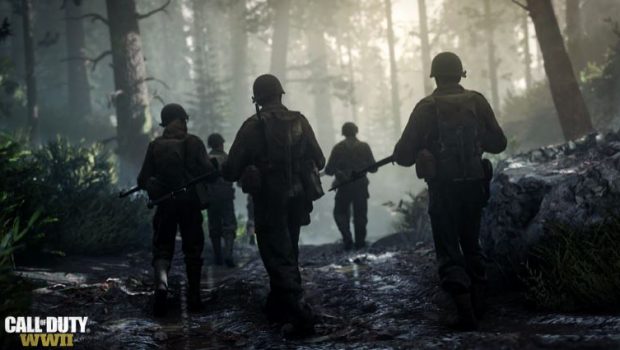 Published on October 17th, 2017 | by admin
Official Call of Duty®: WWII Live Action Trailer – "Reassemble!"
October 17, 2017 –The live-action trailer for Call of Duty®: WW II has arrived.  Activision is delivering to fans an action-packed global experience for the title, which topped the Nielsen Game Rank™ list as the most anticipated multi-platform game this holiday, with the launch of not one, but three ​trailer versions​ ​of​ ​its iconic blockbuster, ​which​ ​follows​ ​three different​ ​squads of friends reassembling to play Call of Duty®.​ ​
Helmed by director Simon McQuoid in his first collaboration with Activision, the thrilling :90 piece celebrates friendship and the ​enthusiasm​ shared by friends as only Call of Duty can deliver. Unique​ ​French and ​UK versions​ ​along with a​ ​Global​ ​trailer, which debuted yesterday, ​ lets​ ​the​ ​world​ ​know​ ​that​ ​it​'s​ ​time​ ​to​ ​get the​ ​group​ ​back​ ​together​ ​for​ Call of Duty: WWII, which launches worldwide November 3.
"Call of Duty: WWII is a return to the boots on the ground gameplay and camaraderie of playing Call of Duty together with your friends.  The enthusiasm and anticipation for this year's game is incredible and speaks to the passion of our fans around the world," said Tim Ellis, CMO, Activision. "'Reassemble!' spans the globe in a series of films about gamers, across all walks of life, getting their squads together with one mission – to play Call of Duty."
Call of Duty: WWII marks a dramatic return to the franchise's roots in an experience that redefines World War II for a new gaming generation. Players will be immersed in combat across three robust game modes; Campaign, Multiplayer and Nazi Zombies. 
Activision is putting major marketing support behind the game with a high-impact TV, digital and outdoor advertising campaign.  The global spot will be accompanied by bespoke U.K. and France spots, which were filmed in Prague and will be distributed specifically to those markets.  Throughout the campaign, Activision has worked with creative agency 72andSunny Los Angeles on overall creative direction.
Call of Duty: WWII, launching worldwide on November 3, is published by Activision Publishing, Inc., a wholly owned subsidiary of Activision Blizzard (Nasdaq: ATVI), and developed by Sledgehammer Games with additional development support from Raven Software. For the latest intel, check out: www.callofduty.com, www.youtube.com/callofduty or follow @CallofDuty and @SHGames on Twitter, Instagram and Facebook.  Call of Duty: WWII is scheduled for release on PlayStation®4 system, Xbox One, and PC.  The game is rated R18+ (Blood, Intense Violence, Strong Language).