Games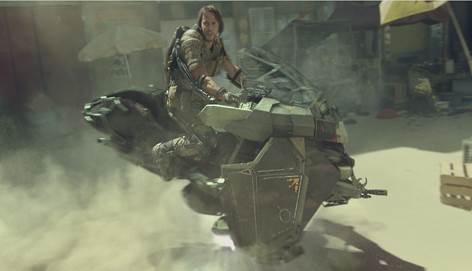 Published on October 31st, 2014 | by admin
Official Call of Duty®: Advanced Warfare Live Action Trailer
Sydney, Australia – October 31, 2014 – Call of Duty®: Advanced Warfare is days from hitting retail shelves.  With less than a week to go for one of the most anticipated entertainment launches of the year, Activision Publishing, Inc., a wholly owned subsidiary of Activision Blizzard, Inc. (Nasdaq: ATVI), today kicks things into high gear with the release of the new Call of Duty: Advanced Warfare live-action trailer helmed by director Peter Berg of Pony Show Entertainment and featuring Taylor Kitsch (Lone Survivor) and Emily Ratajkowski (Gone Girl).
"Every year the launch of Call of Duty® is more than just another product launch; it's a cultural event that draws millions of people together from all over the world.  And this year, Sledgehammer Games has created a title that's bringing an all-new experience to the franchise," said Tim Ellis, CMO, Activision Publishing, Inc.  "Our goal is to match that innovative approach with one of the most dynamic and far-reaching launch campaigns we've ever deployed.  'Discover Your Power' personifies the new ways that players can become the centre of their own epic action experience in Call of Duty: Advanced Warfare, with greater capabilities than ever before."
Call of Duty: Advanced Warfare launches worldwide November 4. Anyone who purchases a physical or digital Day Zero version of the game, for the first time ever, can start playing as much as a day early, on Day Zero, Monday, November 3*. Beyond the special early access to the game, the Day Zero Edition also comes with two custom weapons: the AK-12G Assault Rifle and Crossbow-B2, as well as Double XP on November 3. Additional offers may be available at retailer partners worldwide. Check with local retail outlets for further information.
Activision will put its full support behind the game through an expansive TV, digital and outdoor advertising campaign that will run around the globe with support from media agencies OMD and MEC.
Call of Duty: Advanced Warfare will be available on Xbox One, the all-in-one games and entertainment system from Microsoft, PlayStation®4 computer entertainment system, Xbox 360 games and entertainment system from Microsoft, PlayStation®3 computer entertainment system and PC.  Call of Duty: Advanced Warfare is rated MA15+ by the Classification Board of Australia. More information on Call of Duty: Advanced Warfare can be found at http://www.callofduty.com/advancedwarfare or on www.facebook.com/callofduty.  Fans can also follow @CallofDuty_ANZ on Twitter and Instagram.
Day Zero Edition quantities limited, availability subject to demand and inventory and opening hours at participating retailer locations. Estimates of timing based on a general retail opening of 8am in retailer locations. Visit www.callofduty.com/dayzero for more information.