Comics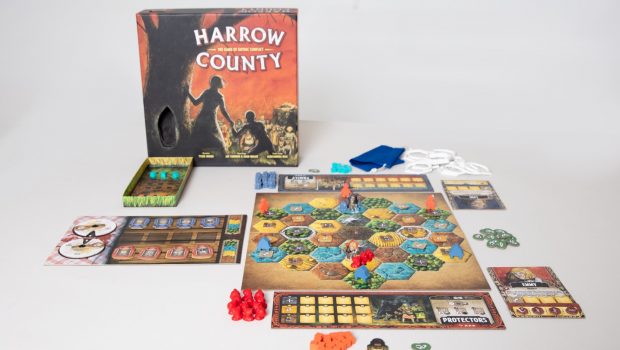 Published on October 5th, 2022 | by Andrew Bistak
OFF THE PAGE PRESENTS: HARROW COUNTY: THE GAME OF GOTHIC CONFLICT
From the creators of the Harvey-nominated hit game, MIND MGMT: The Psychic Espionage "Game" comes another gripping game bleeding with theme. Harrow County: The Game of Gothic Conflict is a deep, asymmetric 2-3 player game that is launching on Kickstarter on October 4th, 2022.
The game is designed by Jay Cormier and Shad Miller and is based on the Eisner-nominated graphic novels of the same name, created by Cullen Bunn and Tyler Crook. Tyler has created all new art for the game, including the box art, which has a couple of actual holes in it. The game features a never-before-seen concept of a cube tower that's built inside the game box. To resolve combat, players toss cubes into a hole in the top of the box and see what comes out of a hole in the front of the box.
"We take great pride and care in bringing the theme and story of Harrow County to life," says Jay Cormier. "We also ensure that the game stands on its own so newcomers to the story will have a good time as well."
The story of Harrow County: Many years ago, the residents of Harrow County hung, burned and buried a witch named Hester under a tree. Years later a baby named Emmy was born out of that tree. As she grew, she became one of the protectors of Harrow County. Unfortunately, the family of Hester returned and wanted to destroy Harrow County!
This is a 1 vs. 1 game at its heart with each player having different ways to play and different objectives. Not only that, but a third player can play the game in the role of Hester, the dead witch. The game is also launching with the Fair Folk Expansion which allows a fourth player to be added to the game for a truly unique experience.
"I had high hopes for the Harrow County game from Off the Page Games, and they absolutely blew me away!" said Cullen Bunn. "I've never played a game like it, and I'm honored they developed something like this for Harrow County."
Harrow County: The Game of Gothic Conflict will launch on Kickstarter on October 4th, 2022 with the Retail Edition priced at $65 USD. There will be a Deluxe Edition and a high-end Satchel Edition which comes encased in a cardboard satchel, made to look like the one Emmy carries around.
Click to go to the Kickstarter launch page
https://www.kickstarter.com/projects/mindmgmt/harrow-county-the-game-of-gothic-conflict