Films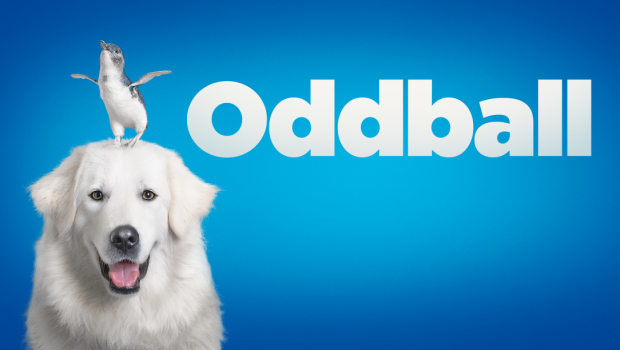 Published on September 19th, 2015 | by Damien Straker
Oddball – Film Review
Reviewed by Damien Straker on September 19th, 2015
Roadshow presents a film by Stuart McDonald
Produced by Sheila Hanahan and Stephen Kearney
Written by Peter Ivan
Starring: Shane Jacobson, Sarah Snook, Coco Jack Gillies, Deborah Mailman, Frank Woodley and Alan Tudyk
Edited by Cindy Clarkson, Marcus D'Arcy and Max Miller
Cinematography: Damian Wyvill
Music by Cezary Skubiszewski
Running Time: 95 minutes
Rating: G
Release Date: September 17th, 2015
Oddball is a confused political critique disguised as a mediocre Australian family film. It opens with spectacular overhead shots that sweep over the water and the cliff faces. But if it were not for the high production values and the quality of the cast, this would have been a direct to video film. The only interesting aspect of Stuart McDonald's film is its awkward transition between two conflicting political messages. Oddball is primarily driven by a left-leaning environmental green message about protecting endangered animals and remaining highly critical of bureaucracy, red tape and American intervention. Simultaneously, the film is old fashioned in dramatising the techniques of environmental preservation and the way it mirrors American movies should be deemed politically conservative, with the retention of the family unit a chief concern of the narrative and its characters.
The film is based on the real story of Allan 'Swampy' Marsh, who saved a colony of endangered fairy penguins by protecting them with a Maremma Sheepdog. In the film, Allan is played by Shane Jacobson (Kenny), who has lost is wife but is happily working as a chicken farmer in Warrnambool, a Victorian coastal town. His daughter Emily (Sarah Snook) is working as a conservationist and must preserve up to ten penguins or else their sanctuary will be lost. Emily is not only a single mother to Olivia (Coco Jack Gillies), but also dating Bradley Slater (Alan Tudyk), an American who becomes involved in a development plan that could overtake the penguin habitat. Simultaneously, Allan and his granddaughter are worried about losing their dog Oddball, who is in the eye of the local dog catcher (Frank Woodley), after he is deemed by the local council to be on his last warning if he causes anymore disruptions in the town. Allan and Olivia realise Oddball still has one useful purpose: he is able to protect the penguins from the foxes at night but they decide to keep this a secret from Emily, who doesn't want any further interference.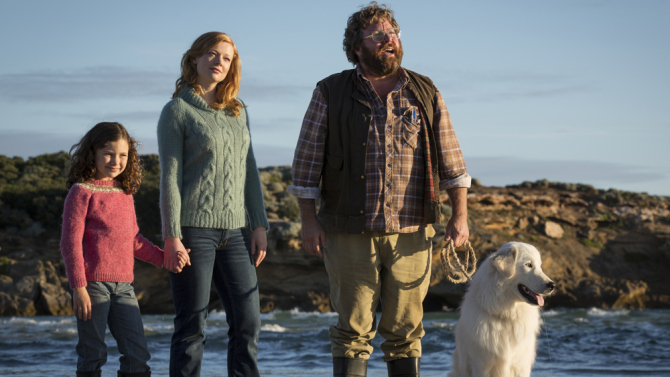 Oddball's major thematic goal is about challenging the establishment. In the film, the rulings of local government, laws and enterprise threaten to dissolve the Australian family by creating a domino effect over multiple aspects of society. The loss of Oddball, the free spirit and a symbol of a rural-style of protection, would mean losing the sanctuary and consequently Emily, who warns her father its one of the few things keeping her within the town. Meanwhile, her partner Bradley isn't an outright villain but characterised unsympathetically as an ugly caricature of shallow, consumerist American culture, who tries winning Olivia's love with expensive gifts. By accidentally disrupting the penguin's home with an overlapping development plan, he represents how modernity and business trample contemporary green values and families. His suggestion that Emily and her daughter move to New York, which is met with reluctance, typifies the film's strange antagonism to modern life in favour of traditional values and small town favouritism. Despite keeping his granddaughter away from school an alarming number of times, Allan personifies traditionalism. This simple chicken farmer is best summarised by a scene in which he gate crashes Bradley's date with Emily in a fine dining restraurant, dramatising his resistance to modern life and the upper class. While content to share thematic parallels to Paul Thomas Anderson's There Will Be Blood (2007), like the resistance to modernity and land ownership, Oddball's contradicting political trajectory is typified by awkwardly juggling these dual political goals: a contemporary green and progressive message about the environment, on top of a conservative view of retaining the family unit by dismissing exciting new life experiences, such as travelling and re-establishment.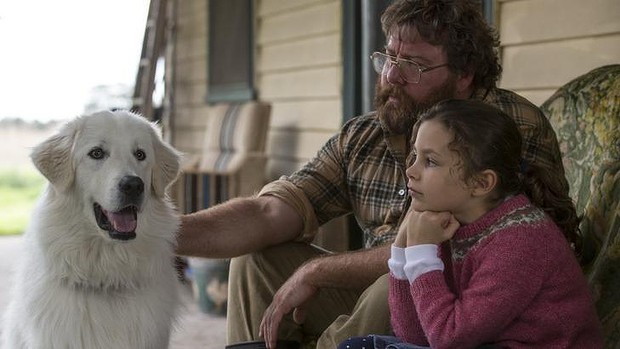 These political and social aims were perhaps lost on the small children at the screening, some of whom grew visibly restless. The political ambitions aren't matched by lasting comedy because it's simply not as funny as one would hope and arguably too talkative for young children. Despite incorporating slapstick humour, a middling family drama, a minor mystery and those arching political goals, it's overly predictable and lightweight. Its greatest crime is throwing the potential of its cast into the wind.  Shane Jacobson's Allan is not a fully realised character but a half-written comedy sketch that supplies the occasionally light quip or humorous remark and Sarah Snook's role doesn't stretch her talents as far as we have seen recently. Ultimately, it's the underdeveloped side roles which are most disappointing. Woodley is a hilarious comedian whose comic touch is never used and Debra Mailman doesn't feature anywhere near enough in her meager role as the town's mayor. The character Bradley Slater is a painfully obvious and grating caricature, whose relationship arc is clumsily resolved in the film's closing moments. While determined to tear down the establishment in favour of contemporary ideas and progress values, Oddball mirrors the shape of the Australian film industry itself. Its modern political trajectory is contained by conservative ideological goals that subdue its progressive aims. Along with its predictable, forgettable narrative and its failure to settle on one particular style, the adults in the audience had the right to be as fidgety as the kids.
Summary: Oddball is a confused political critique disguised as a mediocre Australian family film.