Games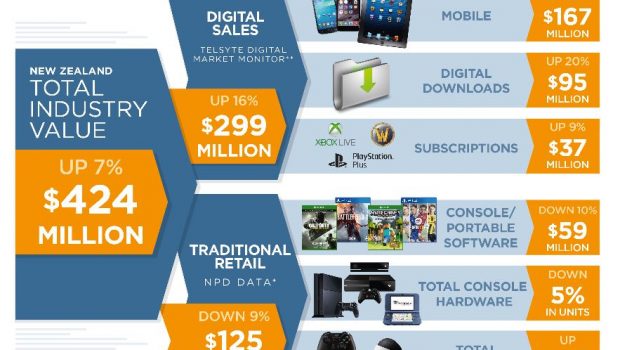 Published on March 9th, 2017 | by Admin
NZ video games industry revenues race ahead to $424M in 2016
Auckland, New Zealand – 8 March 2017 – The New Zealand video and computer games industry generated $424 million in revenue in 2016, a seven per cent increase on 2015 sales. Data released today by the Interactive Games & Entertainment Association shows that New Zealand industry growth outpaced that of Australia, which experienced a four per cent increase in revenues last year.
Overall, the New Zealand video games industry saw a total of $125 million in traditional retail sales, with an additional $299 million in digital and mobile sales.
According to research commissioned by IGEA from analyst firm Telsyte, digital and mobile sales continued on an upward trajectory in 2016, with 16 per cent growth on 2015 revenues. Mobile games remain the largest revenue source, generating $167 million last year. Downloadable games and downloadable content (DLC) saw the most growth – up 20 per cent and 21 per cent respectively.
Complementary market data from The NPD Group shows traditional retail sales decreased nine per cent on 2015 figures, with hardware and software sales both declining. However, the New Zealand video games industry overall experienced a seven per cent boost in revenues in 2016, with consumers' digital purchasing habits far outweighing the decline in traditional retail sales.
"The New Zealand video game industry is in great shape and continues to grow year-on-year," said Ron Curry, CEO of IGEA. "The data clearly shows an ongoing revolution in the purchasing habits of what is an increasingly digital customer base. Consumers are incredibly engaged with our industry's products and have embraced new ways to access and play game content, and extend the life of their games, such as virtual and augmented reality and downloadable extras."
According to Foad Fadaghi, Managing Director of Telsyte, "New Zealand gamers continue to evolve their game purchasing behaviour, boosted by the greater availability of high speed broadband service."
Since 2009, IGEA has provided a review of the state of the video games industry in New Zealand using commissioned research from The NPD Group. With the growth in downloads and mobile gaming, the NPD data has been augmented with research from Telsyte to provide a complete picture on the state of the industry.
Key highlights from Telsyte:
Video and computer games generated $299 million in digital and mobile sales in 2016, a 16% increase on 2015
Mobile games remains the largest revenue source, generating $167 million in 2016
Downloadable games and downloadable content (DLC) saw the most growth – up 20% and 21% respectively
Key highlights from The NPD Group:
Video and computer games generated $125 million in traditional retail sales in 2016, a 9% decrease on 2015 sales
Current generation consoles PS4, Xbox One and Nintendo 3DS all experienced growth in the volume of software sold
53% of games sold had an unrestricted classification (G, PG or M)