Hardware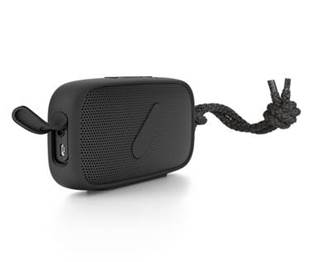 Published on October 8th, 2014 | by admin
NudeAudio unveils Super M, wireless, water, sand and shock proof speaker
Melbourne, October – 2014: NudeAudio is continuing its mission to make premium audio experiences available to all Australians, with the launch of the Super M sound speaker. Small enough to fit in the pocket of your jeans, the Super M is Wireless, Bluetooth-enabled and boasts true 360-degree-sound secured in a waterproof and shockproof design.
Proving that good things do come in small packages, measuring at a compact 131 L x 72 H x 28 W mm and 170 grams the Super M pairs the freedom of a grab-and-go size speaker with the best possible sound on the market. The enhanced acoustics and protected shape of this premium speaker ensure high-fidelity audio anywhere, anytime.
The Super M is packed with four full-range drivers using Neodymium magnets and two passive subwoofers for a portable package that blasts phenomenal sound. The orientation of the six drivers creates true 360-degree sound that fills a space with rich, natural audio no matter where you stand, dance, or relax. The Super M's power to weight / footprint ratio is staggering.
The Super M is also ideal for those who enjoy a soundtrack to their more adventurous pursuits, with the rugged yet sleek package offering waterproof, sandproof, and snowproof sound. Super M's rounded shape and soft, silicon sleeve keep the speaker shock protected and carefree.
Each Super M also comes complete with a cord enabling the device to be hung anywhere. Users may roam independent from outlets with eight hours of battery life and recharge at home with the included USB cable. Due to popular demand, the Super M also includes speakerphone functionality for hands-free calling.
Despite the high-tech nature of the Super M, the "anti-feature" policy maintained by NudeAudio ensures the speaker is surprisingly simple to use, with unnecessary features eliminated in order to focus solely on audio performance.
The Super M is available now priced at RRP $129 from Myer, JB Hi Fi, Move and Independent audio retailers.
For stockiest details please visit www.nudeaudio.com.au
Key features:
Water, sand and snow proof
2 passive subwoofers
4 full range Neodymium drivers
True 360-degree sound
Bluetooth 3.0 wireless audio and hands-free calls
High capacity 8hr Lithium-Ion battery
Speakerphone
Small enough to fit in the back pocket of your jeans
Shockproof  high grade silicone sleeve and grab and go cord
Surprisingly simple Bluetooth interaction
USB Cable  
About NudeAudio
We're on a mission to make premium audio experiences accessible to everyone.
Rather than adding lots of features to increase perceived value, we focus our money on the acoustics. We keep the products simple to make the construction reliable and cost effective. We defer from spending lots of advertising dollars to create status symbols and then charge the cost to the consumer.
We focus on the essence of our products and strip everything else away. That's why we are NudeAudio.