Blu-ray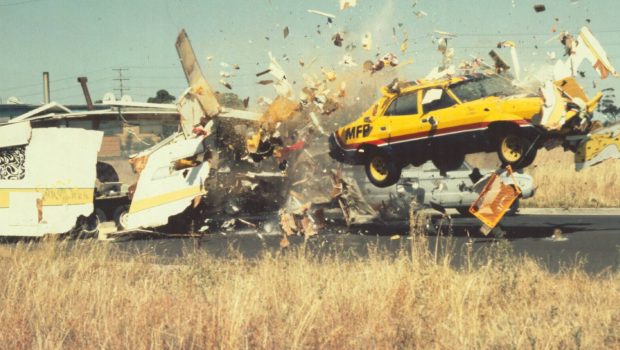 Published on June 27th, 2021 | by Tim Chuma
Not Quite Hollywood (2008) Blu-ray Review
Summary: Well worth getting this one even if you have another version as Mark Hartley has gotten all the extra footage from his backup hard drives to put into this one.
5
Kick it in the guts Barry!
The first major documentary on the 1970s and 1980s Ozploitation period of Australian films after the introduction of the R-rating and the rise of the drive-in cinema where the most successful films are in the genre category.
It was quite a big thing at the time to have so many people involved including a lot of people who had not been heard from for a long time.
It is both a blessing and a curse to have so many people involved in the documentary. The pace is very quick, but a lot of the interviews tend to be reduced to sound-bite portions and then we move on to the next person. I would have occasionally liked to hear a bit more from some people.
There has been some criticism of the documentary being very male-heavy in the interviews, but I thought there were more than enough women interviewed. Even though they might be embarrassed appearing after a clip of them nude from the 70s is shown, they all still look wonderful.
Quentin Tarantino did feature a lot in the promotion of this documentary and there is more of him in this version.
There are a large number of clips (from 89 different movies) and I thought they all work quite well. Some of them I had never seen before and a lot I remember from previews on VHS tapes from videos hired from the milk bar in the 1980s and on the $3 weeklies from the video store in the 90s.
Mark Hartley has gone on to make several other documentaries and also a remake of the movie Patrick after this film. He always said he had a lot of extra stuff sitting on hard drives after this film was released and they have included a lot of special features on the disc including two whole documentaries about Alvin Purple and Mad Dog Morgan.
I can remember going to the panel at the Melbourne International Film Festival in 2008 and that is included on the disc too. Maybe best to dip in and out of the special features as there are only so many interviews you can sit through. Unlike the Bad Boy Bubby release a lot of this material has not been released before.
There is a trailer reel of all the movies included which would save you from having to look for them all on Youtube.
I can remember talking to Brian Trenchard-Smith when he still had his blog and he also said to get this movie if you could not afford the releases of his at the time. The Man From Hong Kong has also released recently on Blu-ray.
If you have any interest in Australian film then I would have no trouble recommending this release. Even if you already have a copy of the DVD I would get this one for all the special features.
Trailer
Quentin Tarantino's Top Australian Films
Film details:
Director: Mark Hartley
Featuring: Phillip Adams, Christine Amor, Glory Annen, Victoria Anoux, Ian Barry, Briony Behets, Steve Bisley, Jamie Blanks, Graeme Blundell, Russell Boyd, Richard Brennan, Dan Burstall, Tom Burstall, Robin Copping, Barry Crocker, Lynette Curran, Jamie Lee Curtis, Cassandra Delaney, Everett De Roche, Ross Dimsey, David Eggby, Bob Ellis, Alan Finney, Richard Franklin, Belinda Giblin, Rebecca Gilling, Antony I. Ginnane, Deborah Gray, David Hannay, Sandy Harbutt, Gregory Harrison, Rod Hay, Carla Hoogeveen, Alan Hopgood, Dennis Hopper, John Michael Howson, Barry Humphries, John Jarratt, Barry Jones, Brian Jones, Stacy Keach, Ted Kotcheff, John D. Lamond, Nina Landis, George Lazenby, Chris Löfvén, Greg Lynch, William Margold, Ross Matthews, Donald McAlpine, Bob McCarron, Hal McElroy, Greg Mclean, George Miller, Vincent Monton, Philippe Mora, Judy Morris, Russell Mulcahy, Rod Mullinar, Grant Page, Susan Penhaligon, Steve Railsback, Candy Raymond, Cheryl Rixon, Joanne Samuel, Fred Schepisi, John Seale, Ken Shorter, Lynda Stoner, Quentin Tarantino, Henry Thomas, Jeremy Thomas, Jack Thompson, Sigrid Thornton, Brian Trenchard-Smith, James Wan, Garry Wapshott, Roger Ward, John Waters, Leigh Whannell, David Williamson, Tony Williams, Simon Wincer, Arna-Maria Winchester, Uri Windt, Norman Yemm, Susannah York
Clips from the following movies:
A Dangerous Summer, The Abc Of Love & Sex – Australia Style, The Adventures Of Barry Mckenzie, Alison's Birthday, Alvin Purple, Alvin Rides Again, Australia After Dark, Barry Mckenzie Holds His Own, Black Water, Blood Moon, Bmx Bandits, Breakfast In Paris, Brothers, Caddie, The Cars That Ate Paris, Centrespread, Chain Reaction, The Chant Of Jimmy Blacksmith , Crosstalk, Dangerfreaks, Dark Age, Dead Kids, Dead-End Drive-In, Deathcheaters, Don's Party, Eliza Fraser, Endplay, Fair Game, Fantasm, Fantasm Comes Again, Felicity, The Getting Of Wisdom, Ground Zero, Harlequin, High Rolling, Hoodwink, Hostage, Howling 3 – The Marsupials, Inn Of The Damned, Kill Bill – Volume One, Kung Fu Killers, Lady Stay Dead, Long Weekend (1978), Long Weekend (2008), The Love Epidemic , Mad Dog Morgan, Mad Max, The Man From Hong Kong, The Mango Tree, Melvin – Son Of Alvin, Midnite Spares, The Naked Bunyip, Next Of Kin, Night Of Fear, Number 96 – The Movie, Pacific Banana, Patrick, Petersen, Picnic At Hanging Rock, Plugg, Race For The Yankee Zephyr, Razorback, The Return Of Captain Invincible, Roadgames, Rogue, Run Chrissie Run, Running From The Guns, Running On Empty, Saw, Scobie Malone, Sky Pirates, Snapshot, Stone, Stork, Storm Warning, The Stunt Men , Stunt Rock, The Survivor, Thirst, To Shoot A Mad Dog, The True Story Of Eskimo Nell, Turkey Shoot, Undead, Wake In Fright, Wolf Creek