Comics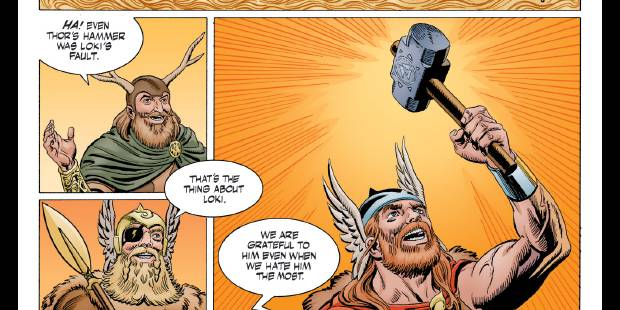 Published on October 19th, 2020 | by Tim Chuma
NORSE MYTHOLOGY #2 (2020) Review
Summary: Worth a look if you want to see more of the background of the Norse Gods as featured in the Marvel Universe but don't expect it to be the same as those stories.
I had listened to the Neil Gaiman Norse Mythology audio book and this one seems to be a continuation of that story and different to that one. Two master metal smiths are to present gifts to the Gods and if they are impressed they get Loki's head. Loki is determined to stop them from succeeding.
Even though there has already been an entry in this story I would still recommend this one as it was easy enough to pick up what was going on. This is the more traditional version of the story and not the Marvel version so the characters are different.
Great character designs and world building in this. The characters are very Nordic looking and swarthy. Even if you only know the Marvel versions I would recommend this series.
The story does wrap up well and feels like they can go on to tell more of the stories from folklore as there are a lot in Norse mythology.
I would recommend this if you are fan of Neil Gaiman or mythological and fantasy stories in general and want something fun to read.
Comic details:
Writer: Neil Gaiman, P. Craig Russell
Artist: P. Craig Russell, Mike Mignola, Jerry Ordway
Colorist: Lovern Kindzierski, Dave Stewart
Cover Artist: P. Craig Russell
Genre: Fantasy
Publication Date: November 04, 2020