Hardware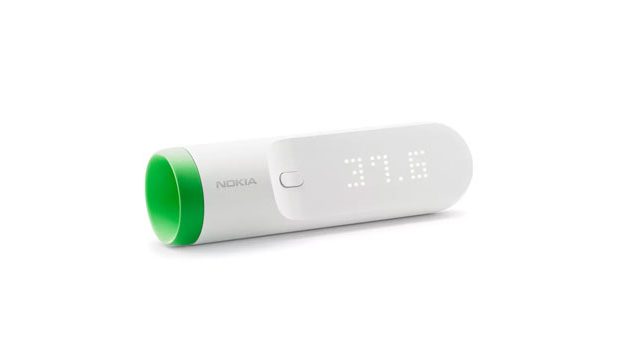 Published on August 7th, 2017 | by Admin
Nokia Thermo Review (Smart Temporal Thermometer)
Summary: The Nokia Thermo (Smart Temporal Thermometer) is indeed a smart thermometer!
As technology continues to rapidly evolve, Nokia have released a true 'game changer' with their Nokia Thermo, a no-contact smart temporal thermometer that sends this information directly to your smartphone via the Thermo app through Bluetooth, including Wi-Fi. Using their patented HotSpot Sensor Technology, the Nokia Thermo measures your temperature by scanning across your forehead as the 16 infrared sensors take over 4,000 measurements to find the hottest point without actually touching your skin. This means it avoids any contamination from the body such as saliva.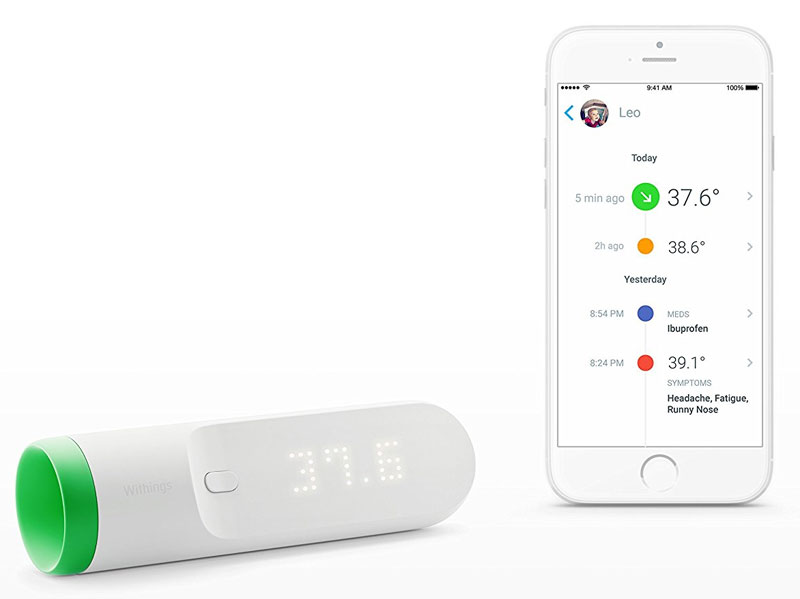 According to Nokia, this clinically tested product measures from the temporal artery which has a direct connection to the circulation from the core of your body. It should also be noted that the Nokia Thermo is FDA cleared which means it is on par to other similar devices and part of the app was created in conjunction with the Boston's Children Hospital. This information can then be recorded onto your smartphone for quick access and it even allows you to set reminders in order to your monitor your health or those around you. Inside the box, you get the Nokia Thermo device, including two batteries, a quick installation guide plus a regulatory booklet.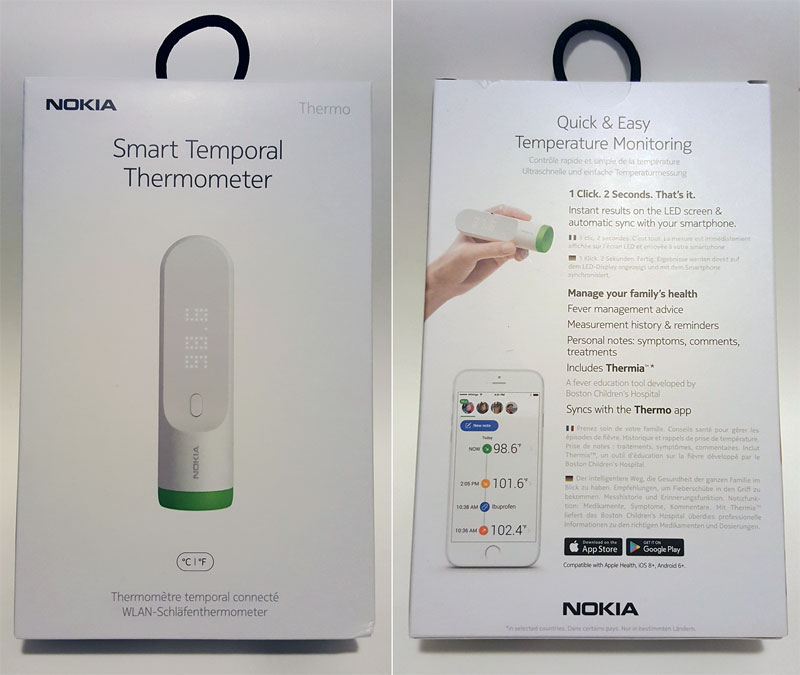 With that said, this app not only tracks your temperature but it allows you to enter other valuable information for your treating physician such as personal notes, symptoms, comments, treatments and even medication. Given that, it's ideal for people monitoring their blood pressure as the app will collate and store your information, including a chart of your measurements over time. Furthermore, the app even allows you to setup different family members as you enter their age, height, gender and weight which helps with the overall monitoring.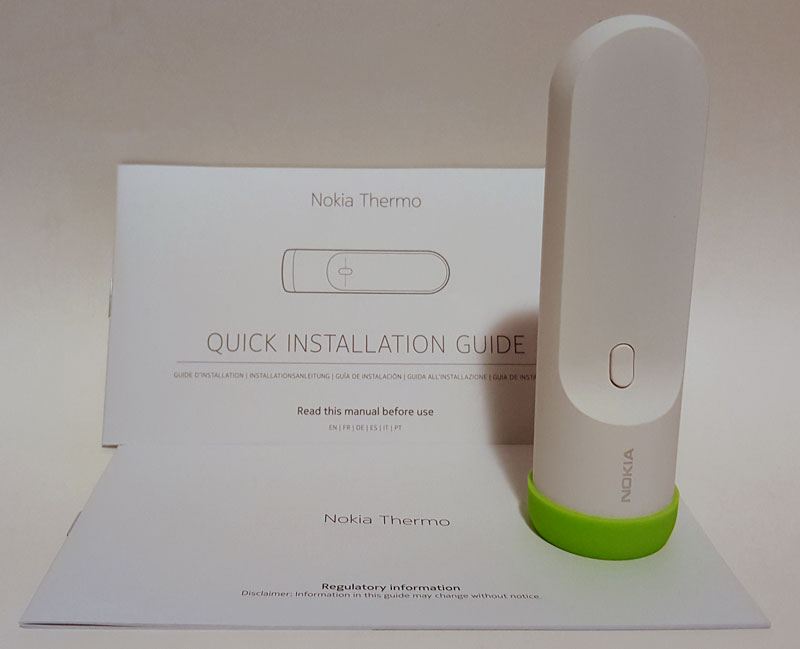 In terms of appearance, the Nokia Thermo looks like some futuristic medical device from Star Trek with its minimalist design. It measures at 12cm and on the front of the product is a button to turn the device on, including basic navigational functions and right next to that, is the LED / pseudo touch screen. On the back is the battery cover and and interestingly enough, the Nokia Thermo is powered by two AAA batteries which in included in the purchase. This is a good direction from Nokia as a USB powered device would have been too fiddly in our opinion and it's easier to find two AAA batteries opposed to trying to charge the device if you need to read someones temperature when the device is flat. According to Nokia, the batteries will last up to 2-years which is another bonus.

Setting up the Nokia Thermo is a very simple process and all you need to do is download the Thermo app which will help you pair the device to your smartphone. The wizard will help setup the device which is done by holding down the button on the Nokia Thermo until the screen on the device says SETUP. The last step is to setup the various users on your app and to swap between users, you simply use the touch screen on the device.
To use the Nokia Thermo, you remove the green lid, then you just scan it across the forehead without touchin the ski which only takes a few seconds and the device will vibrate twice when the reading is complete. The setup wizard will take you through a tutorial and it's almost like drawing a straight line across someone's forehead from the center to their hairline. If you're happy with the reading, you then push the button on the device which displays a colour next to the temperature which includes green, amber and red. This information is then sent to the app.
I also found that scanning another person for their temperature is a much easier task than performing it on yourself. However with some practice, including a mirror, you'll soon be a pro scanning your own forehead. Parents will also be pleased to know that this device can work on children and even babies. As mentioned and opposed to traditional thermometers, the Nokia Thermo is non-intrusive which is sometimes needed for children. Furthermore, you can disable the light on the Nokia Thermo so you don't disturb your child's sleep, particularly if they are unwell or have a fever.
Final Thoughts? 
The Nokia Thermo is a great asset to have in your medicine draw as not only is it a noninvasive thermometer but its companion app allows you to record other useful information which can then be passed onto your GP. In terms of accuracy, we found it very similar to the temperature given by an oral thermometer. So overall it's a well designed product that not only boasts a very easy installation but is easy to use and as there is no contact with any bodily fluids, it's quite hygienic… and ahem… doesn't need to go where the sun doesn't shine.
Recommended!
Key Features
The Nokia Thermo's HotSpot Sensor technology uses 16 infrared sensors to take over 4000 readings so that you can easily locate your body's hottest point.
Use the Nokia temporal thermometer together with the Thermo app to get instant health tips and to note administered medications and symptoms.
For peace of mind, this temporal thermometer bears the CE mark.
Featuring a diagnostic LED and ergonomically-positioned touch area, it offers a smarter and more intuitive operation compared to traditional mercury-based thermometers.