Hardware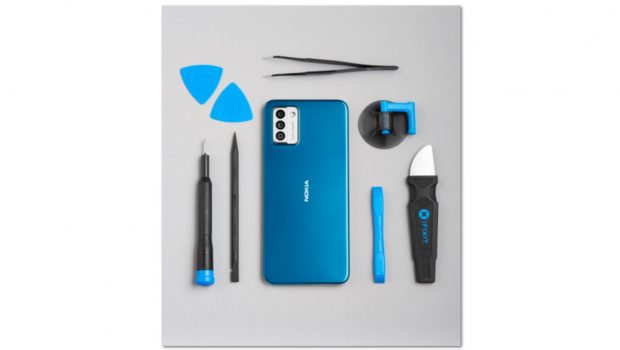 Published on April 12th, 2023 | by Andrew Bistak
Nokia G22 – the first Nokia smartphone with repairability at its core now available in Australia
HMD Global, the home of Nokia phones, today announced the Nokia G22, the first Nokia smartphone with repairability at its core, is now available in Australia.
To coincide with the launch, HMD Global will donate $20 AUD for each device sold in the month of April to Clean Up Australia, a not-for-profit organisation that empowers communities to clean up, fix up and conserve the environment.
The Nokia G22 takes the signature Nokia phone longevity to the next level. Thanks to its repairable design, you can keep Nokia G22 for even longer, with the ability to replace the display, charging port or  battery – even after the phone's warranty has expired.
In collaboration with iFixit, Nokia G22 can be repaired with step-by-step repair guides and affordable replacement parts starting from $32.99 AUD. Made with a 100% recycled plastic back, in playful two-tone colourway, Nokia G22 is also built and packaged with sustainability in mind.
Brenden Folitarik, HMD Global's Country Manager for Australia, New Zealand and the Pacific Islands: "We are delighted to support Clean Up Australia who do incredibly important work conserving our natural environment and share our vision of creating a better future that doesn't cost the earth. We know Australians are looking for ways to live more sustainably and that they value devices they can hold onto for longer. With the new Nokia G22, we are proud to offer both longevity and performance without compromising on price or quality ," said Mr Folitarik.
A repairable design to extend your phones lifecycle
Nokia G22 has repairability in its DNA so you can keep your phone for even longer. Through the collaboration with iFixit, a global repair community, fixing your devices becomes more affordable and accessible. It gives people easy access to replacement parts, including battery, display and charging port, as well as tools, and repair guides to make repairing your device as straightforward as possible.
Enhanced image and audio experience for maximum enjoyment
Whether you're listening through wired headphones, or the speaker, Nokia G22 brings better audio to your podcasts and playlists with OZO Playback, delivering enhanced bass and clearer sound. Plus, you can pump up the volume with Audio Boost mode when you still want to hear your favourite tracks or podcasts in noisy environments.
High-end imaging algorithms support the 50MP camera for even better pictures. To make taking epic photos easy from sunrise to sunset, Night, and Quick Night modes balance highlights and shadows just the right way for the perfect nighttime shot using the front and rear cameras. The 6.52" HD+ display is perfect for appreciating every detail.
Longer-lasting inside and out
Nokia G22 takes you further with up to three days of battery life and a battery that maintains over 80% of its original capacity even after 800 full charging cycles. Playful two-tone colours feature on a thinner body with a high gloss finish to give it a luxurious feel, whilst the matte metal camera base and Corning® Gorilla® Glass 3 adds extra durability.
On the inside, the Nokia G22 comes with two years of Android TM OS upgrades, three years of monthly security updates and extended three-year warrantyi at no extra cost.
Packing even more value thanks to improved performance
Nokia G22 is packed with performance-optimising solutions like Auto Cleanup which helps your apps run even faster. And optional functions like One Press "clear all" to manually clear the cache for smoother usage and Excluded Apps which lets you pick and choose when and where the power goes at the press of a button.
Memory extensionvii turns unused storage space into 2GB of additional short-term memory (RAM) allowing you to multitask smoothly and enjoy an experience that doesn't slow down as new Android features arrive.
Pricing, availability and accessories 
Nokia G22 is available now from all leading retailers and E-retailers. It comes in Meteor Grey and Lagoon Blue and is available in 4/128GB memory and storage configurations starting at $349 AUD.
At-home Fit Kits and replacement parts for Nokia G22 are available from Nokia G22 Repair – iFixit in Australia, including display at $89.99 AUD, battery at $49.99 AUD, and charging port at $42.99.
Compatible with any USB-C cable so you can charge all of your devices including your Nokia G22, the new 65W Nokia Dual Port Wall Charger provides faster charging and has a case made from 70% recycled materials – available from Nokia.com in H2.