Hardware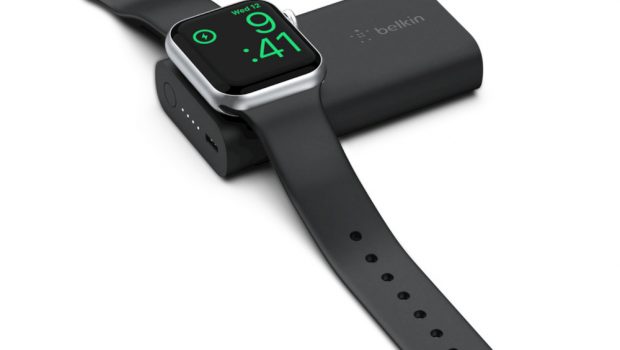 Published on June 2nd, 2019 | by Admin
No Timeouts Needed – Belkin delivers portable charging to Apple Watch
Introducing a compact, portable power bank designed exclusively for Apple Watch. With the power to add up to 63 hours of battery life, you can stay charged for days without needing to bring a wall charger.* Perfect for travel and on-the-go, this Apple Watch power bank allows you to have uninterrupted use of all the benefits of your Apple Watch, from tracking your fitness goals, using Apple Pay, receiving notifications from anywhere and more. This device is MFi Certified, meaning that it has been designed specifically for the Apple Watch and meets Apple performance standards.
Key features and benefits:
Add up to 63 hours of battery life*
LED indicators show battery life of power bank
6" micro-USB cable included
MFi Certification (Made For Apple Watch)
$2,500 Connected Equipment Warranty
*Max. additional battery hours calculated by comparing the mAh capacity of this power bank with the max. battery hours achievable by the Apple Watch 1, 2, and 3. Actual additional hours provided may vary based on factors that are different for every user.
BOOST↑UP™ Power Bank 2K for Apple Watch | RRP $99.95 | Available now at Belkin.com/au, will be available at leading retailers such as JB Hi Fi soon