Games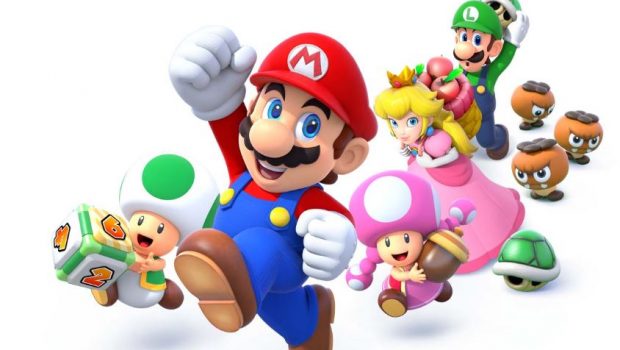 Published on September 14th, 2016 | by admin
NO MORE TAKING TURNS IN MARIO PARTY: STAR RUSH FOR NINTENDO 3DS FAMILY SYSTEMS FROM OCTOBER 8TH 2016
14th September, 2016 – Ready, set and roll on October 8th as Mario Party: Star Rush comes to liven up Nintendo 3DS family systems with a host of new modes and minigames to enjoy. Taking turns takes a backseat as everybody scrambles across the board simultaneously, and thanks to the free Mario Party: Star Rush – Party Guest software*, it takes just one copy of the game to enjoy a full multiplayer experience. Plus, with brand new Super Mario series amiibo on the guest list, this is one portable party you won't want to miss!
In the all-new Toad Scramble mode, players roll their dice simultaneously and move freely across an open map as a Toad. This means no more taking turns to play, leading to faster and more strategic matches. Players can also get the upper hand on their friends by recruiting Mario and his friends, who will appear across each world map. Each ally has their own unique ability and will aid Toad in collecting extra coins and bashing bosses to earn stars.
In Coinathlon mode, it's pure skill with no dice, as competitors play a series of minigames in quick succession, whilst racing around a track collecting coins and aiming to cross the finish line first. You'll need to have nimble fingers and remain focused if you want to win as Coinathlon is the ultimate test of your minigame skills.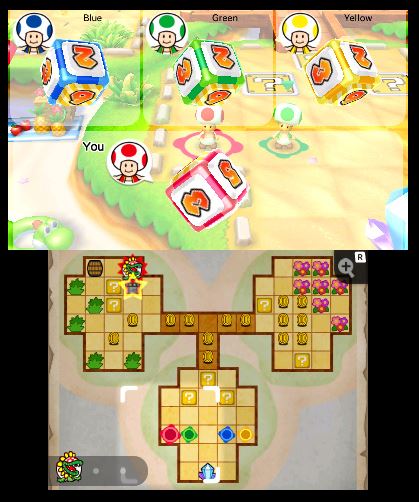 Burst balloons, play a magnitude of minigames and battle some bosses to earn coins in Balloon Bash mode. Players will trade their coins for stars, and the player with the highest amount of stars at the end will be the winner. In this mode you'll need to be quick, plot your route wisely and make each turn count, as each player has a limited number of moves. Traditional Mario Party rules coupled with simultaneous turns for a unique new approach to the series.
Party hosts who own the game can share the full multiplayer fun with three friends who've downloaded the Mario Party: Star Rush – Party Guest software from Nintendo eShop. Invite your friends to a local wireless game and enjoy a host of new modes, including Coinathlon and Balloon Bash. Downloading the Mario Party: Star Rush – Party Guest software also gives players the opportunity to try out some minigames in single-player after completing some multiplayer rounds.
For those who want to go solo, there is plenty of fun to be had with over 50 minigames and 7 gameplay modes to discover – take on the CPU-controlled characters and amp up the challenge by choosing between four difficulty modes.
To celebrate the release of Mario Party: Star Rush on 8th October 2016, the guest list of Super Mario Collection amiibo will expand to include Donkey Kong, Rosalina, Wario, and a Boo amiibo that glows in the dark. Available later on 5th November 2016, three new amiibo from the Super Mario Collection will join the party: Diddy Kong, Daisy and Waluigi.
If solo players use a compatible amiibo in Toad Scramble, that character will appear as a support character from the start, with a rare item on hand to boost your chances of winning. And if your amiibo has save data from Mario Party 10 on the Wii U console, you can get another special die, too! Please visit our amiibo website for a full list of compatible amiibo and further details on amiibo functionality.
Also on 8th October, an Australia and New Zealand-exclusive bundle will launch at a suggested retail price of AU$69.95, and will include a copy of Mario Party: Star Rush, a Yoshi amiibo from the Super Mario Collection and an NFC Reader/Writer, so that players can enjoy amiibo with their Nintendo 3DS, Nintendo 3DS XL or Nintendo 2DS console.
Mario Party: Star Rush and the Mario Party: Star Rush – Party Guest software launch in Australia and New Zealand on 8th October, along with amiibo figures of Donkey Kong, Rosalina, Wario, and Boo, followed by Diddy Kong, Daisy and Waluigi on 5th November.