Comics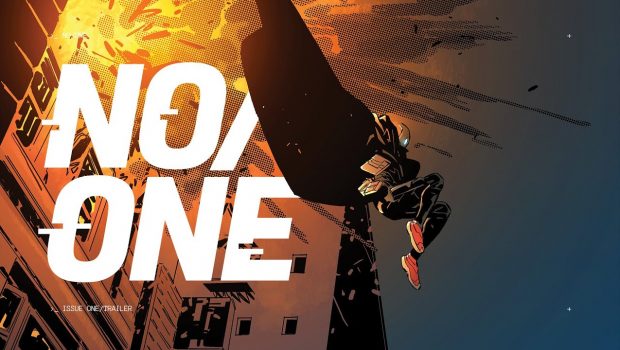 Published on February 18th, 2023 | by Andrew Bistak
NO/ONE by Kyle Higgins, Brian Buccellato, Geraldo Borges & Mark Englert video trailer
Six months ago, the Richard Roe murders shocked the city of Pittsburgh. In the months since, the killings have sparked a dangerous political movement, copycat killers, and a masked vigilante who's still determined to hold the powerful accountable. Not a symbol. Not a hero. They could be anyone. They're NO/ONE.
Superstar writers Kyle Higgins (Radiant Black) and Brian Buccellato (Chicken Devil) and rising star artist Geraldo Borges (Nightwing) bring you the oversized first chapter of a true crime-style superhero experience in its own corner of the MASSIVE-VERSE in the forthcoming comic book series NO/ONE.
Plus, the story continues in "WHO IS NO/ONE," a monthly companion podcast starring Rachael Leigh Cook (She's All That) and Patton Oswalt (Minor Threats, Marvel's M.O.D.O.K.), available on Apple Podcasts, Google Podcasts, and Spotify! Visit: https://blackmarket.la/no-one/ for more information.
NO/ONE is part of the Massive-Verse alongside Radiant Black, Radiant Red, Rogue Sun, The Dead Lucky, Inferno Girl Red, Radiant Pink, C.O.W.L., Supermassive, and more to come!
NO/ONE #1 (OF 10) CVR A BORGES – JAN230061
NO/ONE #1 (OF 10) CVR B MONTES – JAN230062
NO/ONE #1 (OF 10) CVR C ENGLERT – JAN230063
NO/ONE #1 (OF 10) CVR D 10 COPY INCV WHALEN – JAN230064
NO/ONE #1 (OF 10) CVR E 25 COPY INCV MAHFOOD – JAN230065
NO/ONE #1 (OF 10) CVR F 50 COPY INCV BORGES & COSTA – JAN230066