Games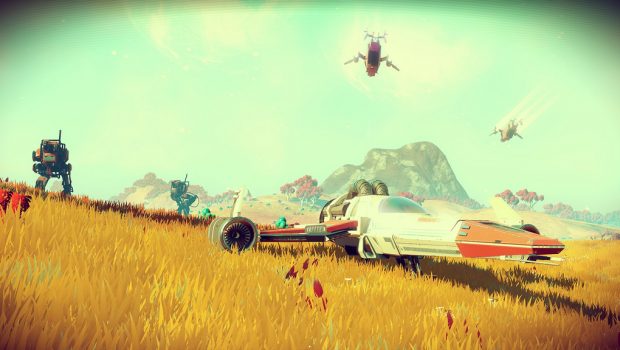 Published on August 5th, 2016 | by Admin
No Man's Sky: Music for an Infinite Universe
UK instrumental band 65daysofstatic today announce the global CD and digital release of their first video game soundtrack, No Man's Sky: Music for an Infinite Universe, via Laced Records. The new album arrives ahead of the launch of No Man's Sky, the highly anticipated open-world space exploration game from Guildford-based studio Hello Games.
The standard and deluxe double-CD version of No Man's Sky: Music for an Infinite Universe is available now for purchase and streaming at all major digital music retailers, with a 10 track double vinyl with digital download of all 16 tracks, and a deluxe vinyl collector's edition featuring all 16 tracks spread across 4 LPs due to begin shipping in late September, exclusive to Laced Records.
iTunes: https://itunes.apple.com/gb/album/no-mans-sky-music-for-infinite/id1133383847
Spotify: http://open.spotify.com/album/0CkuFPWCLJjCAEKy0dce40
Apple Music: https://itunes.apple.com/album/no-mans-sky-music-for-infinite/id1133383847
65daysofstatic enthusiasts can now pre-order all vinyl versions of the soundtrack exclusively via the Laced Records store: www.lacedrecords.com
Album artwork is produced by long term collaborator, Caspar Newbolt from Version Industries.
Pricing
iTunes Deluxe Digital Download: £12.99
Standard Digital Download: €10.99
2xCD: €15.99
2xLP: €31
4xLP: €52
No Man's Sky's procedurally generated universe is unlike anything yet seen in the gaming world, and 65daysofstatic's sonic assault is equally ambitious. The release itself comprises 10 tracks of original music, plus a second collection of soundscapes and sound design, an all-encompassing journey of almost two hours.
This music, alongside a vast library of raw audio comprised of loops, sound textures and melody were fed into the game's unique music engine under the auspices of audio director Paul Weir, effectively creating a self-generating soundtrack to infinity. Attempting to move away from the granular, soft-focus ambience often found in procedurally generated games, the in-game music aims to travel effortlessly between the minimal, barren melodies of outer space to the intense, visceral, aural squall of galactic survival.
No Man's Sky: Music for an Infinite Universe is equally grand in its ambition, an experimental and overwhelming sonic experience that pushes 65dos into new territory while retaining their innate sense of relentlessness, driving rhythm, and a tune you can hum.
"Being involved with No Man's Sky is as unlikely as it is exciting," the band said. "Two years of our lives have disappeared into a black hole and we've been spat out into another dimension. The project has pushed us to explore new processes and techniques, to rethink our relationship with our own music and to essentially soundtrack every narrative thread of a 'choose your own adventure' novel that exists only in our minds. We're really proud of the results, and can't wait to play it live."
The band will embark on a world tour in support No Man's Sky, the largest tour ever for a video game soundtrack. The performances will also include songs from throughout the bands' career.  Tickets for European dates are on sale now, via 65daysofstatic.com, with the rest of the world to follow once dates have been confirmed.
European tour dates:
17-Oct   O13, TILBURG, NETHERLANDS
18-Oct   Les 4 Ecluses, DUNKERQUE, FRANCE
19-Oct   Badaboum, PARIS, FRANCE
20-Oct   La Rodia, BESANCON, FRANCE
21-Oct   Usine (PTR), GENEVA, SWITZERLAND
22-Oct   Bergmal Festival, ZURICH, SWITZERLAND
24-Oct   Razzmatazz 2, BARCELONA, SPAIN
25-Oct   But, MADRID, SPAIN
26-Oct   Hard Club, PORTO, PORTUGAL
29-Oct   Las Armas, ZARAGOZA, SPAIN
01-Nov   MJC Picaud, CANNES, FRANCE
02-Nov   Locomotiv, BOLOGNA, ITALY
03-Nov   Monk, ROME, ITALY
04-Nov   Magnolia, MILAN, ITALY
05-Nov   Mame, PADOVA, ITALY
06-Nov   Kranhalle, MUNCHEN, GERMANY
07-Nov   WUK, VIENNA, AUSTRIA
08-Nov   Meet Factory, PRAGUE, CZECH REPUBLIC
09-Nov   C-Theatre, BERLIN, GERMANY
10-Nov   Uebel & Gefährlich, HAMBURG, GERMANY
11-Nov   Q Factory, AMSTERDAM, NETHERLANDS
13-Nov   Botanique, BRUSSELS, BELGIUM
14-Nov   Islington Assembly Hall, LONDON, UK
15-Nov   Marble Factory, BRISTOL, UK
16-Nov   Plug, SHEFFIELD, UK
17-Nov   Sage 2, NEWCASTLE, UK
18-Nov   Art School, GLASGOW, UK
No Man's Sky is available to pre-order now:
PS4: https://www.playstation.com/en-gb/games/no-mans-sky-ps4/
Steam: http://store.steampowered.com/app/275850/
GOG.com: https://www.gog.com/game/no_mans_sky)
Humble Bundle: https://www.humblebundle.com/store/p/no_mans_sky_storefront
Information of the game can be found on the official website: http://www.no-mans-sky.com/