Switch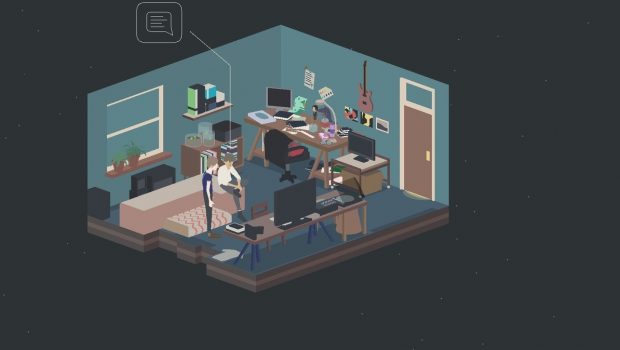 Published on October 28th, 2021 | by Nathan Misa
No Longer Home Nintendo Switch Review
Summary: A point-and-click, dialogue-driven adventure that tackles themes from the heart, that won't resonate with everyone.
Narrative-driven video games, whether they're character-focused, dense with lore, or tackle heavier themes head-on, are my favourite. I can get my 'shoot-everything' or open-world exploration fix anytime – a good game story is a far rarer experience to relish.
But there are times when there's just not enough gameplay to keep engaged, even if the narrative that drives it is from the heart. No Longer Home, unfortunately, was one of those.
No Longer Home is billed as a semi-auto-biography of its two main developers, and it tells a very personal story about two flatmates, Ao and Bo. Both are non-binary, queer, in love, and in a reflective state of mind as they each face daunting circumstances, much of which is out of their control, some of which is relatable for any twenty-something university student lacking direction or feeling lost with what they're doing. Ao's student visa is expiring, forcing them to go back home to Japan, while the reality of high rent is forcing Bo to move back home with their family.
The game is a linear point-and-click adventure presented in an isometric viewpoint. As the player, who is almost like a detached, omniscient observer over their world, you control both characters as they interact with each other and talk about life and their worries for the future, and explore their flat, which is where most of the game takes place (some time is spent outside like in the ten minute prologue, Friary Road, which establishes their first meeting at a barbecue).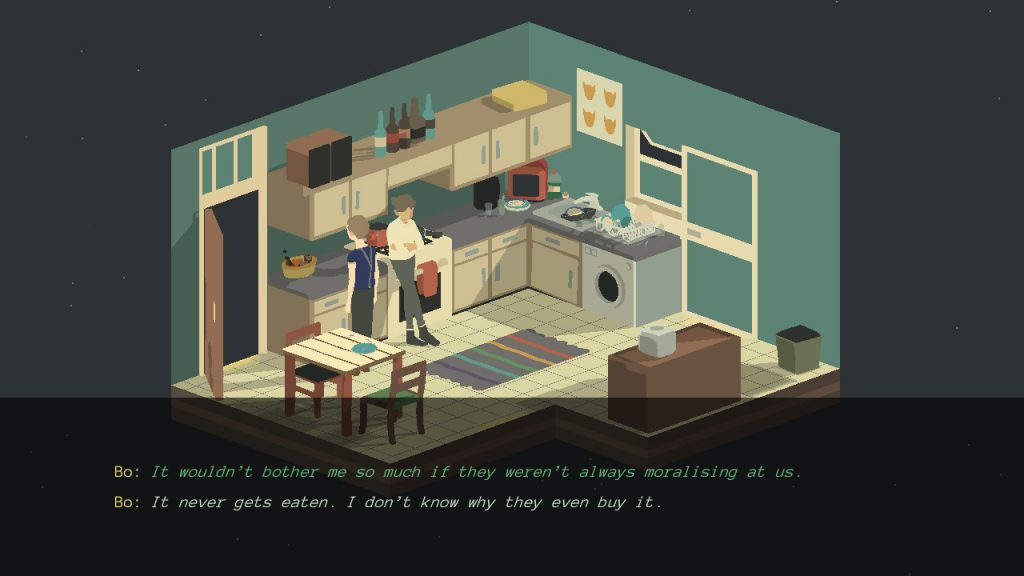 The gameplay itself is dialogue-driven. You pick several dialogue options as both Ao and Bo to drive the game's narrative forward, as well as choose their private reactions and musings while interacting with several points of interest in their tightly packed living space. One cool difference compared to other games is you control the back-and-forth conversation options between both characters at the same time. There's also no right and wrong choices; you choose what you feel is natural for them to say, as well as which character directs the flow of the conversation.
It's a shame, then, that a lot of the writing feels mundane. The game aims to convey a sense of aimlessness, loneliness, and relatable worries about uncertain futures, wasting time, and having to confront change and the reality that people move on. Most of this is represented through fairly slice-of-life thoughts and discussion; everything from Ao lamenting the pressure from her parents paying for her study, to preparing to hold one last barbecue for their friends, to lamenting their flatmates leaving out rotting fruit. The grounded direction is refreshing in concept, but becomes tiring at times as the two leads ponder banal topics, or don't dive into things as deep as their introspection alludes.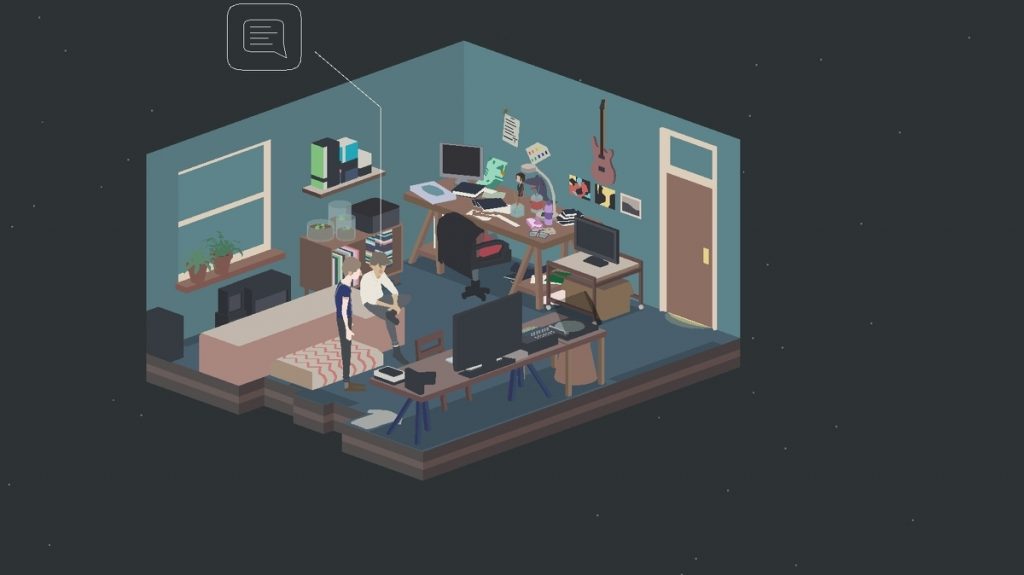 The presentation of No Longer Home is what I'd describe as an interactive theater, with the walls, furniture and roof of the flat often shifting in a surreal manner (representative, perhaps, of their headspace) as you enter a new room, or 'scene', while the art-style is reminiscent of another recent indie title, Untitled Goose Game. The music evokes a melancholy loneliness in its somber tones, and does much to convey the heavy emotions the pair are feeling.
The Final Verdict
Not every game story is made for everybody. I unfortunately didn't connect with Ao and Bo's contemplation, or the basic point-and-click gameplay, as much as I'd hoped, but it's easy to see many other gamers will.
No Longer Home is a few hours long, and moves at a brisk enough pace, but all in all, your enjoyment of this game will heavily rest on your ability to relate to the personal storytelling, its exploration of sensitive subjects, such as depression, suicide ideation and gender identity (of which there is a content warning in the main menu to let audiences know) and its upfront premise of a dialogue-heavy, point-and-click narrative over conventional gameplay systems.
Game Details
Primary Format – Games – Nintendo Switch
Game Genre – Point and click adventure
Game Developer – Humble Grove
Game Publisher – Fellow Traveller