Games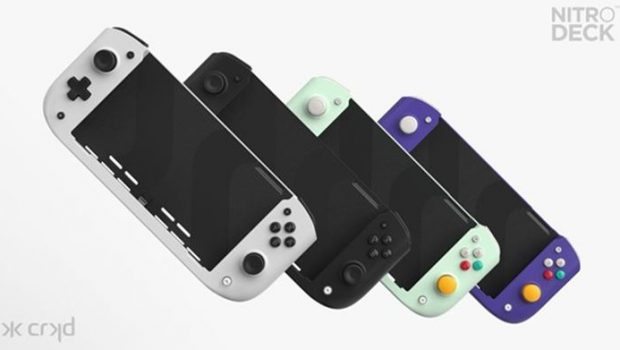 Published on November 9th, 2023 | by Adrian Gunning
Nitro Deck lands in Australia Including The Two Retro Limited Editions!
A Professional Handheld Deck for Nintendo® Switch™ and OLED Switch™ Consoles Nitro Deck is a professional quality handheld deck essential for any Switch lover, built for comfort and speed with zero stick drift and compatible with both the Switch & the OLED Model. Whether you're playing at home or on the go, casually or competitively, the Nitro Deck delivers the responsiveness and precision you need to enjoy your favourite games comfortably, for longer.
Featuring thumbsticks with Hall Effect sensors to eliminate stick drift and Thumbstick Toppers that can be swapped out for different designs to suit desired preference. The USB-C connection ensures ultra-low latency for the most demanding of games and for professional control a series of remappable Back Buttons gives users extra versatility to express their play style.
On the rear of the Nitro Deck, players will find a plug-and-play USB-C input, allowing charging of their system whilst gaming, as well as a USB-C output for simple connection to the Nintendo Switch Dock, so that gamers can use the Nitro Deck as an external controller without the screen.
Lee Guinchard, CEO of Embracer Freemode commented, "We believe the Nitro Deck will enhance how gamers interact with their Switch console, and it serves as the perfect taste of what's to come from the CRKD brand. We can't wait to share more product news shortly and look forward to bringing the Nitro Deck to gamers everywhere."
Enhancing the collectible nature of the range further, users can register their hardware via the 'True Collection System' app. By tapping a mobile device to the Nitro Deck, gamers can reveal their product number, discover the rarity rank, and register their device to their own secure CRKD collection adding another layer to the collectible experience. In the future, product release news, updates and announcements will be available to gamers via the app, making it an essential part of the CRKD eco-system.
Bluemouth Interactive are exclusively distributing CRKD to Australia and New Zealand.
Set to release late October in Australia and early November in New Zealand, with four variations available, including two standard editions in White and Black which will retail for $99.00 (NZ$109.95) and two limited editions, Retro Mint and Retro Purple, which will retail for $149.00 (NZ$174.95). The limited-edition Nitro Decks each come complete with a high-quality Carry Case, a 5m (8.2ft) USB-C cable and an additional set of Thumbstick Toppers.