Games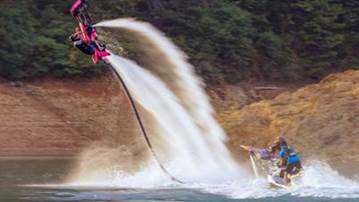 Published on October 11th, 2017 | by admin
Nitro Circus stars put Destiny's Sparrows to the test as they attempt to recreate tricks from the game in real-life
What happens when you take one of the world's most beloved in-game vehicles and create it in real life? Following the highly anticipated launch of action shooter, Destiny 2, Australia's biggest legends were plunged headfirst into their own action-packed adventure.
A Sparrow is a Guardian's ultimate ride in Destiny 2. Built for speed and agility it offers the best way to travel across the vast scenic areas within Destiny. With California's Shasta Lake as their playground, Nitro Circus stars Ryan Williams and Blake "Bilko" Williams went head-to-head with the world's number one hydro flight athlete, Joey Natale and the Hydro Circus stunt team as they took some real, custom-made Sparrows to their limits performing insane tricks. Australia's favourite pranksters, Shammi & Jackson even made a cameo appearance!
Supermans, No Handers and Barrel Rolls were just some of the tricks that the riders were able to land with a few bonus wipe-outs along the way!
Check out the action-packed video here: https://www.youtube.com/watch?v=uMdVPxwOufc&feature=youtu.be
Built from converted Jetovator technology and after two months of research and development, the Sparrows were able to hit speeds of up to 25mph on the water and soar up to 20 feet in the air!