Games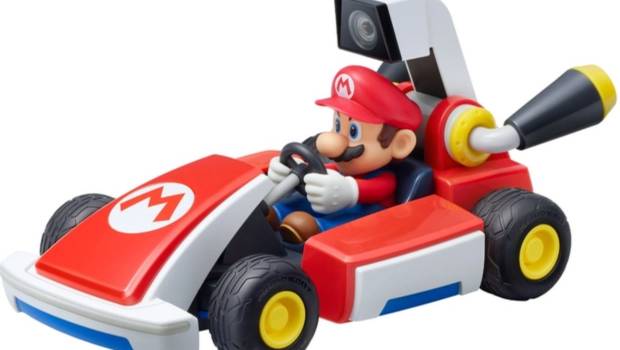 Published on November 23rd, 2020 | by Andrew Bistak
NINTENDO SWITCH SPECIAL OFFER
NINTENDO SWITCH SPECIAL OFFER WITH
MARIO KART 8 DELUXE + NINTENDO SWITCH ONLINE MEMBERSHIP HITS SELECTED RETAILERS IN TIME FOR THE HOLIDAYS
Start your engines and put the pedal to the metal – purchase a Nintendo Switch console* and receive a download code for Mario Kart 8 Deluxe and a three-month Nintendo Switch Online membership – the service that lets friends and families play compatible games together online – at select retailers across Australia and New Zealand from this Friday, 27th November, while stocks last.
With the festive season just around the corner, this special offer is the ideal gift for friends and family looking to race together anytime, anywhere. With a pair of Joy-Con controllers included with the Nintendo Switch console, plus the download code for Mario Kart 8 Deluxe and a three-month membership to Nintendo Switch Online, it's got everything two players need to start racing right from the get-go. Up to four players can get in the fun by using additional Joy-Con controllers, sold separately. And because Nintendo Switch can be played anytime, anywhere, with anyone, those races could be on the big TV screen at home, in the back of the car, or wherever else the racers in your life feel like hitting the track. You can also challenge racers from around the world. Up to 12 players can take part in online races**, and two local players can even play online together from the same Nintendo Switch.
In Mario Kart 8 Deluxe, familiar characters from the Super Mario series, such as Mario, Luigi, Peach and Bowser, as well as other fan-favourite Nintendo series, such as Link from the Legend of Zelda series, Inklings from the Splatoon series, and Isabelle from Animal Crossing series compete in races set around the world of the Mushroom Kingdom and beyond. Racers have to be prepared to get ahead of their rivals through the use of items such as the Super Star – which makes players invincible for a short period of time – and the notorious Spiny Shell, which will hunt down and attack the player in first place. Adding to the hilarious racing action is the use of antigravity, allowing vehicles to race along the sides of buildings and up astonishing waterfalls, and even nudge opponents for a satisfying speed boost. Players can also race The Legend of Zelda: Breath of the Wild-style! Take to the track like a champion with the Master Cycle Zero and Champion's Tunic Link and add some legendary new parts to customise your kart: the Ancient Tyres and the Paraglider. Take a look at the Mario Kart 8 Deluxe: Breath of the Wild Update trailer to see these new additions in action on the track.
With over 28 million copies sold worldwide, players of all ages and skill levels are already experiencing fun Mario Kart 8 Deluxe multiplayer racing. With the optional motion control and Smart Steering features players can focus on enjoying the action without worrying about driving off-course, keeping the action enjoyable for everyone.
The included three-month membership to Nintendo Switch Online offers access to a whole world of fun and games. Nintendo Switch Online is an online service that lets members connect and play compatible games online with friends and family around the world. With online play in compatible games like Animal Crossing: New Horizons, Pokémon Sword, Pokémon Shield, Super Smash Bros. Ultimate, Mario Kart 8 Deluxe, Splatoon 2, TETRIS® 99 and many others, a Nintendo Switch Online membership can help members experience everything Nintendo Switch has to offer. It also offers exclusive access to the new, competitive online battle game Super Mario Bros. 35, along with access to 90+ classic Super NES and NES games to explore and enjoy, such as The Legend of Zelda: A Link to the Past, Super Metroid and Super Mario Bros. 3.
Mario Kart 8 Deluxe is just one title in a wide range of software that everyone can enjoy on Nintendo Switch. The five titles listed below were released this year and are recommended for the whole family:
Super Mario 3D All-Stars – Discover three of Mario's grandest 3D adventures! This special bundle includes Super Mario 64, Super Mario Sunshine and Super Mario Galaxy, all optimised for Nintendo Switch with updated HD graphics, Joy-Con controls, as well as a music player mode featuring 175 soundtracks from all three games.
Mario Kart Live: Home Circuit – an all-new Mario Kart experience for Nintendo Switch that brings fast and frenetic Mushroom Kingdom motorsports to life, as players race physical karts around custom racetracks created in their own homes. Mario Kart Live: Home Circuit is available now as both a Mario set and a Luigi set.
Animal Crossing: New Horizons – Escape to a deserted island and create your own paradise as you explore, create, and customise. Your island getaway has a wealth of natural resources that can be used to craft everything from tools to creature comforts. You can hunt down insects at the crack of dawn, decorate your paradise throughout the day, or enjoy sunset on the beach while fishing in the ocean. Friendly faces like Tom Nook and Isabelle will lend their services and happily help you grow your budding community. Escape to your island getaway—however, whenever, and wherever you want.
Paper Mario: The Origami King – Join Mario and his new companion Olivia on a comedic adventure that will take you to the far corners of a papercraft world. Face off against the Origami King and his army of origami invaders, team up with some extraordinary companions and master magical powers on your quest to save the world.
Pikmin 3 Deluxe – Command a capable crop of tiny creatures and explore a mysterious planet in this exciting blend of action and strategy. Seek out valuable items, solve puzzles and overcome powerful creatures in a richly detailed world full of surprises.
Many more Nintendo Switch games including The Legend of Zelda: Breath of the Wild, Ring Fit Adventure, Super Mario Party and more, can be found at the Nintendo Australia website.
Available for a limited time at participating retailers, receive a download code for Mario Kart 8 Deluxe and a three-month Nintendo Switch Online membership when purchasing a Nintendo Switch from Friday 27th November, while stocks last.