Consoles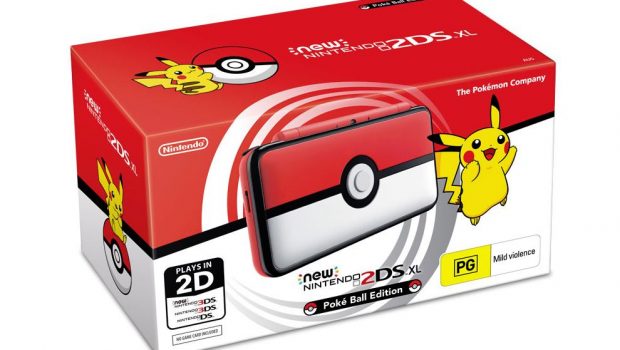 Published on September 14th, 2017 | by Admin
NINTENDO DETAILS A MASSIVE LINEUP OF GAMES COMING TO NINTENDO SWITCH AND NINTENDO 3DS
14th September, 2017 – The next few months for Nintendo Switch and Nintendo 3DS owners are going to be overflowing with a wide variety of first- and third-party games in wildly different genres. During a Nintendo Direct video presentation, Nintendo provided details for more than 40 games launching for Nintendo Switch and the Nintendo 3DS family of systems over the next several months.
Some of the highlights include the reveal of key third-party games coming to Nintendo Switch like DOOM and Wolfenstein II: The New Colossus, as well as updates to recently announced titles like L.A. Noire and Resident Evil Revelations, newly announced arcade classics are coming to Nintendo Switch, and a new Mario Party game for the Nintendo 3DS family of systems featuring 100 of the series' best mini-games. The jam-packed video presentation also provided additional details for upcoming games like project OCTOPATH TRAVELER (working title) from Square Enix, Super Mario Odyssey, and Xenoblade Chronicles 2.
To view the Nintendo Direct video in its entirety, visit http://www.nintendo.com.au/nintendo-direct. Additional highlights for the games and systems revealed in the video include:
Super Mario Odyssey: New information about Mario's upcoming adventure was revealed during the presentation, including more story details, locations and modes. Additionally, Nintendo also announced a special hardware bundle that includes a packaged version of the game and Mario-themed red Joy-Con controllers. A Nintendo Switch Carrying Case (Super Mario Odyssey Edition) & Screen Protector set will also be available. Super Mario Odyssey lands exclusively on Nintendo Switch on 27th October.
Xenoblade Chronicles 2: This massive sequel takes place in the world of Alrest on the backs of giant Titans. The journey through the clouds begins when Xenoblade Chronicles 2 lands on Nintendo Switch on 1st December. Alongside the standard version, fans can also pick up a special edition of the game that includes a sound selection CD, a special metal game case and a 220-page hardbound art book. A Nintendo Switch Pro Controller themed around Xenoblade Chronicles 2 will also be available on 1st December.
project OCTOPATH TRAVELER (working title): The producers of Bravely Default at Square Enix present a new RPG brought to life through a mixture of CG, pixel art and visual wizardry. project OCTOPATH TRAVELER launches worldwide in 2018. But fans can try out a free demo for the game in Nintendo eShop on Nintendo Switch starting today.
DOOM and Wolfenstein II: The New Colossus: Bethesda Softworks is bringing the iconic DOOM and Wolfenstein II: The New Colossus to Nintendo Switch. The fast-paced action of DOOM will hit this summer, while Wolfenstein II: The New Colossus launches in 2018.
Kirby Star Allies: Revealed at E3 2017, the first Kirby game for Nintendo Switch has some charming new tricks. By throwing hearts, players can recruit up to three enemies to become Kirby's allies. Whether playing alone or with up to three friends**, mixing up abilities to create new powers is a big part of the fun. Kirby Star Allies launches exclusively for Nintendo Switch in autumn 2018.
Splatoon 2: Back by popular demand, the Kelp Dome stage is returning as part of a free software update on 16th September. A new stage called Snapper Canal and an extra-large Brella weapon called the Tenta Brella are coming in the future.
ARMS: A free software update that goes live today allows players to remap the game's controls to the buttons of their choice, and adds the new fighter Lola Pop to play with.
Fire Emblem Warriors: Originally seen in the Fire Emblem game for the Game Boy Advance system, fan-favourite character Lyndis (or "Lyn," as all her companions call her) was announced as part of the sprawling cast of Fire Emblem Warriors. The action-packed game launches for Nintendo Switch on 20th October, also available as part of a special-edition bundle.
Arcade Archives: Some of Nintendo's classic arcade games are coming to Nintendo Switch courtesy of HAMSTER Corporation, starting with Arcade Archives: Mario Bros., which launches 28th September. Others, like VS. Super Mario Bros., VS. Balloon Fight, VS. Ice Climber, VS. Pinball and VS. Clu Clu Land, are coming soon. These arcade games contain subtle differences that can't be found in their NES counterparts.
Snipperclips Plus: Cut it out, together!: This expanded version of the original snipping-and-clipping puzzle game includes more than 30 new stages, new challenges and new features … and it's coming to stores for the first time! Players who already own the original digital version of the game can purchase all the new content in Nintendo eShop as DLC. Snipperclips Plus: Cut it out, together! hits stores on 10th November.
The Elder Scrolls V: Skyrim: The open-world masterpiece from Bethesda Game Studios can be played anytime and anywhere on Nintendo Switch. The Elder Scrolls V: Skyrim launches on 17th November.
Rocket League: This new version of the popular rocket-powered sports-action game includes all the modes of the original, plus Nintendo Switch exclusives including Nintendo-themed Battle-Cars and customisation items. Local wireless multiplayer*** will also be available when Rocket League launches this summer.
Dragon Quest Builders: The hit fantasy game combines the fun of building with the combat of an action-RPG. The Nintendo Switch version will allow players to ride a Great Sabrecub in the game's free build mode. The Sabrecub boosts players' speed and grants them special materials by defeating enemies. Dragon Quest Builders launches next autumn.
L.A. Noire: Rockstar Games is bringing L.A. Noire to Nintendo Switch on 14th November including all of its downloadable content, new collectibles, detective suits with special abilities, a Joy-Con mode with gyroscopic, gesture-based controls, new wide and over-the-shoulder camera angles, and intuitive touch-screen controls for portable detective work.
NBA 2K18: With big game-play improvements and stunning graphics, NBA 2K18 will be a slam dunk for sports fans when it launches on 15th September in Nintendo eShop on Nintendo Switch and in stores on 17th October.
EA SPORTS FIFA 18: The most immersive, social and authentic football game out there can be played anywhere on Nintendo Switch. FIFA 18 launches on 29th September.
WWE 2K18: To complete the trifecta of sports games that can be played on the go, WWE 2K18 is also coming soon to Nintendo Switch. Launch details will be announced at a later date.
Lost Sphear: This modern take on traditional RPGs from Square Enix is coming to Nintendo Switch in January 2018.
Sonic Forces: Join the uprising by fighting back as Modern Sonic, Classic Sonic or one of many custom Hero Characters players can create in Sonic Forces, launching on 7th November.
Resident Evil Revelations / Resident Evil Revelations 2: The Nintendo Switch library will get two creepy survival horror classics when Resident Evil Revelations and its sequel, Resident Evil Revelations 2, both launch in late November.
Flip Wars: Fans that are enjoying the multiplayer fun of Flip Wars can enjoy a free update soon. Once downloaded, the update adds a new stage, new mechanics, local wireless multiplayer, Class Matches and a new online* battle mode.
Morphies Law: Players can change their bodies to change their abilities in Morphies Law, a local and online* team-based multiplayer shooter launching first on Nintendo Switch as a console exclusive this summer.
Arena of Valor: Explore and command a roster of more than 35 fearless heroes in this free-to-start multiplayer online* battle arena game. With roles like Tanks, Assassins, Mages and Warriors, build a powerful team with friends to crush opponents in real-time battles. The Arena of Valor beta test version will be available for free this summer.
Nindies: Dozens of indie games are coming over the next few months. These include the underground platforming action of SteamWorld Dig 2 and the golf-RPG Golf Story in September; the four-player action game Nine Parchments and combo-based puzzle game Battle Chef Brigade this summer; randomly constructed sequel Super Meat Boy Forever in 2018; and tactical RPG Tiny Metal launching in the future.
amiibo
The Legend of Zelda Champions: Four amiibo figures based on the Champions from The Legend of Zelda: Breath of the Wild – Daruk, Mipha, Revali and Urbosa – launch in stores on 10th November. Tapping these amiibo while playing the game will summon special headgear for Link based on that Champion's Divine Beast. Additional functionality for these amiibo will be revealed in the future.
Nintendo 3DS
Pokémon Ultra Sun / Pokémon Ultra Moon: The new games feature customisable main characters who embark on a new adventure. An untold story unfolds on a grand scale, where the Legendary Pokémon that steals light, Necrozma, has transformed into two new forms: Dusk Mane Necrozma, who took over Solgaleo, and Dawn Wings Necrozma who took over Lunala. With an early purchase of the games**, fans can get a special gift Rockruff, who will evolve into a Dusk Form Lycanroc, new to the world of Pokémon Ultra Sun and Pokémon Ultra Moon. Fans who download the digital version of Pokémon Ultra Sun or Pokémon Ultra Moon by 10th January, will receive 12 Quick Balls**. Finally, a cool Poké Ball-themed New Nintendo 2DS XL system will launch in Australia and New Zealand on 4th November.
Nintendo presents: New Style Boutique 3 – Styling Star: Manage your own fashion boutique, meet customers and find stylish outfits to suit their needs. This time, your customers' stories may unfold differently based on the outfits you select. Become a top stylist and work with stars-to-be! Nintendo presents: New Style Boutique 3 – Styling Star will be released on Nintendo 3DS on 25th November.
Mario Party: The Top 100: For the first time, 100 of the top mini-games from the console Mario Party games can be played on a handheld system. Mario Party: The Top 100 supports local Download Play, so up to four players who each own a Nintendo 3DS family system can enjoy the game together with only one Game Card. Take a tour through all the mischief, magic and memories the series has to offer when it launches in Australia and New Zealand in January 2018.
Kirby: Battle Royale: Kirby is about to enter a tournament against his toughest rival yet … himself! The pink puffball's new game offers a variety of ways to fight in both single- and multiplayer modes. Kirby: Battle Royale launches in Australia and New Zealand on 4th November. Fans can head to the Nintendo Australia and New Zealand website to celebrate Kirby's 25th anniversary and vote for their favourite copy ability!
LAYTON'S MYSTERY JOURNEY: Katrielle and the Millionaires' Conspiracy: Katrielle Layton, daughter of the famous Professor Layton, is on the case! Detectives-in-the-making that play the game on a Nintendo 3DS family system will receive an exclusive in-game Flora costume. The game launches on 7th October.
Mario & Luigi: Superstar Saga + Bowser's Minions: When the game launches on 7th October, players will be able to use the new Goomba and Koopa Troopa amiibo – or the existing Boo amiibo – to get additional stamp sheets that offer up items in both of the game's modes. More information about amiibo compatibility will be revealed in the future.
Minecraft: New Nintendo 3DS Edition: Fans of Minecraft will have another way to play the hit creation game when it comes to New Nintendo 3DS systems. This portable version of the game comes with Survival and Creative modes, five skin packs and two texture packs. Minecraft: New Nintendo 3DS Edition will be available on Nintendo eShop soon and in stores at a later date.
The Alliance Alive: Nine characters' paths will converge in this old-school RPG from role-playing powerhouse ATLUS. The Alliance Alive launches exclusively in Nintendo eShop in early 2018.
Etrian Odyssey V: Beyond the Myth: Fans of the Etrian Odyssey series can download a free demo for Etrian Odyssey V: Beyond the Myth in Nintendo eShop on Nintendo 3DS today, before the game launches this spring.
Two New Games, Two Beloved Series: The next game in the Ace Attorney series, Apollo Justice: Ace Attorney, launches in November, while the action-packed Fire Emblem Warriors launches on 20th October for New Nintendo 3DS systems only.