Events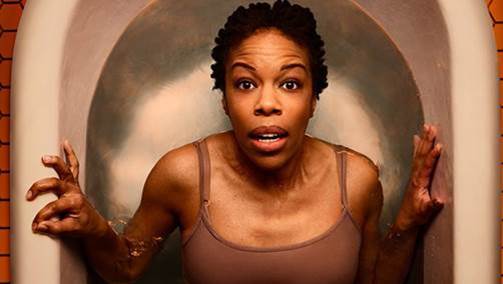 Published on June 14th, 2017 | by Admin
Nilaja Sun brings to life the entirety of the Lower East Side in Pike St.
MELBOURNE, FOR IMMEDIATE RELEASE – Acclaimed performer Nilaja Sun will return to Australia this September direct from Edinburgh Fringe with Pike St. – her first solo-show since the success of her sold-out Melbourne Festival hit and OBIE-award-winning, No Child…
In the intimate confines of Arts Centre Melbourne's Fairfax Studio and artfully directed by original director and producer Ron Russell, Sun will portray a host of characters living in Manhattan's Lower East Side, 'bringing each to life with a radiant grace that makes her virtuosity seem as natural as breathing' (Charles Isherwood, New York Times).
Under the shadow of the Manhattan Bridge, a struggling family prepares to ride out the next big storm. Unable to move her teenage daughter Candace – whose mysterious aneurysm has rendered her unable to move or breathe on her own – out of their crumbling tenement, Evelyn plans for more than just survival: she fights for healing and redemption.
Featuring her trademark humour, political incisiveness and virtuosity, Sun brings to life the entirety of the Lower East Side; from decorated Puerto Rican war veteran Manny, to octogenarian downstairs neighbour Mrs. Applebaum, to Candace herself.
Nilaja Sun is an actor, playwright and teaching artist. Her celebrated solo piece No Child… garnered 21 awards including an Obie Award, a Lucille Lortel Award, two Outer Critics Circle Awards (including the John Gassner Playwriting Award for Outstanding New American Play) and a Theatre World Award.
Sun has also appeared in various high-profile television shows and movies, including The Bourne Legacy, Madam Secretary, The Good Wife, 30 Rock, Law & Order: SVU and Louie.
"So full of vivid life" – New York Times
"Glows with humour throughout" – New York Times 
"A one-of-a-kind" – The Washington Post
"Seeing Nilaja Sun perform solo is like watching a virtuosic musician" – Time Out New York
Arts Centre Melbourne presents
Pike St.
12 – 17 September
Fairfax Studio, Arts Centre Melbourne
Book at artscentremelbourne.com.au
Pike St. was originally commissioned and produced by the Epic Theater Ensemble and will be performed at Geelong Performing Arts Centre (GPAC) prior to Arts Centre Melbourne.
For more information about Arts Centre Melbourne visit artscentremelbourne.com.au or phone 1300 182 183. Become a fan of Arts Centre Melbourne on Facebook or follow @artscentremelb on Twitter or @artscentremelbourne on Instagram.