Blu-ray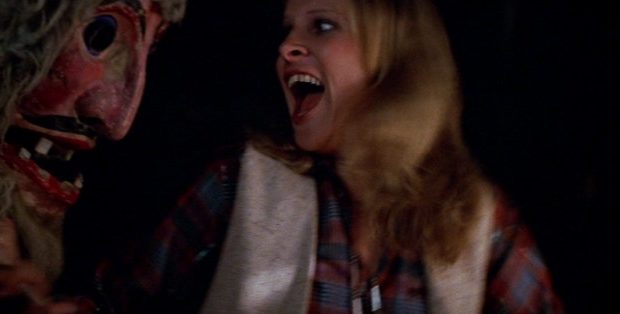 Published on August 29th, 2021 | by Tim Chuma
Nightmares (1980) Blu-ray Review
Summary: I thought this would be more fun given who was in it and how I have heard it talked about. Was just boring. Give it a miss unless you absolutely have to see everything Ozploitation.
A deranged killer with childhood trauma stalks a theatre that is holding a production of a "death comedy". The people involved in this who are still alive would maybe rather you would forget this movie and I should think so too.
I always thought the stories about John Lamond were exaggerated even after seeing him in the Not Quite Hollywood documentary and him complaining at the panel at MIFF that Australia no longer made "real movies" the sketch from the Late Show "the last Aussie Auteur" is funnier when you see that Michael Hirsh who also worked on the show was part of this movie also.
There are talented people working on this but it is in service of something so boring and obvious. The schizophrenia angle was already old by the time this came out and they try and pad out the story with sex and nudity.
They do try and be clever by having John Michael Howson as a critic (pretty much himself) in the movie but he hardly gets to do anything to make it worthwhile.
The score is so poorly used and feels like it belongs in a movie that is 20 years older. Even for the early 1980s this wasn't up to that much. I know horror is all the rage these days but even the older ones I have seen clips of in the recent Woodlands Dark and Days Bewitched: A History of Folk Horror (2021) come off a lot more interesting than this. I am not sure this movie is even mentioned in the book the House of Psychotic Women and that had pretty much every movie with a female killer in it.
I would be more generous to the movie if it was actually fun but it can't even manage that and the story seems all cut up into bit with stuff happening all over. "You be scared now" seems to be the vibe from the cuts and the music stings, I don't think anyone was ever scared.
It looks like it is trying to ape a Giallo thriller but it is not intelligent enough to do so and not enough J&B Whiskey had been shown on screen so they do not know how. Being a Bluray it does look quite good but I am not sure it helps it that much if there is not that much to look at.
As it stands this movie is more of a curiosity than anything else. If you are an Ozploitation fan and want to see absolutely everything that Gary Sweet has done then go right ahead but also drink a lot before going in.
Trailer
Film details:
Alternate title: Stage Fright
Director: John D. Lamond
Screenplay: Colin Eggleston
From and original idea by: John D. Lamond, John Michael Howson
Starring: Jenny Neumann, Gary Sweet, Nina Landis, Max Phipps, John Michael Howson, Briony Behets, Maureen Edwards, Sue Jones, Jennie Lamond, Adele Lewin, Edmund Pegge, Peter Tulloch, Bryon Williams, Malcolm Steed, Denise Peterson, Tania Uren, John Harris, Gary Day, Joy Westmore, Lise Rodgers, Doug Bowles, Rossana Zuanetti, Gene Van Dam, Angela Menzies-Wills, John D. Lamond
Music By: Brian May
Country: Australia
Genre: Horror, Thriller
Advisory: Nudity, Sex Scenes, Violence, Blood
Length: 82 min
Distributor: Umbrella Entertainment
Extras:
NEW NOT QUITE HOLLYWOOD extended interviews with director John D. Lamond and actress Nina Landis
Audio commentary with director John D. Lamond and filmmaker Mark Hartley
Deleted scenes
Confessions of an R-Rated Filmmaker featurette
John D. Lamond trailer reel
Stills and poster gallery
Theatrical trailer