Films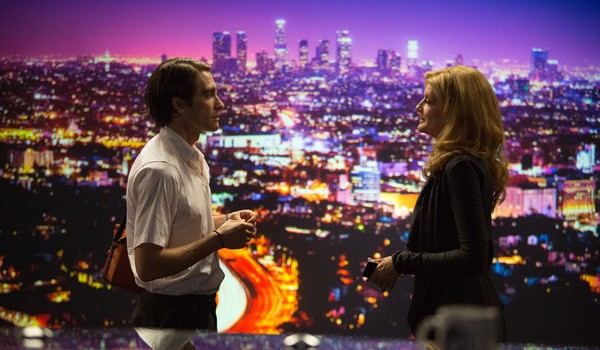 Published on November 23rd, 2014 | by Damien Straker
Nightcrawler – Film Review
Reviewed by Damien Straker on November 23rd, 2014
Madman Entertainment presents a film by Dan Gilroy
Produced by Jennifer Fox, Jake Gyllenhaal, Tony Gilroy, David Lancaster and Michel Litvak
Written by Dan Gilroy
Starring: Jake Gyllenhaal, Rene Russo, Riz Ahmed and Bill Paxton
Music by James Newton Howard
Cinematography Robert Elswit
Edited by John Gilroy
Running Time: 117 minutes
Rating: MA15+
Released: November 27th, 2014
Images: http://www.madman.com.au/catalogue/stills/30307/nightcrawler
Stringers in Los Angeles walk a fine line between artists and nuisance. A stringer is a person who drives around the city at night and uses a police scanner to track the location of crimes and accidents as they unfold. They try to arrive before the police and use video cameras to film the incidents and sell their footage back to news channels. This is real or as much as reality television can be and documented in a US TV show called Stringers: LA (2007).
Nightcrawler, starring Jake Gyllenhaal, is a fictional representation of this occupation. It is directed by debut filmmaker Dan Gilroy, a former entertainment journalist who wrote The Bourne Legacy and brother of screenwriter Tony Gilroy. In hilarious and disturbing ways, the film asks what would happen if a nightcrawler not only filmed the news for money but manipulated it as well. Nightcrawler also dissolves society's moral boundaries as a person solidifies themselves as an entrepreneur, who might move the bodies slightly to get the right shot.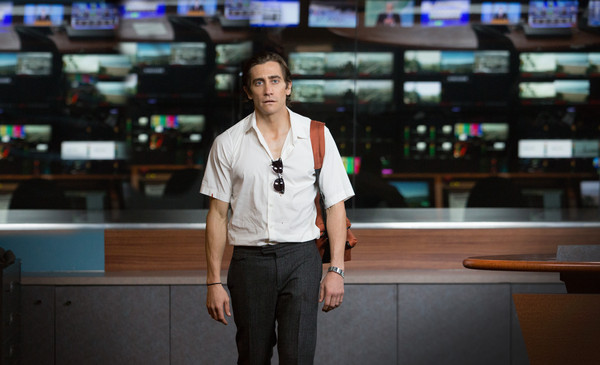 Louis Bloom (Gyllenhaal) is the film's protagonist or more precisely its anti-hero. He is first caught trying to steal metal from a fence, which he sells for money. Louis never sees himself as immoral but rising an invisible corporate ladder. The humour and huge laughs throughout the film are from Gyllenhaal's performance, drawing delusions of enterprise and ambition from his bulging eyes and childlike smile. He plays Louis as straight-faced and highly mannered and articulate, like someone who has over rehearsed himself for a job interview in spite of his openly deplorable actions. Louis doesn't have a backstory or friends or family. He is a twisted, subverted viewpoint of both the self-made man and the icon of American accomplishment.
The initial premise of the film is simply him filming crime scenes for money. The plot though is how far he is willing to leap over the boundary lines and his rivals. Referencing how he filmed tornadoes in Twister, Bill Paxton has a small role as Joe a rival nightcrawler. He's pivotal not only as someone who hates Louis for being the competition but asserting Louis's singularity. Joe offers him a chance to work with his company but Louis refuses, determined to heighten his own empire.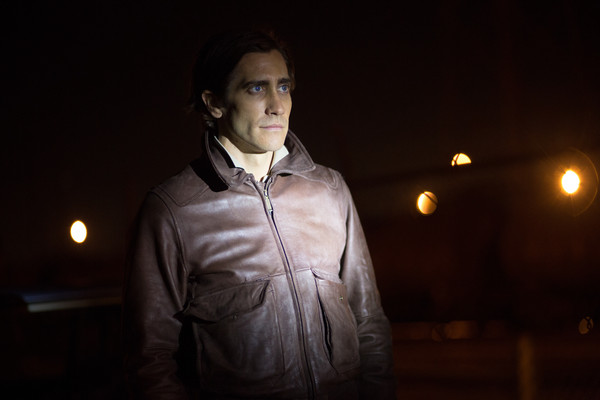 Louis records footage of various road victims and sells them to a news station run by the director Nina (Gilroy's wife Rene Russo). She sees Louis has a gift for capturing other people's misery. The more graphic and up-close the footage is, the higher the ratings and the payouts, which saves her job. There are pitch-black hilarious scenes where these two characters realise they need each other. Louis blackmails her into promising him sexual favours (unseen in the film), manipulating her desperation to keep her job during the demanding high ratings period.
Louis and Nina are devoid of conscience or empathy. They are by-products of a dog eat dog world and the uncertainty of today's economy and lack of job security. Both are driven by monetising other people's misfortune, ensuring their own survival. Epitomising this lack of empathy is Louis's shift from independence to constructing a business venture by using other people. As well as a new sports car and enhanced equipment he also acquires Rick (played by Riz Ahmed), an intern who he refuses to pay and uses him to help locate crime scenes. Nightcrawler is therefore about how much people are willing to do in order to have a steady job in today's fluctuating climate.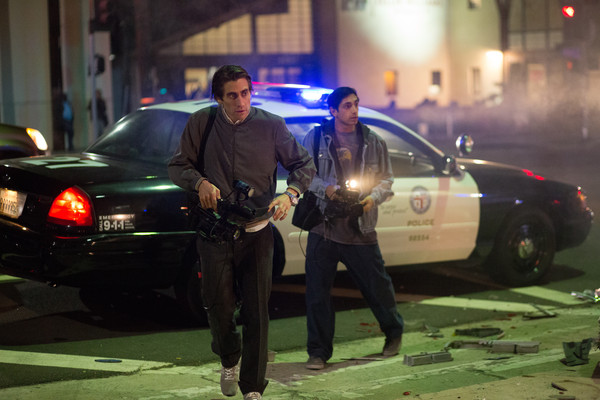 Where the film is most troubling is in the increasingly radical behaviour of both Louis and Nina and how immoral they'll become to make money. Through a number of very dark sequences Louis interrupts crime scenes. At one particular car accident he arrives before the police and then moves the body so that he can film it up close. In another scene he watches a shooting unfold and waits for the murderers to leave before entering and filming the victims.
This is voyeurism at its sickest but I never disengaged from the character or story. I wanted him to escape before the police arrived, which is investment married to the nail-biting tension. Louis's involvement in the crime scenes are mirrored by the news channel. The film doesn't flinch in characterising the news stations as fear mongering for ratings. Nina watches her two news reporters onscreen and coaches them during a broadcast to stress key words, reminding people of urban crime in predominantly rich, white neighbourhoods and hammering these points to sustain the story. In an age of Fox News or news channels telling us about non-event terrorism raids, can we start calling these scenes authentic instead of satire?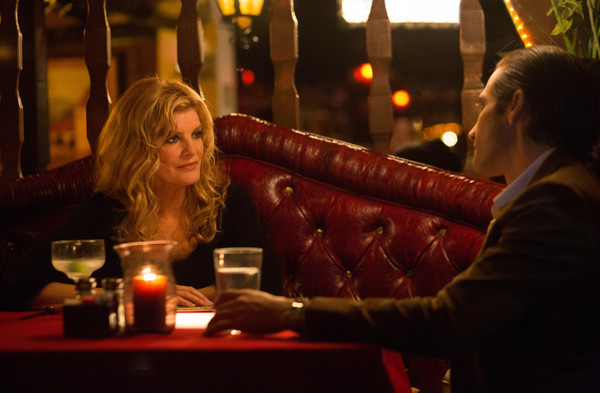 One action at the end of the film feels sour but until then Gilroy's debut is hugely impressive. It employs and subverts a relatable subject matter, the necessity for people to find paying work, to access an otherwise terrible character. The pacing of this story appropriately runs at high energy, channelling the velocity and rhythms of an action movie. Filming mostly at night is also both stylistic and metaphoric because the film's characters evoke darkness. Louis Bloom, refreshingly devoid of redemption, isn't a person but an embodiment of the evil lying inside us. His journey isn't a transformation but a descent, stressing how far a person, one the director compares to a coyote, will overstep others to survive. The fact Gyllenhaal holds our attention and our care for so much of this film is an achievement but also strangely terrifying.
Summary: The fact Gyllenhaal holds our attention and our care for so much of this film is an achievement but also strangely terrifying.