Games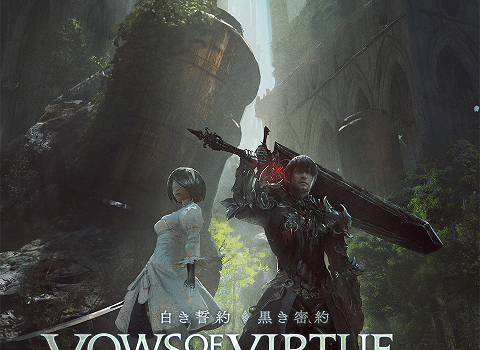 Published on September 17th, 2019 | by Admin
NIER RAID SERIES REVEALED AS NEW DETAILS ANNOUNCED FOR FINAL FANTASY XIV ONLINE PATCH 5.1: VOWS OF VIRTUE, DEEDS OF CRUELTY
The first details of FINAL FANTASY® XIV: Shadowbringers™ upcoming Patch 5.1 are now available following the latest Letter from the Producer LIVE stream.
Titled Vows of Virtue, Deeds of Cruelty, Patch 5.1 is the first major update for FINAL FANTASY XIV Online's critically-acclaimed third expansion and introduces the highly-anticipated YoRHa: Dark Apocalypse alliance raid, a collaboration with the NieR® series featuring the work of guest creators Yosuke Saito and YOKO TARO.
Vows of Virtue, Deeds of Cruelty will also bring a variety of new content, features and improvements. During the livestream, FINAL FANTASY XIV Online Producer and Director Naoki Yoshida outlined much of the content that will arrive with the release of Patch 5.1:
New Main Scenario Quests – Patch 5.1 introduces the next chapter in the exhilarating Shadowbringers main storyline.
New 24-Player Alliance Raid: "The Copied Factory" – Guest creators Yosuke Saito and YOKO TARO bring together FINAL FANTASY and NieR in the YoRHa: Dark Apocalypse alliance raid series.
Restoration of the Holy See of Ishgard – This crafter- and gatherer-focused content encourages players to work together to build the Firmament in Ishgard. The new content is accompanied by extensive system adjustments and updates for crafting and gathering classes.
New Game+ – This brand-new system will allow for replay of previously completed quests while retaining one's current progression and job level.
New Dungeon: "The Grand Cosmos" – Players can tackle this new dungeon alongside fellow adventurers, or a party of non-player characters using the Trust system.
New Extreme Trial – Players will be able to challenge a new extreme difficulty trial.
New Beast Tribe Quests – The Pixies
PvP Updates – Substantial changes will be made to PvP actions, alongside the introduction of a new Frontline map and ruleset.
Blue Mage Job Updates – The first major update to this limited job will feature an increased level cap, new job quests, as well as new blue mage-specific battle challenges and content.
Performance Action Updates – The addition of an ensemble feature will allow groups of players to create music together.
Patch 5.1 will also feature job adjustments, Gold Saucer updates, system updates, and more
FINAL FANTASY XIV Online is returning to PAX Australia 2019 between Friday 11th October and Sunday 13th October. Attendees will be able to take on a Battle Challenge against Eden Prime in order to win an I BEAT T-shirt, and explore Sprout Corner, where new players can begin their adventure in Eorzea and receive a free copy of the Starter Edition of the game. Additionally, a Fan Gathering will be taking place on the evening before the show on Thursday 10th October.
For more information on PAX Australia and to secure a place at the Melbourne Fan Gathering, please visit the Lodestone.
Players new to FINAL FANTASY XIV Online are invited to download a free trial to access content up to level 35, create up to eight playable characters, and experience the different playable races, classes, and jobs with no restrictions on playtime. New players who wish to experience the free trial may register here.
FINAL FANTASY XIV: Shadowbringers is the third expansion for FINAL FANTASY XIV Online and has received universal critical acclaim since its release in July 2019. Packed with striking new environments, the new gunbreaker and dancer jobs, Hrothgar and Viera races, Trust system and much more, it offers players both old and new hundreds of hours of content to explore.