Comics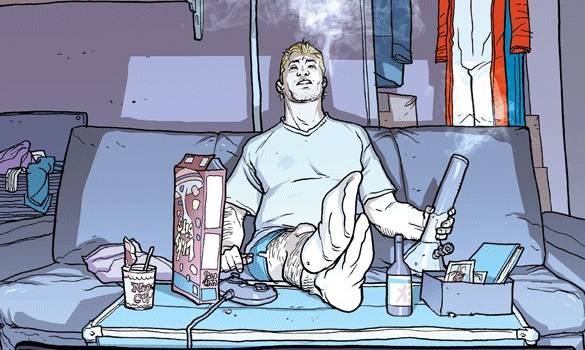 Published on January 17th, 2018 | by Dana Folkard
THE FURTHER ADVENTURES OF NICK WILSON #1 REVIEW
Summary: The funny and unfortunate story of a superhero who loses his powers.
Nick Wilson was once the greatest superhero on the planet, living a high-flying life of adventure and fame. That is until he abruptly lost his powers, reducing him to a washed-up loser who has been forced to live a jaded existence, that is a dim memory of his former glory. Nick now struggles to make ends meet, living a hopeless life as he tries to figure out who he is and where he belongs in this world.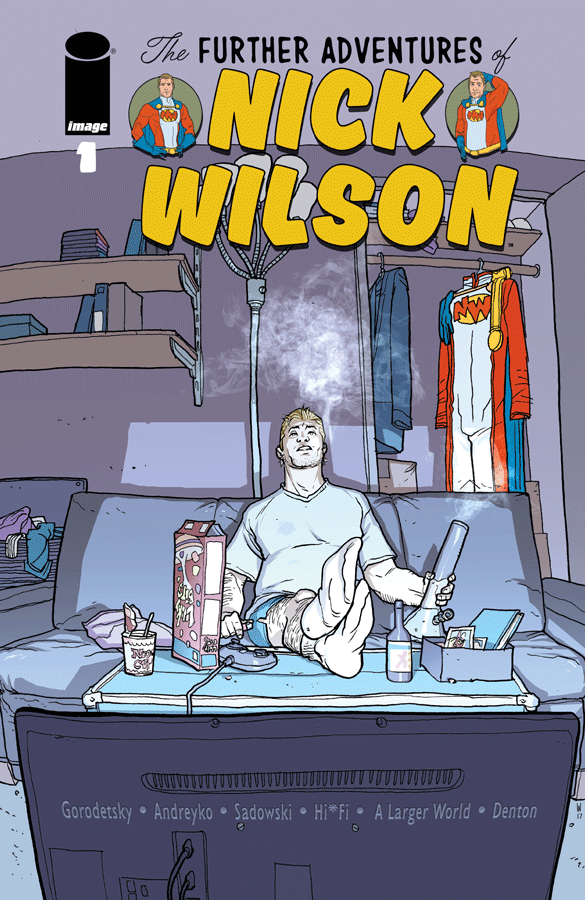 The story begins at a boy's birthday party, where we see a hired "impersonator", dressed as the former superhero, Nick Wilson. The only catch is that this IS actually Nick Wilson pretending to be a man, pretending to be himself…confusing, right? Nick used to be a powerful superhero, that is until he abruptly lost his powers and all the fame that came with it, hence the job where he pretends to impersonate himself. On his way home from the party, Nick is involved in a minor car accident after his manager gets distracted whilst driving and veers off the road. Nick wakes up in hospital, sporting a neck brace and a bump to the head, and after being told that his friend is fine, decides to discharge himself and make his way home. Unfortunately, the paparazzi get a whiff of his accident, and they're waiting for him with cameras outside the hospital. SNAP! Nick eventually makes his way home, where he sits down to relax, have a choof and watch some telly. Bad decision, as the story about his car accident is out, which reminds him of his former glory and fall from fame. Feeling lousy and downtrodden, Nick pulls out a box, containing mementos from a happier time when he was with his high school sweetheart. He then decides to call his former partner, asking her out for lunch.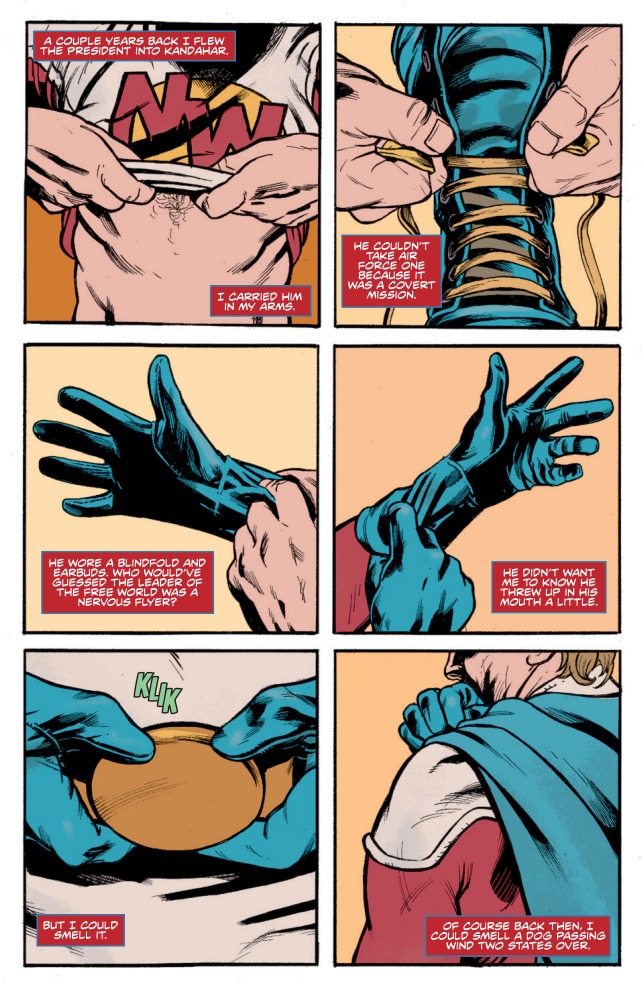 Eddie Gorodetsky and Marc Andreyko have created an interesting character within Nick Wilson. Having fame suddenly forced upon him, with the advent of his superpowers, dramatically altered not only his life but the person he used to be. During his lunch date with his ex-girlfriend, we are given a glimpse into the man he was before he got his powers. This massive upheaval in his life, changed him into an arrogant playboy, however, his glory was fleeting and as quickly as he won the attention of the public, he lost it. This to me highlights the darker side to fame, as we now see a broken, washed up man, unable to live up to his former expectations and barely able to make a buck. He is judged and publicly ridiculed, left to contemplate his former life, with all those doubts and anxieties gnawing from within. It's pretty shit actually and to be completely honest, I feel for the guy.  I believe that it is this sense of compassion that compels me to like Nick and relate to him even more. Wishing for some form of escapism from his life by getting high is a pretty textbook, band aid solution that many people resort to. He is massively flawed, but not a bad guy and comes across like he is just wanting some kind of acceptance or redemption. I'm really curious to see how this character will grow throughout this series, and where his life will go from here.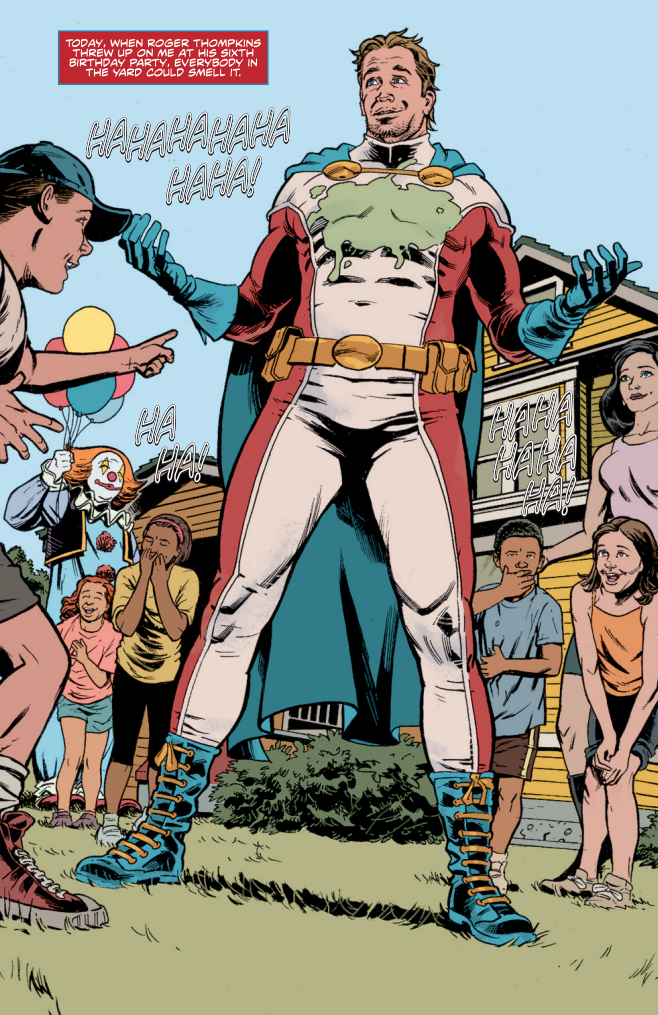 The art, by Steve Sadowski's has a wonderful freshness and a sense of energy about it. I quite like Sadowski's art, as I find that it has an expressive quality that really suits a story such as this. His linework is detailed, giving this world and the characters that inhabit it, a realistic and somewhat gritty quality. I also found that Sadowski perfectly captures Nick's vulnerability and inner turmoil through his detailed and expressive face. The colouring, by Hi-Fi Colour Design is effective in capturing the overall mood of the story, especially during some of the more intense flashback scenes. Both the art and colouring come together to create a well-rounded visual narrative that is pleasing to look at.
Overall, I must say that I'm intrigued by the first issue. I find the concept to be interesting, the characters complex and the art to be lovely. I feel for Nick and I want to discover more about what his future holds and the path that his life will take. If you're interested in a superhero story, minus the super, then give this series a whirl.
I'm giving this issue 4 out of 5 stars!
---
COMIC DETAILS
CREATIVE TEAM: Eddie Gorodetsky, Marc Andreyko and Steve Sadowski
PUBLISHER: Image Comics
PUBLICATION DATE: January 17, 2018
REVIEWER: Dana Folkard