Interviews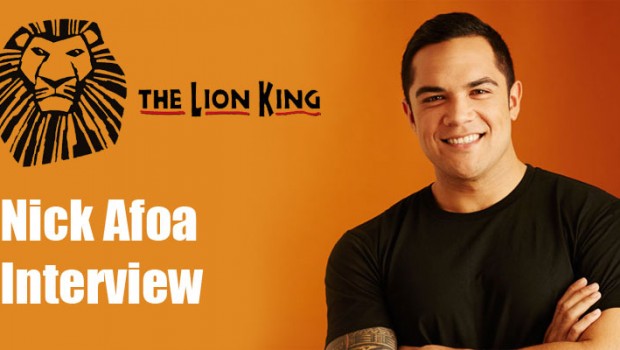 Published on March 6th, 2015 | by admin
Nick Afoa Interview (Simba from The Lion King – Melbourne)
Hi Nick, welcome to Impulse Gamer and congratulations for such an awesome opening for the 2015 season of The Lion King! You're originally from Auckland New Zealand and you represented New Zealand at the Under 19 Rugby World Cup in 2004… so how did you become involved in theatre?
Thank you for the interview. Melbourne's been great so far.
Although this is not common knowledge, I auditioned for the first Australian The Lion King season when they were recasting for Simba in 2004.  I was concurrently in the midst of a trial process for New Zealand under 19s. I was faced with a dilemma in choosing one or the other – I chose rugby.  As the rugby career started to diminish with injury, I often asked myself the question what would have happened if I had gone for the role. Even to the point where it affected me deeply. Then, all these years later I got my second chance.  And I wasn't going to let it get away this time. This is how I caught my theatre bug.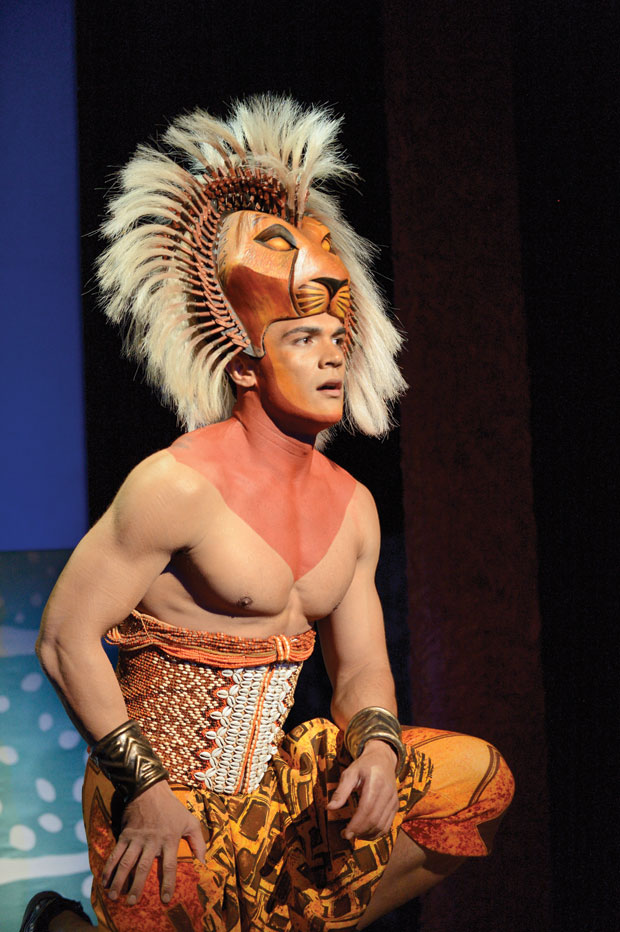 Growing up in Auckland, who were some of your inspirations?
Although I looked up to various artists and sportsman, My Dad was probably my biggest inspiration. Not that he was famous or even played sports or sang himself. I guess from a very young age my parents saw potential in me and he always did his best to see me make the most of what I had. I remember times Dad would wake me up at 5am we would go to the shopping mall car park and he would make me do fitness. Or he would drive me to my rugby games very far away and take a day off work.  Even spend the last of his week's pay so I could have some new rugby boots. The show that he and my Mum came to see was one of my most memorable.
Are you still involved in sports?
I haven't played competitive sport since I stopped playing rugby in 2009. But I have enjoyed my time as coach of high school rugby teams. It was quite rewarding and to be honest frustrating at times. Lets just say I learned a whole new level of patience while coaching. Hahaha… In South Auckland there is so much uncovered potential. Often scarce in resources and funding compared to wealthier schools, South Auckland is so rich in its natural abilities. It was exciting to be able to nurture this talent. I also loved the social aspect to coaching rugby. Overseeing the relationships that would form and the comradery that these kids would maintain even after the season ended. The greatest thing that they could have learned is that rugby is more than just a game. It can teach you things about yourself and about life that will benefit you in the long run.
So the big question is… how did you become involved in The Lion King?
Because I was always following The Lion King around the globe online I came across an article mid 2012 saying that there were whispers of it coming back to Australia.  Even before I knew that it was confirmed I started preparing. I immediately started with losing weight; gym sessions and clean eating. I was 112kg at the time. I wanted to be in the best shape possible. The casting team auditioned in early 2013 and I had made the first call back. From here on in it was quite intense. I had about 6 auditions all up.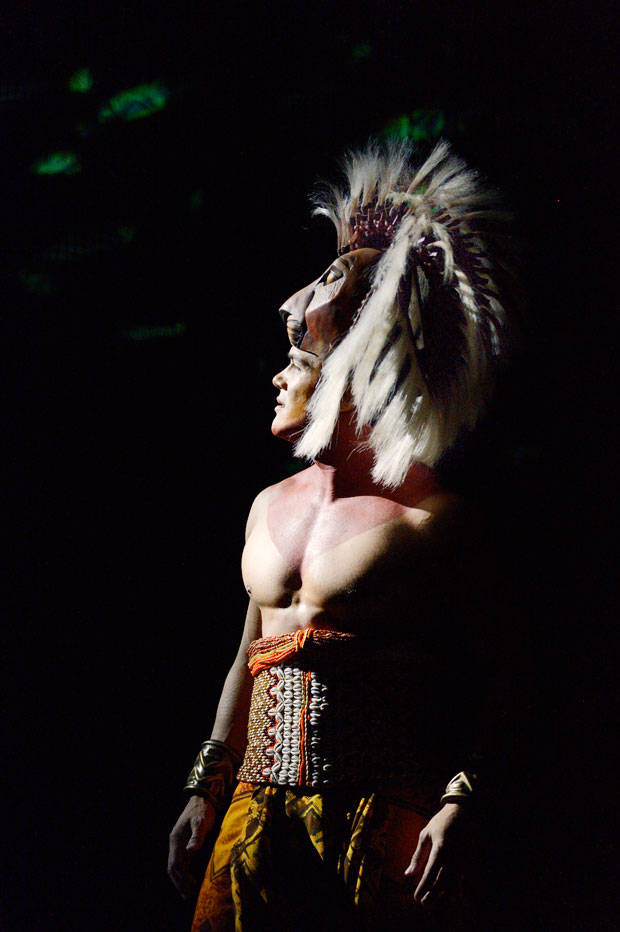 As The Lion King is your musical debut, what was it like being on stage for the first time in front of a packed house?
The first time in front of a packed house was in Sydney. It was our 'family and friends show'. I was so nervous that I felt sick in my stomach. But there was something so special about that audience. It was so warm and supportive. They were our families and close friends. The people who knew how hard we had worked, who had shared in our journeys to be there, and they were probably just as nervous as we were. Once I felt that energy the nerves went away.

What do you think you bring to the character Simba?
I try to bring a physicality to the role that resembles as much as possible the way an adolescent Lion would be in the jungle. I have my athletic background and sporting history to thank for this. But I also try to bring an understanding of the emotional journey that his character is on. Balancing his emotional vulnerability with his physical prowess is my challenge every night.  Every movement, every inflection, every note needs to come from a place of truth to who Simba is or how he would respond to his circumstances. His journey is so real and relative to so many of the audience that If it's not true for me, then it wont be true for the audience.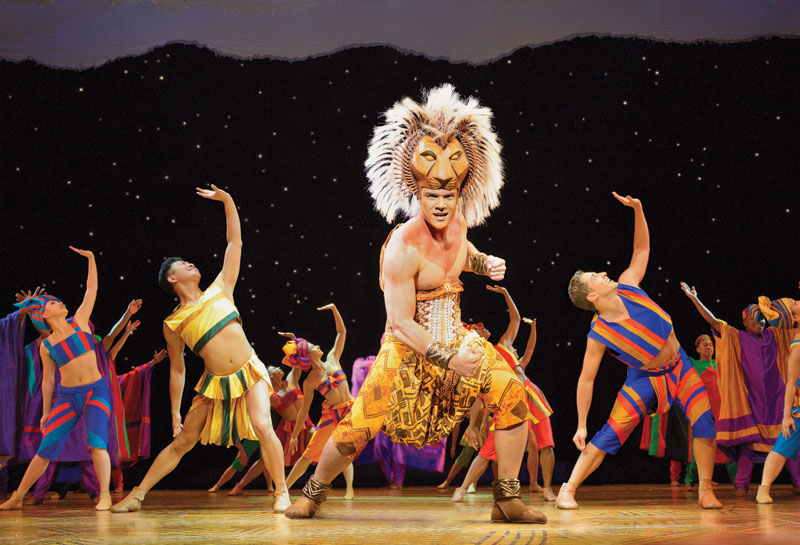 When you were selected to play Simba, did you do any research like watch the original film or study any of the other The Lion King Musicals?
I guess I broke Simba up into his parts. Animalistic/Humanistic. I studied Lion movements and watched national geographic to get the movement in my body and the instincts and innate tendencies of a Lion.  Then I delved into my own life and past experiences to see how I understood the humanistic side to the story, and Simba's character. As well as my own experiences to draw from, I also am fortunate to have experienced 4 years as a youth counselor. During this time I worked with many young people who had similar stories if not suffered worse tragedies than Simba did. Here I gained insight into how a young person who's been through massive life changing events see their world and in turn shape their view of themselves and others. This was invaluable in helping me bring Simba's character to life.
The current production in Melbourne is truly epic in nature, what's your favourite aspect of the show so far?
My favourite aspect of the show has to be witnessing the effect that this show and its story has on the audiences such as the simple fact that the theatre is a place where someone can go to escape, and be transported to another place. It's a place where someone can have a life changing experience or can have a sudden revelation to do something great.  Or even the simple fact that it's a great place to spend some family time. And to think that I am a part of this is really my favourite aspect.

What is your favourite song in The Lion King?
Although I love many of the songs in the show my favourite song has to be – 'He Lives in You'.  Simply for what it speaks of. I am a spiritual person myself and believe in the guidance that comes with faith in a higher power so to speak.  Also with people who have gone before and are always watching over us in our triumphs and our adversities. This song is probably my favourite.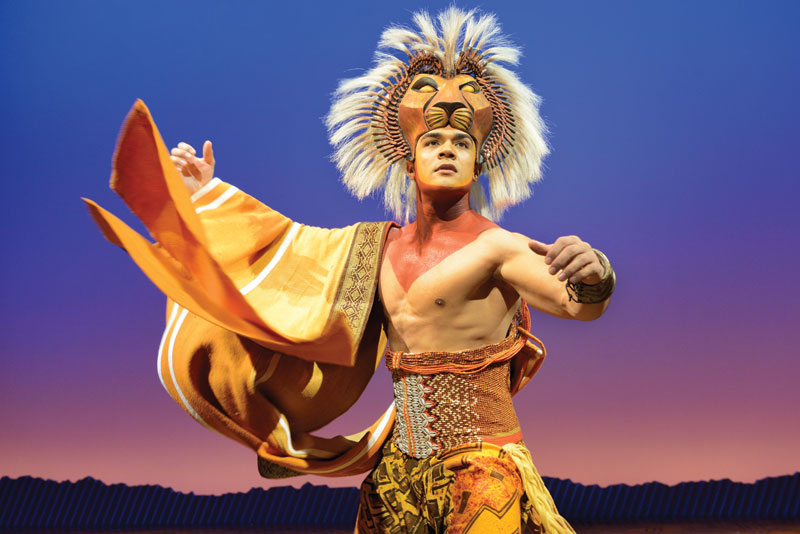 Besides The Lion King, what is some of the music that you are listening to on your smart phone at the moment?
I listen to a lot of music that reminds me of home. So bit of NZ reggae, and roots, also a lot of traditional Samoan music. I always try to keep touch with my fa'aSamoa and sometimes music is the only way as my Samoan family is not always around while here in Australia.
As a performer, what do you feel is the most difficult part of being on stage?
I guess it's remaining focused toward the end of the week. Your body and voice is failing you. Here it takes a bit of refocusing and centering. Knowing that you are giving enough and you don't have to push harder, just trust that it's there.
What's it like working with Josh Quong Tart (Scar), Buyi Zama (Rafiki) and Josslynn Hlenti (Nala)?
These 3 individuals are crazily talented people and I am very blessed to share the stage with them. Josh has a massive caring heart and has always looked out for me especially as a young aspiring actor. He can be a big kid sometimes and has a lot of fun, and when he's working he is so captivating to watch.
Buyi and I have a lot of fun on stage. Especially in 'Tamati Zo'. When she sings to me in the apparition scene, I feel she sings directly to my soul.
Josslynn has probably shared the biggest part of my professional journey with me. Although I'm 3 years her senior, she has an old soul. One of the biggest things I've learned from her is her fearlessness and her absolute dedication to push through that mental barrier. As Nala she provides that perfect balance of power and grace. Sometimes right before our fight, I see the look in her eyes, and I ACTUALLY get scared. She knows this. Hahaha.
As The Lion King is such a visual and interactive experience, what's your favourite part of the story?
My favourite part of the story has to be the FINALE BUSA scene. The sun rises to symbolise a new beginning. Simba runs on stage and sees everyone there who always believed in him, his beloved Nala, his mother Sarabi, Rafiki, Zazu and Timon and Pumba. Simba then ascends Pride Rock to claim the kingdom that was once his father's.  You can feel the crowd in this scene having their own revelations. I guess as humans we've all had these types of moments. When you've accomplished something and come out the other side and you realise that all along these people had faith in you even when you lost faith in yourself. That is powerful.
Lastly, how grinding was the rehearsal process?
The rehearsal process was an experience that I'll never forget. Yes it was grinding. On every level you could imagine, especially physically. I felt my body do things that I never thought possible. As grinding as it was though, it was very uplifting. It was also a place where a lot of the magic happened as we immersed ourselves into our characters. Where we made self-discoveries, where we pushed through mental barriers, and where we slowly, like an artist to a canvas could see the final masterpiece coming to life.
Thanks for your time Nick and all the best for the 2015 season of The Lion King in Australia!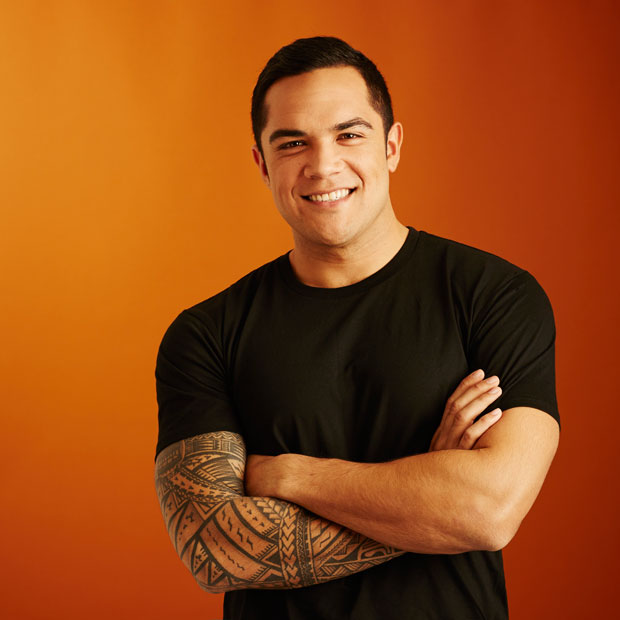 For more information on The Lion King, please visit http://www.disney.com.au/lionkingthemusical