Events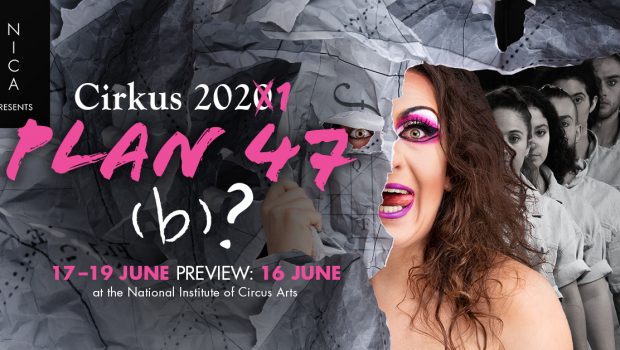 Published on May 31st, 2021 | by Adrian Gunning
NICA presents Cirkus 2021: Plan 47(b)?
Inspired by the best-laid and ever-shifting plans of 2020, this funny and high-energy ensemble circus work features NICA's 2020 2021 Bachelor of Circus Arts graduating class in their penultimate NICA performance, Cirkus 2021: Plan 47(b)?.
In 2020, the cast found themselves training in circus and starting work on this production from their bedrooms during lockdown. Plans had to change. By the time 2021 was underway, planned schedules had been endlessly re-written and re-written again, marinated in hand sanitiser, with COVID contingency plans and restriction fall-back plans, and all fed back through a Zoom pro-plan. Thus Plan 47(b)?.
Devised by the students, co-directed by Mike Finch (Artistic Director, Circus Oz 1997-2015) and NICA's in-house veteran circus director Stephen Burton, Cirkus 2021: Plan 47(b)?, is a cross-faculty collaboration with Advanced Diploma, Screen and Media (Animation) students and staff at Swinburne University of Technology.
This inspiring and empowering collaboration brings together two art forms – NICA's world-class circus skills – group acrobatics, adagio, aerial straps, Chinese pole, ball and club juggling, slackwire, tightwire and handstands – with large-scale short-form animation.
The results are exciting and unexpected, with the animations created after set visits influencing the story told through performance. The production also features original sound design from NICA graduate Winter Chapman, a large-scale "unrolled plan" set design by Dann Barber and lighting design by Kris Chainey.
NICA is Australia's Centre of Excellence for training in contemporary circus arts. It is one of eight national arts training institutes and offers Australia's only Bachelor of Circus Arts. Graduates of NICA have gone on to pursue exciting careers both locally and internationally, as well as contributing to the development of Melbourne's vibrant circus arts industry.
Plan 47(b)? offers a rare opportunity to glimpse the future stars of circus before they step out onto the global stage.
SEASON DETAILS: 
Dates:  Thu 17 – Sat 19 June (Preview Wed 16 June)
Times: Thu, Fri & Sat – 7.30pm, Sat 19 matinee – 2pm
Venue:  NICA National Circus Centre, 39-59 Green Street, Prahran
Duration:  70 minutes
Tickets:  Season: Adult: $35, Concession $28, Family of 4 $112, Group (6 or more) $28
Preview: Adult $20, Concession & Group $17
Bookings:  www.nica.com.au
Rated:  PG
Socials:  Follow us at @nicaaustralia on TikTok, Instagram & Facebook to share your #Plan47b.