Games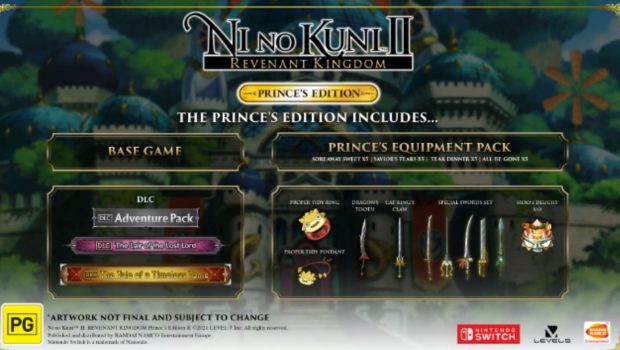 Published on May 22nd, 2021 | by Adrian Gunning
Ni no Kuni II: Revenant Kingdom PRINCE'S EDITION will be released on Nintendo Switch on September 17, 2021
Ni no Kuni II: Revenant Kingdom PRINCE'S EDITION, the critically acclaimed game developed by LEVEL-5 that features character design from legendary artist Yoshiyuki Momose and music by world-famous composer Joe Hisaishi, arrives on Nintendo Switch on September 17, 2021.
Players will follow the story of Evan Pettwhisker Tildrum, a kid who lost his promised throne in the kingdom of Ding Dong Dell and sets himself on a quest to establish a new kingdom, thus uniting his world under a reign of happiness and freedom with the help of the friends he will make along his journey.
The PRINCE'S EDITION will, in addition to the standard game, contain the following DLCs:
Adventure Pack, with new outfits and items along with the Faraway Forest Cave random dungeon and new threats for Evan's kingdom
The Lair of the Lost Lord in which Evan will set on a new extraordinary quest in a new world. New items, equips and a new dungeon, Labyrinth, are also included in the DLC
The Tale of a Timeless Tone. During a dream, Evan meets a rabbit-headed man who calls himself the "Conductor". Players will explore Evan's dream and find the goal of all this. New content also included along with the Solosseum Slog dungeon.
Download game assets here: https://drive.google.com/file/d/1f_YbhehWGnro2oEVpa_wOJuIEOmjfQYK/view?usp=sharing
For more information about Ni no Kuni II: Revenant Kingdom PRINCE'S EDITION and other titles from BANDAI NAMCO Entertainment Europe, please visit our website or follow us on Facebook or Twitter, or subscribe to our YouTube channel.