Games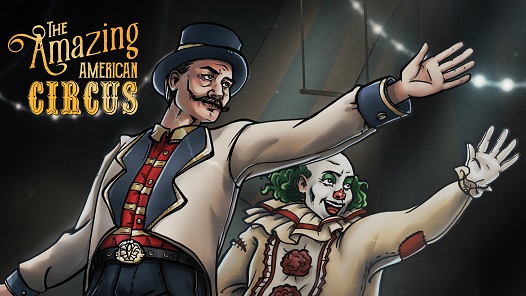 Published on October 28th, 2020 | by Andrew Bistak
The Amazing American Circus – PC, XBX & PS5
Klabater, a developer of Crossroads Inn, and Juggler Games – studio behind My Memory of Us, have announced their new collaborative production – The Amazing American Circus. The game is set to be released on PC, next-gen consoles, PS4, Xbox One, and Nintendo Switch in 2021.
The Amazing American Circus is a unique blend of a card game, tycoon, and an adventure game. Build a wandering circus, collect a strong deck of cards, gather a fantastic troupe of artists and performers, and travel across the 19th century United States!  Dare to challenge the legendary P.T. Barnum and make your enterprise the most incredible show of America!
"At Klabater, we are fascinated by history. We develop and publish narrative-driven games that depict vital and thought-provoking moments in life. We are currently focusing on the turbulent times of the late 19th and early 20th centuries. The Amazing American Circus marks a bold third chapter in our ambitious project of games that combine captivating narratives from that era with eye-catching art and compelling gameplay. The best-selling games We. The Revolution and Help Will Come Tomorrow were the first two chapters." – Said Michal Gembicki, CEO at Klabater.
"Your worst fear is the audience's indifference. Your best weapon is a dazzling amusement. Your artists are your army. Behold, the circus came to town!"
The Amazing American Circus tells the story of the most iconic entertainment in American history. The USA, during the Gilded Age, is a turbulent place with serious social problems and rapid economic growth with railroads and industrialization leading the way. On the East Coast, a modern metropolis springs up, while in the west, cowboys and robber barons and farmers battle for a piece of the new American dream… A new era is coming, and it may be the right moment for a traveling circus to flourish.
"The Amazing American Circus blends our unique artistic vision with meticulous gameplay design," said Łukasz Janczuk from Juggler Games. "My Memory of Us was an important story of two kids escaping an oppressive system through varied logical puzzles. With The Amazing American Circus we want to offer an exotic world of pioneer entertainers, alongside a challenging card game and enjoyable management system."
You take the role of an impoverished owner of a traveling Circus. Through your personal and multithreaded story, The Amazing American Circus reveals mysteries behind a uniquely American form of entertainment.
Deliver a perfect show in a special card duel between you and the audience. Boredom is your enemy, and your performances and tricks are your best weapons. Choose your cards wisely and try to figure out the mood of the crowd. As a traveling Circus owner, you need to look for new troupe members. During your travels, you will try to gather an exotic crew of performers, but can you deliver the best shows, win the audience's approval, or will you fail?
A unique story filled with love affairs, hateful enemies, and magnificent shows with challenging audiences and quests, all of this wrapped up in a writing style that resembles the dime novels from the turn of the 20th century – that's what The Amazing American Circus offers.
What The Amazing American Circus has to offer?
Save a run-down circus, gather a troupe of performers, and dare to defy the greatest showman on earth – P.T Barnum himself.
Enjoy an original and challenging card game. You will battle against your greatest enemies, audience boredom, and stagnation.
Gather a group of extraordinary artists and twisted individuals, each with their own story to tell, and journey across the 19th century United States.
Indulge in a story set in the turbulent times of the Industrial Revolution and the dusk of the Wild West era, and dive into the beautiful and grim world of the American folklore
100+ real historical and legendary characters from the verge of the 19th and 20th century to encounter, such as John D. Rockefeller, Susan B. Anthony, or Nikola Tesla.
Experience an epic soundtrack inspired by classical circus music.
The Amazing American Circus will be released in 2021. It will be available on PC, PlayStation 4, Xbox One, and Nintendo Switch and next-gens.