Events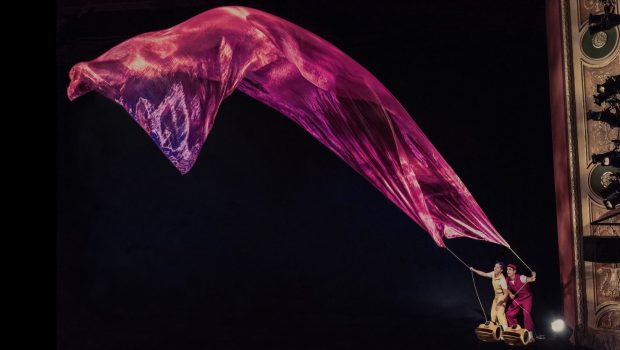 Published on October 6th, 2016 | by Admin
NEW YORK'S WORLD FAMOUS ACROBUFFOS SET TO TAKE AUDIENCES ON A HIGH FLYING COMIC ADVENTURE
MELBOURNE THURSDAY 6 OCTOBER 2016– World-famous clowning duo the Acrobuffos are heading to Melbourne this summer to take audiences on an epic comic adventure filled with breathtaking air sculptures and laugh-out-loud physical comedy. In an Australian premiere exclusive to Melbourne, Seth Bloom and Christina Gelsone will perform Air Play from 18 – 22 January at Arts Centre Melbourne's State Theatre.
Created by the world traveling comedic duo from New York City, Air Play marries their comic physical antics with the breathtaking air sculptures of artist Daniel Wurtzel to create a spectacular performance as hilarious as it is heart-warming. Flying umbrellas, larger-than-life balloons, kites that float over the audience and an enormous snow globe are the constant companions of a sister and brother whose rivalry is only matched by their affection.
Air Play is anchored in high-flying and ground-breaking air sculptures with a colour palette and themes inspired by the paintings of artists Joan Miro and Wassily Kandinsky. Directed by West Hyler, the work is physical theatre of sky-reaching scale with myriad moments of sheer wonder.
Air Play is an intended pun. Besides physically playing with air, the show's soundtrack spins the radio dial, creating an auditory "air play". Wordless, but far from silent, its ever-changing visual playfulness is set to a soundtrack leaping from Balkan gypsy music to Nordic boys' choir, Italian avant-garde and Appalachian ballads.
The Acrobuffos, Seth Bloom and Christina Gelsone, met at a circus in Afghanistan and were engaged while street performing in Scotland and married in China. They have headlined at the Big Apple Circus and performed in more than 20 countries around the globe.

Daniel Wurtzel has worked in multiple art forms since 1989. In 2009, his airflow piece Magic Carpet went viral with two million views. Since then, his work has been seen around the world, including pieces with Cirque du Soleil, Julie Taymor, Robert Lepage and Diane Paulus.

West Hyler is an award-winning theatre director from Broadway. He has twice directed Big Apple Circus and recently directed a new show for Cirque du Soleil.
"AIR PLAY holds the whole audience in the palm of its outstretched hand. A winning combination of visually stunning sculptures and cheeky but heartfelt storytelling that keeps both adults and children enthralled." British Theatre Guide
"You feel you're witnessing divine natural occurrences rather than carefully devised circus stunts." Hartford Courant
"The curtains open and we see a man holding on to a huge piece of light fabric, dancing in the air, moved by a circle of fans. The wonder begins and I suddenly feel like a child again, receptive to every single magical moment in Air Play."  A Younger Theatre  
Conceived and created by Seth Bloom and Christina Gelsone
Performed by Seth Bloom and Christina Gelsone
Air Sculptures in collaboration with Daniel Wurtzel
Directed by West Hyler
The development of Air Play was kindly supported by New York City's New Victory Theater, Cleveland's Playhouse Square, New York City's Flushing Town Hall and Lehigh University's Zoellner Arts Center. A New Victory Theatre LabWorks grant recipient, Air Play was showcased on its main stage.

Arts Centre Melbourne present Acrobuffos'
Air Play
18 – 22 January 2017
Arts Centre Melbourne, State Theatre
All Ages
Book at artscentremelbourne.com.au or 1300 182 183
TICKETS ON SALE: 10 October 2016