Hardware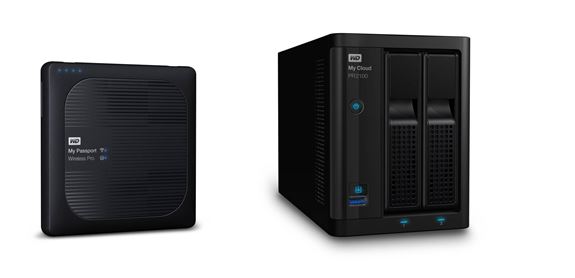 Published on July 28th, 2016 | by admin
THE NEW WD PRO SERIES SIMPLIFIES CONTENT CREATORS' WORKFLOW
SYDNEY, Australia – July 27, 2016 – Western Digital Corporation ("Western Digital") (NASDAQ: WDC), a global storage technology and solutions leader, today announced Australian and New Zealand availability of the WD Pro Series: My Passport® Wireless Pro Wi-Fi® mobile storage and My Cloud® Pro Series network attached storage (NAS). Designed specifically for the creative community, the WD Pro Series enables seamless transfer of content between devices, with classic WD reliability and speed, regardless of whether users are on a remote shoot, in the studio or editing at home. The products use the My Cloud mobile app – the new version of the app will be launched with the My Passport Wireless Pro and My Cloud Pro Series and be compatible with the Adobe® Creative Cloud®. In addition, both the My Passport Wireless Pro and My Cloud Pro Series devices are also compatible with the Plex™ Media Server and My Cloud OS 3 software for easy editing, streaming and sharing of content.
"Portability, reliability, capacity, speed and interoperability are crucial for creative professionals, whose very livelihoods rely on the strength of the technology they use to store their life's work," said Sven Rathjen, vice president of marketing for content solutions at WD. "We created the WD Pro Series as a comprehensive, feature-rich storage solution designed to fit seamlessly into their workflow, regardless of where the work actually happens, so storage, transfer, back-up, editing and even streaming options are readily available."
My Passport Wireless Pro
My Passport Wireless Pro Wi-Fi mobile storage lets creative professionals and enthusiasts leave the laptop behind when on a shoot. Using the direct Wi-Fi connection, creators can automatically backup files from compatible cameras, as well as save, edit and transfer work seamlessly from up to eight other devices connected to the drive. Tethered connections are also available for faster transfers and include a built-in SD card reader as well as a USB 2.0 port.
Available in capacities up to 3TB, the My Passport Wireless Pro device also features up to 10 hours of battery life* and a built-in battery pack that can even be used to charge phones and other devices like digital or video cameras.
To ensure creative professionals can continue to work while in the field, My Passport Wireless Pro devices include compatibility with Adobe's Creative Cloud for mobile photo and video editing, as well as compatibility with Plex Media Server, which is capable of playing up to four streams of content while on-the-go.
My Cloud Pro Series network attached storage
When the shoot is over and it's time for editing or studio work, the My Cloud Pro Series NAS devices take the reins seamlessly. Offering up to 32TB of storage, the My Cloud Pro Series NAS are optimised to import from cameras/memory card readers and other USB storage with a simple one touch backup button. Simply connect your cameras and compatible USB storage devices, press a button, and your new files are easily backed up/imported.
In addition to giving creative professionals and enthusiasts a reliable place to store their files, this fast, high capacity drive features a hardware accelerated video processor. Its powerful transcoding capabilities mean the My Cloud Pro Series NAS can ingest, edit, store and stream content to and from popular formats, including 4K video. These capabilities compliment a robust, integrated application suite, which includes compatibility with Plex Media Server for storing and optimising media libraries and compatibility with Adobe's Creative Cloud for editing and finalising them.
The My Cloud Pro Series NAS gives the creative community significantly more control while they are away from their workstation, using WD's My Cloud app and MyCloud.com remote access, and despite its professional caliber, is still easy to set up and use.