News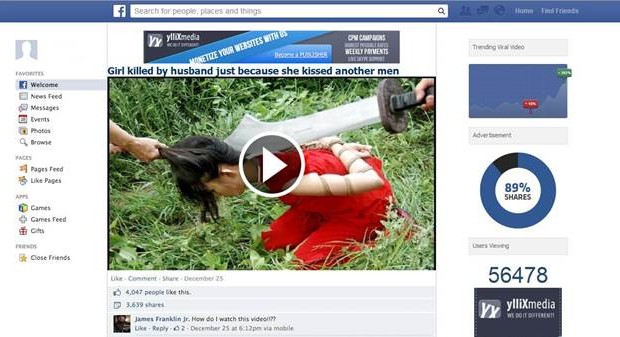 Published on August 13th, 2014 | by admin
New Viral Video Scam on Facebook: 'Girl Killed by Husband for Kissing another Man'
Sydney, Australia, 13th August 2014- A new viral video scam featuring a fake tape of a girl killed by her husband because she kissed another man has caught the attention of thousands of Facebook users according to Bitdefender. The antivirus software provider has revealed the scam continues to claim victims among curious social networkers, and drops adware or malicious code on targeted computers.
It all starts with a horrifying message on a friend's timeline. "Girl killed by husband just because she kissed another men." The bait is apparent footage of an Asian woman about to get her head chopped off with a sword.
The scam video is spreading on Facebook timelines and groups, as well as on fraudulent blogs and other web sites. Some even explain how the footage ended up on the Internet. "Her husband made this video and uploaded it online," descriptions read.
To take a peek at the sordid passionate crime footage, users are forced to "like the video to see the website content." But their like or share doesn't trigger the play button because a new event prevents the video from opening. As with many other scams, no matter how many plugins you install, there's always that "special" one missing. This universal plugin ploy is as popular as the fake Flash Player update that delivers malware.
When clicking on the install button, users end up downloading an executable file on their computers, which drops adware or malicious code.. More than 4,000 people have liked and shared the video, but these numbers may be illegitimate due to scammers seeking to add credibility to their scam.
"The delivered adware has access to Non-Personally Identifiable Information (NPII) such as the type of the browser, the country and the Operating System," Bitdefender Virus Researcher Stefan Hanu said. "It can also communicate with a server and receive dynamic rules that can check, for example, if a certain application or antivirus is installed. Based on all these computer and user details, scammers may serve other links and payloads, targeting users with more efficient baits, in their own language. When it comes to adware, this is a recurrent and quite mediocre technique they use to increase illicit gains depending on the trend and statistics."
Aggressive adware collects private details to better target users with customised ads. Marketers value such information, as promotional campaigns are considered more accurate and more profitable.
Adware is also an increasing trend on Android devices, where mobile e-threats have been recently shifting from SMS Trojans to ransomware, banking and free apps bundled with adware and spyware.
The "girl killed by her husband" video also seems to have a 18+ restriction – another trick designed to add credibility and entice more users. For improved SEO, the scam circulates either with the "sad video" or "sadic crime" headline.
A similar scam started making rounds on Facebook at the beginning of the year, luring users with a fake video of a girl that supposedly killed herself live on webcam.
To raise awareness among Facebook users, Bitdefender recently released its annual list of the top 10 scams making rounds on the social network. The research also showed an increasing number of viral video scams abusing Facebook's like and share options.
To stay away from social media e-threats, users can also install Bitdefender Safego, a free Facebook app that scans timelines and alerts them in case of malicious and fraudulent posts.
Bitdefender suggests users keep their operating system, antivirus solution and other software updated, as hackers tend to exploit vulnerabilities found on the system. Users should also avoid completing Facebook surveys, share or "like" websites in order to view a video, or install updates via viral videos.
For more information about Facebook scams, you can also check Bitdefender's Top 10 scams and hoaxes you should recognise in 3 seconds.
All product and company names mentioned herein are for identification purposes only and are the property of, and may be trademarks of, their respective owners.