Hardware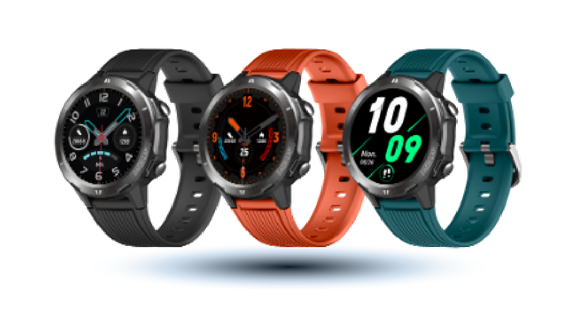 Published on December 1st, 2020 | by Adrian Gunning
New V-Fitness Smart Watch Keeps You On Track Without Giving Your Wallet A Workout
LASER, Australia's home-grown consumer electronics success story has today announced the first addition to its refreshed V-Fitness-branded upcoming range with the launch of the V-Fitness Smart Fitness Watch, just in time for the Christmas gifting and summer season. Designed with value in mind, it is compatible with Google Fit and Apple Health, and offers a wide range of features including 24/7 heart rate monitoring, 12 sports modes and many features you wouldn't expect from a smartwatch at just $99.
The V-Fitness Smart Fitness Watch tracks activity, shows messages, and syncs to Apple Health and Google Fit. Including a 24/7 heart rate monitor, 12 sport modes, weather forecast, alarm clock, stopwatch and three coloured band options; it includes many features often seen in more expensive models, but for a fraction of the price. With two weeks of battery life between charges, wrist activation and a rating of IP68 water resistance able to withstand dust, dirt or sand; consumers can enjoy ultimate convenience, customisation, durability – and affordability.
As Australians continue to embrace the benefits of fitness wearables, whilst also continue to seek out affordable technology; with V-Fitness they can have confidence that they are buying from an Australian company focused on affordable and accessible technology for more than three decades. LASER's V-Fitness brand takes this affordability into the fitness space, with the Smart Fitness Watch being the first in what will be a suite of new fitness and health related technology products launching in early 2021.
Wearables are a highly popular and growing area of interest for Australian consumers, with more than 2.6 million smart wearables sold locally in the first half of 2020, a 39% increase from the same period a year ago[1]. Recent data also shows that 69% of surveyed Australians are more focused on managing their health and wellbeing as a result of the events of 2020[2]. Combined with many Australians experiencing an income reduction in 2020, affordable technology becomes paramount in supporting these health goals.
"With our growing V-Fitness brand, we recognise the need for good value fitness products in the market and are excited to bring affordability and functionality to our consumers. The refreshed V-Fitness range will be the beginning of a new journey for LASER and our commitment to providing Australian consumers with reliable and affordable everyday health and wellbeing solutions." said Chris Lau, Managing Director of Laser Corporation and Head of V-Fitness.
"The smart features found in our new V-Fitness Smart Fitness Watch pushes the boundaries of what is possible for less than $100. It launches ahead of Christmas, the broader summer and new year period; where people can now re-assess and put support around their health journey."
Key Product Features At A Glance:
Apple Health, Google Fit or the VeryFitPro App
24/7 heart rate monitor including advanced infrared and the latest technology to detect heart rate with improved accuracy
12 sports modes including running, cycling, yoga and more
Intelligent notifications: text messages, calendar appointments, app notifications, and other reminders
Stopwatch, timer and alarm clock
Calorie tracker, step counter and low activity alerts
Scratch resistant hardened glass and 1.3" high definition screen
Weather forecasts including current weather conditions and three-day rolling forecasts
2 weeks battery life
Wrist activation
IP68 water resistance rating (able to withstand dust, dirt or sand)
3 coloured wristband options included
Availability
The V-Fitness Smart Fitness Watch is available now from Big W nationally, vfitness.com.au and more retailers to follow, for an RRP of $99.95.
[1]Telsyte (2020), Telsyte Australian Smartphone & Wearable Devices Market Study 2020-2024, (Accessed 19 November 2020)
[2]PWC (2020), Global Consumer Insights Survey 2020, (Accessed: 19 November 2020)
[1] Telsyte (2020), Telsyte Australian Smartphone & Wearable Devices Market Study 2020-2024 (Accessed 19 November 2020)
[2] PWC (2020), Global Consumer Insights Survey 2020, (Accessed: 19 November 2020)