Games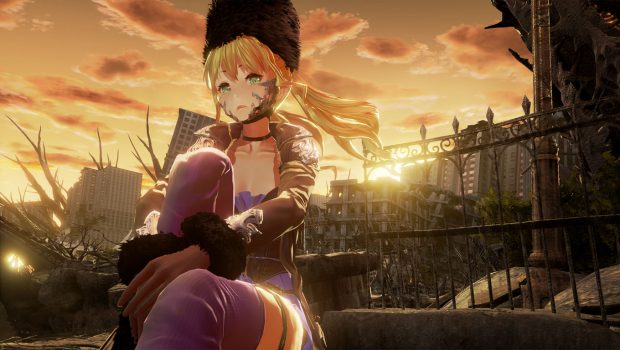 Published on April 23rd, 2018 | by Admin
NEW UPDATES ABOUT FEATURES AND CHARACTERS OF CODE VEIN
Today, BANDAI NAMCO Entertainment Europe revealed information about a new character named Mido, new features, weapons and the introduction of partner action in the upcoming action-RPG CODE VEIN.
Before the Great Collapse, Mido adopted orphans to conduct barbaric experiments on them and sent his "experiments" to the battlefields. For those experiments he used parts of his body as material to reinforce them and make himself a superior Revenant. A group of reinforced Revenants surround Mido and by their force, they can stop the attacks of Yakumo. Although Mido is already extremely powerful, he continues to strive for power and strength. What could his intention be?
Besides Mido, another innovation is the new Combo Drain, which is executed with a weapon immediately after an enemy attack. Bayonet combos get well-spaced while attacking. Combo drain takes advantage of long reach Stinger characteristic. Combo-Drain can also be used immediately after a launch attack, allowing the user to hit his opponents with this powerful combo attack while he is still in the air.
In addition, numerous weapons will be available in CODE VEIN. The one-handed sword has the special attack of the Sunset Sword, which lets the user jump over his opponent and swing the sword down. The charged attacks of Broadsword and Hanemukuro have a strong influence on opponents. The two-handed sword's special attack Zweihander is a far-reaching stab attack, which is executed while the user advances to his opponent. Nagimukuro and Warped Blade are attacks that are characteristic of a two-handed sword due to their great movement.
CODE VEIN will also feature partner action with the characters Mia and Louis, which allows new and different opportunities in battles. Both, Mia and Louis, use different ways of the Combo Drain and the partner will assist the protagonist. When the protagonist stops, the partner will watch the surrounding for items and enemies.
CODE VEIN is a third-person action RPG that set players into the role of a Revenant. These immortal soldiers were created to counter the threat of mankind that appeared after the Great Collapse, a catastrophic event eradicating most of the population. By injecting human corpses with the Biological Organ Regenerative Parasite, they were brought back from the dead, gaining superhuman capabilities and the ability to revive after death as long their heart stays intact at the cost of losing their memories. Players are tasked to embark into the world with a companion picked from the various residents of Vein to uncover their memories and an exit out of this new demented reality.
CODE VEIN will be available for Xbox One, PlayStation®4, and PC via STEAM® in 2018. For more information about the game and other products from BANDAI NAMCO Entertainment Europe please visit: https://www.bandainamcoent.com, follow us on Facebook at https://www.facebook.com/BandaiNamcoEU , or join the conversation at https://www.twitter.com/BandaiNamcoEU .