Games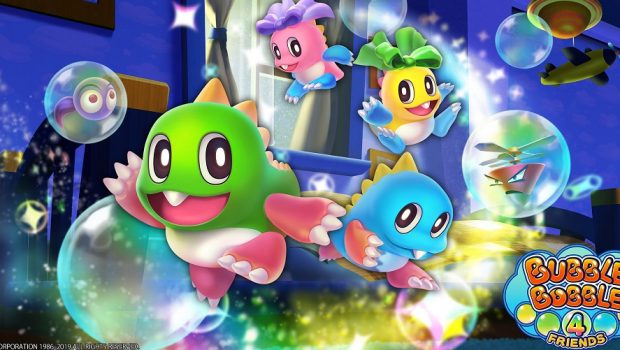 Published on November 9th, 2019 | by Alex Novus
New trailer for Bubble Bobble 4 Friends for Nintendo Switch
33 years after the debut of the classic video game Bubble Bobble by TAITO, the two dragons Bub and Bob are returning to the screens. On November 19, 2019, Bubble Bobble 4 Friends will be released digitally in Europe and Australasia, exclusively for Nintendo Switch. On the same day, the physical version will be available in stores throughout Europe.
As previously announced, there will also be a Special Edition that comes with two keychains, a poster and four trading cards – this very special edition of Bubble Bobble 4 Friends will be available on December 13th, while stocks last.
Publisher ININ today announced new details on the EXTEND feature. This is a new skill upgrade system that will allow players to boost their dragons with additional features. To unlock the upgrades, players will need to collect letter bubbles, each containing one of the letters of the word "EXTEND". In every stage, one of those special letter bubbles appears briefly and has to be collected before it bursts. If the player manages to collect all letters of the word "EXTEND" within a world and also win the boss battle, the player will receive either a new skill or an upgrade to an existing skill to become even more powerful.
The following skills can be unlocked:
Long Shot: increases the range of the bubbles
Thunder Bubble: attacks enemies in a horizontal line when bubble bursts
Bomb Bubble: The bubble explodes after some time and causes damage.
Stop Wind: air flows are interrupted for a short time
Dash Skill: lets characters pass through enemies unharmed
Before entering a new world, players can equip their dragons with the skills they've learned so far, using a variety of tactical variations to master even the most difficult stages and clear a stage particularly quickly.
Apart from skills, there are other features that increase the replay value of Bubble Bobble 4 Friends and spur players on to ever wilder maneuvers. Chain reactions from multiple bursted bubbles with captured enemies generate more and higher quality food for players to collect – the higher the number of bubbles, the more points and food you get as a reward. Special bubbles, such as bomb or lightning bubbles, provide new aspects of the game and tactics.
In anticipation of the games release, ININ has released a brand new trailer today: https://youtu.be/FhpG_XrzaZs
ININ has also built a new website for the cult game with helpful information on where to buy, the history of Bubble Bobble since 1986 as well as plenty of background information: http://bubblebobble4friends.inin.games
As a special gift for the fans, there will be desktop pc and mobile wallpapers ready to download. The design team from TAITO has put a lot of effort into these wallpapers, to make sure that they look great on various devices.
Collectors from all over the world will also be delighted by the commemorative releases from Strictly Limited. A few copies of the very extensive Collector's Edition of Bubble Bobble 4 Friends can still be pre-ordered from the Strictly Limited Games online store at a price of 89.99 Euro. The Collectors Edition is limited to only 2,500 Units. The Standard Edition is limited to 3,500 units and offers a beautiful retro-style cover and an individual numbering on each copy, and is available for 39.99 Euro. Both editions will come with a very special Acrylic Print of Bub or Bob as an exclusive bonus item.