Games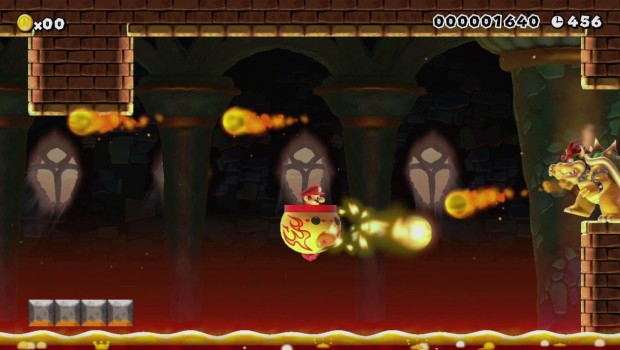 Published on December 20th, 2015 | by admin
New Super Mario Maker Web Portal and Software Update Coming December 22
20th December, 2015 – Choosing the perfect course from the millions available to play in Super Mario Maker for Wii U is about to get a whole lot easier, with the launch of the new Super Mario Maker Bookmark web portal on December 22 alongside a software update that further expands the game's course creation possibilities.
After making it onto numerous "Best of 2015" lists, as well as recently winning Best Family Game at The Game Awards 2015 show, Super Mario Maker is going from strength to strength and is sure to be a family favourite this Christmas, as the joy of making Super Mario courses is shared between generations. With millions of courses already available to play, Super Mario Maker truly offers something for everyone – and is about to offer even more.
Players will be able to access Super Mario Maker Bookmark from their computer, tablet or smart phone to see recommended courses, as well as find their ideal challenge by filtering all available courses by difficulty, game theme, course style and more. Players can also search using a selection of tags, making it easier to find courses that fall into a specific category such as automatic, puzzle, music and more. Any eye-catching levels can then be added as Bookmarks for instant access in-game*. These comprehensive options are also accessible on Wii U via the Course World in Super Mario Maker, allowing players to find a course and hit the Play Now button to jump straight into the action*. A link to Super Mario Maker Bookmark will be added to the Super Mario Maker gamesite  after the web portal launches on December 22.
Also on December 22, a software update will be released that adds even more features to the game, including several items never before seen in the Super Mario series. These new features include:
Fire Koopa Clown Car: Perfect for creating shoot 'em up-style courses, this volcanic vessel is capable of shooting fireballs as well as a powerful charged shot that can even destroy Blocks.
P Warp Doors: Unlike regular Warp Doors, these are only visible while a P Switch is active – ideal for creating truly devious Ghost House courses.
Bumper: This bouncy donut-shaped object sends Mario bounding away when touched.
Other additions: Super Mario Maker Bookmark will be accessible from Course World, while the course information page will now show the fastest clear time, as well as the first player to clear that particular course.
You can see the new items in action in a new video, or take a look at Super Mario Maker Bookmark in a separate trailer.
On top of these new ways to find and create courses, fans can also look forward to more Event Courses that, once cleared, each unlock a new Costume Mario to use. Currently available costumes include Frog Mario and the Mario Trio from Mario & Luigi: Paper Jam Bros., while a new Nintendo Badge Arcade Event Course will be available from today.
As enthusiastic creators around the world continue to craft and share their own unique visions of Super Mario courses, they're also racking up some staggering figures. More than 260 million Blocks have been placed** – enough to build the Great Pyramid of Giza about 11 times – and if each of the 313 million-plus Coins** were the size of a $1 coin, they could make 107 Mount Everest-sized stacks. More fun facts can be found in a special infographic also shared today (attached).
With the Super Mario Maker Bookmark website and new in-game items launching on December 22, plus more Event Courses on the way, Super Mario Maker is the ideal way to bring every generation of the family together for gaming fun this season.
* Software update required.
** As of November 27, 2015. Indicates the total number, including winged variants, that have been placed in uploaded courses.