Games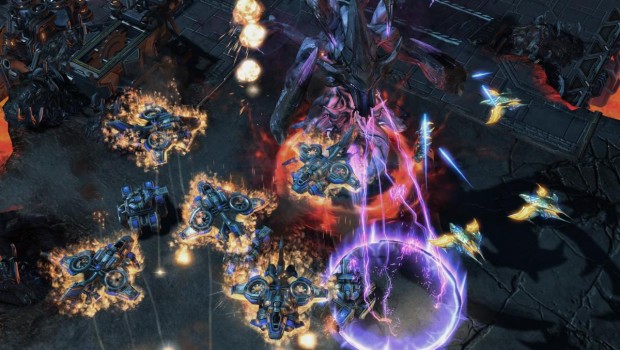 Published on August 6th, 2015 | by admin
New StarCraft II, Hearthstone, Heroes of the Storm, and Overwatch content revealed at gamescom 2015
Latest additions to current and upcoming Blizzard Entertainment games playable on show floor; new World of Warcraft® expansion to be announced tomorrow 
SYDNEY, Australia—August 6, 2015—Epic Heroes and knightly cards are just a few of the exciting new things Blizzard Entertainment revealed overnight at gamescom 2015, taking place at the Koelnmesse in Cologne, Germany from August 5–9. And there's more to come: the epic new expansion for World of Warcraft® will be unveiled on the Blizzard stage in Hall 7 tomorrow, August 7, at 2:00 a.m. AEST. Players around the world can tune in to a live stream of the announcement at www.blizzgc.com.
StarCraft® II: Legacy of the Void™
Blizzard also revealed the first details for Allied Commanders, a brand-new cooperative game mode in Legacy of the Void, the upcoming final chapter of StarCraft II. In Allied Commanders mode, players take on the roles of legendary StarCraft commanders and team up to defeat a host of enemies in a series of objective-based missions, levelling up their commanders as they progress.
Each commander has a distinct play style and devastating abilities, as well as new cooperative powers exclusive to the Allied Commanders mode. New abilities, units, and upgrades are unlocked as the commanders work together to dominate each mission.
Three commanders have just been revealed and are playable at gamescom:
Jim Raynor represents the heart and fighting spirit of the Terran Dominion, leading an army that focuses on infantry and Terran war machines, including the ability to call down the power of the Hyperion Battlecruiser, the flagship of his fleet
Kerrigan takes to the battlefield alongside her Swarm, which comprises some of the most iconic Zerg units from the StarCraft franchise
Artanis commands the Protoss forces from high above in the Spear of Adun, and can quickly reinforce his allies anywhere on the map, including calling down orbital strikes with deadly precision
Professional StarCraft II players will be demonstrating Allied Commanders at gamescom on the Blizzard stage in Hall 7 from 11:30 p.m. on Saturday, August 8, until 12:30 a.m. AEST on Sunday, August 9, and from 9:00–10:00 p.m. AEST on Sunday, August 9.
Hearthstone®: Heroes of Warcraft™
Dashing knights and their trusty steeds join gamescom this year with a preview of The Grand Tournament™, the exciting new expansion for Hearthstone®: Heroes of Warcraft™ due out later this month. Along with 11 new cards revealed overnight, Blizzard showcased a new "jousting" gameplay mechanic, which gives certain cards the ability to reveal a minion in each deck and win a special advantage for the player if their revealed minion has a higher mana cost than that of their opponent. 
Heroes of the Storm™
The influence of Sanctuary within the Nexus continues to expand as part of the ongoing Eternal Conflict™ in-game event, with the unveiling of a new Diablo®-themed Hero and Battleground:
Kharazim, Monk of Ivgorod, is a versatile melee support Hero who can be either a healer or a fighter
Infernal Shrines is a three-lane Battleground on which teams compete to call forth a massive Punisher demon that hunts down the opposing team's Heroes
Two additional Heroes have also been revealed:
Rexxar, the famed half-ogre, half-orc beastmaster from Warcraft®, is a ranged warrior who fights in tandem with his trusted bear companion, Misha
Artanis, the first StarCraft warrior for Heroes of the Storm, will be made available to those who purchase or pre-purchase StarCraft II: Legacy of the Void 
Overwatch™
The world could use a new hero, and two new maps, and that's exactly what Blizzard revealed for Overwatch, its highly anticipated team-based shooter:
Lúcio, an acclaimed Brazilian musician, supports his comrades by using his musical talents to heal them and boost their speed
In Numbani, an African city where omnics and humans live together in peace, players escort Doom Fist's gauntlet to the Numbani Heritage Museum—or prevent their opponents from doing so
In Volskaya Industries, a Russian manufacturing centre near Siberia where the hostility between humans and omnics remains strong, opposing teams battle over control of the map by capturing or defending critical objectives