Games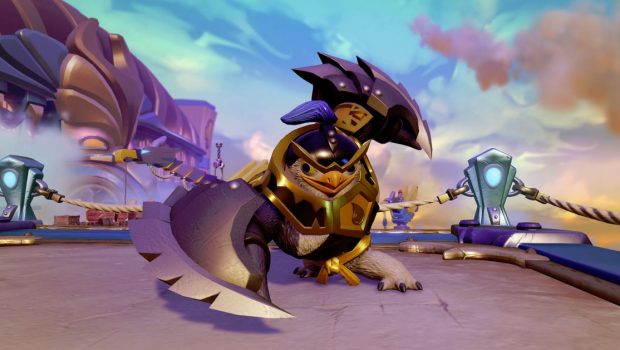 Published on December 8th, 2016 | by admin
New Skylanders Senseis Arrive in Time for Christmas
Today, Activision Publishing is excited to welcome to the Skylanders® Imaginators family, a range of new Senseis that Portal Masters can collect in time for Christmas. Available now from a select range of retailers, the new wave of characters sees the return of an old favourite, Chompy Mage, who returns with a new look for the holiday season.
Continuing to offer engaging characters that kids love to discover as they play the game, each Sensei is a master of one of 10 powerful Battle Classes. Holding a master-to-apprentice relationship with newly created Imaginator Skylanders, Senseis also have the ability to unleash the ultimate Battle Class super move, Sky-Chi.
Furthermore fans can now pick up the Thumpin' Wumpa Islands Adventure Pack and experience the fun of Crash Bandicoot and Dr Neo Cortex in Skylanders.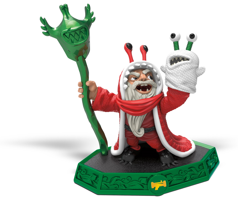 Jingle Bell Chompy Mage (Bazooker Battle Class)
Raised by Chompies, it's no surprise that this magician is a little strange. Grown to embrace the Chompy way of life, Chompy Mage believed that Skylands would be a better place if everyone was a Chompy too – an illegal enchantment which he has actually tried to perform on several occasions. It was this kind of magic that led to him to be locked up inside Cloudcracker Prison. After breaking out and joining the Doomlanders, Chompy accepted Eon's offer to become a Skylander Sensei training Imaginators of the Bazooker Class as a Sensei master.
Available from: All good retailers

Bad Juju (Swashbuckler Battle Class)
As her name suggests, Bad Juju has always been bad. From her humble beginnings as a witch doctor, where she put curses on her patients instead of curing them, to being the Gold Queen's right hand sorcerer, she had spent her entire life as a villain. With the realisation that it was time to change her lifestyle after becoming a mother to Junior Juju, she turned to Master Eon for a chance to be a hero instead. As luck would have it, Eon was looking for a Swashbuckler Sensei who could help train Imaginators the value of being good!
Bad Juju is available from: All good retailers
Mystical Bad Juju is available from: EB Games as an exclusive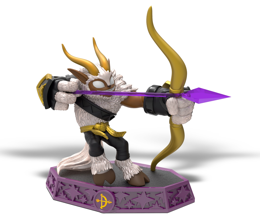 Master Buckshot (Bowslinger Battle Class)
When Buckshot was young, he and his siblings were banished to the Magic Realm of Mysterious Mazes by evil Spellpunk who wanted to rid Skylands of all Sky-Fauns. Spending years looking for a way out with little success, the magic of the realm began to grow within him, strengthening his formidable powers. He tested the boundaries of the maze using his mystical bow and arrows to penetrate the walls and even learnt how to teleport! With this new ability, he was able to open the portal back into Skylands, free his family and become a Sensei; keeping one eye on the target, and the other out for Spellpunk.
Available from: All good retailers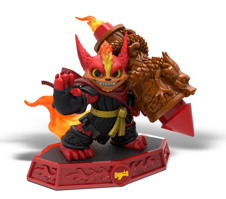 Master Flare Wolf (Bazooker Battle Class)
At the annual St. Wigglewort's Day celebration, Flare Wolf was given the honor of lighting the fireworks, after earning the coveted Fireworks Badge from the Wolf Scouts when he was younger. Unfortunately, on the day of the celebration, a band of Ice Ogres attacked his village, taking the community hostage. With the town's supply of fireworks as his only choice of weaponry, Flare Wolf lit them in the centre of the Ogre camp, saving his village and providing a spectacular fireworks display. Master Eon was impressed, offering Flare Wolf a position at the Academy as the Official Fireworks Launcher – but after seeing him in action, he realised Flare Wolf had more to offer as a Sensei!
Available from: All good retailers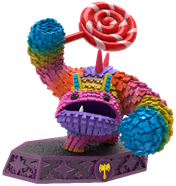 Master Pain-Yatta (Smasher Battle Class)
Growing up, Pain-Yatta's best friend was the legendary Unocorn, a unicorn with a churro-horn that sprinkles magical cinnamon from time to time. One day, the Unocorn went missing and Pain-Yatta desperately tried to find his friend – the Doom Raiders took the opportunity to trick him into thinking the Skylanders were behind it all and joined the band of villains to get his revenge against them. Captured by the Trap Masters, Master Eon explained to Pain-Yatta that the Skylanders weren't involved with Unocorn's disappearance, and agreed to help him find is friend if he became a Skylander Sensei, training new Imaginators in smashing.
Available from: All good retailers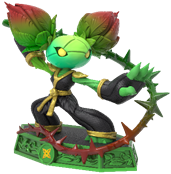 Master Chain Reaction (Swashbuckler Battle Class)
No matter what he was doing, Chain Reaction always prided himself at being the best at it.  Despite his impressive skills, though, the two chainsaw swords he regularly wielded tended to scare most people away.  As a result, Chain Reaction was often lonely. That all changed the day he witnessed a group of young dwarves getting picked on by an evil gang of ninja rats.  After fighting off the rats, the dwarves looked at Chain Reaction as their hero, and followed him everywhere he went.  Knowing he couldn't protect the dwarves forever, Chain Reaction taught them all he knew so that they could one day protect themselves. Master Eon heard the rumours, and knew at once he needed to make Chain Reaction a Sensei.
Available from: All good retailers
Master Boom Bloom (Ninja Battle Class)
Boom Bloom was created in the laboratory of a mad scientist!  After using his mutation goo to change deadwood into evil creatures, Dr. Krankcase began experimenting with live plants!  But it had a different much effect. Instead of becoming subservient villains, the mutated plants instantly rebelled against their creator and tried to destroy his goo factory.  Dr. Krankcase and his henchmen were able to thwart all of these insurgent plants, except for one – Boom Bloom!  Her mutation gave her extraordinary Ninja skills and a thorny whip, which she used to unleash a flurry of martial arts moves that forced Dr. Krankcase to flee his own factory and vow never to experiment on plants again.  Now as a Sensei of the Ninja class, she uses her incredible abilities to teach new Skylanders how to protect nature… and unleash its fury!
Available from: All good retailers as part of the Enchanted Elven Forest Adventure Pack

Pit Boss (Sorcerer Battle Class)
Pit Boss was a member of a powerful order of snake philosophers that lived high up in the Great Twisty Mountains. Travellers would come from miles around to seek out the snakes' wisdom, however Pit Boss became alarmed when the same question was asked by different people – how to deal with the growing threat of Kaos. With such great concern, Pit Boss left the Order of the Snake and joined the Skylanders. Due to his great wisdom and mystical powers, Master Eon enlisted him into the Sensei program as a Sorcerer Master.
Pit Boss is available from: All good retailers
Legendary Pit Boss is available from: Big W as an exclusive
Skylanders Imaginators – Thumpin' Wumpa Islands Adventure Pack
A wormhole opens in Skylands and the great Aku Aku appears! He comes to announce the once in two decades Synchronization Celebration! It is the time when all of the worlds align perfectly. They are having a huge celebration event in the Wumpa Islands and want to invite the Skylanders. But with Kaos on a quest to take over Skylands using his army of Doomlanders, the Skylanders must focus on stopping his evil plans. Never one to shy away from danger, the legendary marsupial Crash Bandicoot travels through the wormhole to join the Skylanders in the ultimate battle against Kaos! Experience a New Adventure!
Available from: All good retailers