News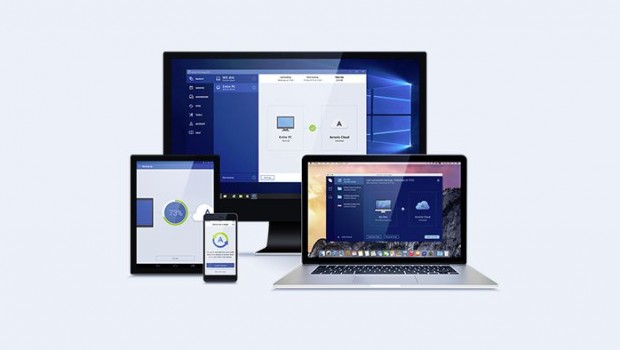 Published on April 27th, 2016 | by admin
New Releases of Acronis Backup Solutions for SMBs in ANZ
New Versions of Acronis Backup Solutions Deliver Easy, Complete and Affordable Data Protection for Businesses, Managed Service Providers, Telcos, Hosters, and Resellers
Australia and New Zealand, 27 April 2016 – Acronis®, a global leader in hybrid cloud data protection, announced new releases of its Acronis Backup and Acronis Backup Advanced solutions, and its Acronis Backup Cloud solution. Ideal for small to medium-sized businesses (SMBs), the new Acronis Backup solutions combine higher performance, quality and reliability with new features that make the buying and upgrade process seamless and easy, including a simple step up to the future Acronis Backup 12 solution.
According to the EMC Global Data Protection Index, data loss and downtime has cost Australian organisations around $65.5 billion in 2014. Moreover, 58 per cent of Australian organisations lack a disaster recovery plan for emerging workloads. According to Enterprise Strategy Group (ESG), data backup and recovery consistently rank among the top IT priorities for organisations of all sizes, but especially for midsized organisations. At the same time, today's businesses face new challenges when it comes to data protection, including huge increases in data volume, man-made and natural disasters, and cyber-threats.
"As workloads continue to grow and diversify, businesses need to be looking for ways to simplify their data protection while reducing costs and increasing their agility," said Jason Buffington, Principal Analyst, Enterprise Strategy Group. "Companies should be preparing for the future by taking a wider view of data protection right now, by implementing solutions that deliver broader support across a constantly growing mix of platforms to be protected, each with their own data and business criticality."
Acronis Backup and Acronis Backup Advanced, version 11.7 – What's New
Acronis Backup solutions provide fast, one-click recovery of individual files, application data, or a complete system — all from a single backup. Acronis Backup and Acronis Backup Advanced 11.7 are the best-performing releases to date and prepare both existing and new customers for a seamless move to version 12. Acronis Backup supports five to 50 employees and one to five servers. Acronis Backup Advanced supports 50 to 1,000 employees and five to 100 servers.
The new 11.7 versions provide the following benefits:
New Subscription Licensing: Simple and flexible options protect an SMB's entire data center without upfront capital expenses.
Improved Performance and Reduced Storage Costs: Variable block deduplication adds the ability to store 24 times more data with the same amount of RAM, reducing overall storage costs. Customers will also achieve quicker recovery time objectives (RTOs) and lower downtime costs with up to 40% faster recovery from deduplicated storage.
Faster Backup with Expanded Storage Support: Enables backup of network file system (NFS) shared folders and delivers improved backup to NFS-based Network Attached Storage (NAS), SMB/CIFS, FTP and SFTP.
Extended Operating System Support: Complete support for Microsoft Exchange® 2016, Microsoft Windows® 10, Microsoft Windows Server® 2016 Tech Preview 4, VMware vSphere® 6, Linux® kernel up to 4.4, and Red Hat Enterprise Linux® 7.x.
Acronis Backup Cloud, version 5 – What's New
 The new version of Acronis Backup Cloud provides the following benefits:
Acronis Backup Cloud is an affordable, secure, and highly scalable hybrid cloud backup service that makes it easy for SMBs to manage protecting devices no matter where they are located or where the business wants the backup stored – either locally, in the cloud or both. Acronis Backup Cloud 5 is based upon a cloud architecture and designed to fit any service provider technology environment and business model. 
Automated service management tools: Enables service providers to better manage consumption, quotas and backup alerts, resulting in time-savings and increased revenues.
Self-service backup monitoring: Provides greater control of the backup process for end users, including viewing of backup progress and the ability to protect machines with a single click after the agent installation.
Centralized dashboard: allows end users to view alerts and conduct audits from a single location and management console.
"Our latest Acronis Backup solutions have been pushed to the limit when it comes to testing, performance, and reliability – it's our most solid backup release ever,' said Steve Goh, Vice President and GM of Sales, APAC & EMM Acronis. "We've also responded to customer feedback by making everything easier, including a simplified buying process with subscription pricing and seamless upgrades to new solutions that will keep our partners and end users prepared for whatever future challenges lie ahead."
Powered by the Acronis AnyData Engine, a set of unique, reliable, and powerful data protection technologies that capture, store, recover, and manage data in physical, virtual, hybrid, and cloud environments, all Acronis Backup solutions provide a centralized management console across any environment and location. Acronis Backup solutions are a part of the company's complete set of hybrid cloud data protection solutions, which also include cloud storage, disaster recovery and file sync and share.
Acronis delivers solutions to the SMB market through a global partner ecosystem of service providers, including hosters and telcos, as well as distributors and cloud resellers. End users can choose their deployment model, including service provider-hosted, Acronis-hosted, or hybrid deployments that can include on-premises solutions.