News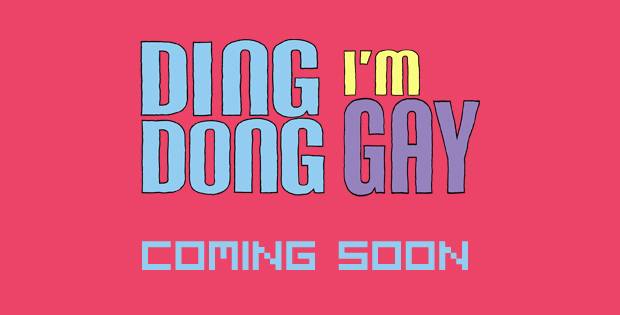 Published on May 10th, 2018 | by Admin
NEW QUEER-POSITIVE WEB COMEDY, 'DING DONG I'M GAY', LAUNCHES ONLINE
Sydney – Launching today is the new queer-positive web comedy, Ding Dong I'm Gay, created by award winning writer Tim Spencer and directed by Sarah Bishop of Skit Box and Wham Bam Thank You Ma'am. Offering new, exciting and entertaining LGBTQIA+ content for an online audience hungry for positive and diverse stories, Ding Dong I'm Gay dives into the fantastical realities of bad sex, unwanted house-guests, the queer experience and hostile first-aid instructors.
Over three introductory episodes, Ding Dong I'm Gay follows an overachieving people-pleaser as he reluctantly takes on the role of hopeless fairy godmother when his newly out-and-proud cousin arrives on his doorstep looking for somewhere to belong.
After moving to Sydney and coming out, Cameron was certain he would be flooded with invitations to parties in tasteful apartments and weekends away with jaw-lined boyfriends who could fly planes and knew CPR. Now, six years later, Cameron's hopes and dreams have flatlined. He suspects his pregnant neighbour is stealing his Wi-Fi and his Chinese student flatmate may or may not be a secret agent.
When Cameron's hopelessly naive cousin from Yass arrives with the news that he too is gay, Cameron takes it upon himself to become his gay guru and right the wrongs that were visited upon him by contemporary gay life.
Created and written by, and starring, Tim Spencer (writer of queer short film, Cherry Season, now available on SBS On Demand) and Zoe Norton Lodge from ABC's The Checkout, Ding Dong I'm Gay is produced by Joshua Longhurst and Rosie Braye of new independent film production company Wintergarden Pictures. Director Sarah Bishop also stars, alongside Remy Brand (Sam Fox: Extreme Adventures), Alex Lee (The Checkout) and Rupert Raineri (Pirates of the Caribbean: Dead Men Tell No Tales).
Director Sarah Bishop says, "Having long known Tim Spencer and Joshua Longhurst, it was always frustrating to me that some of the funniest people I knew weren't actually making comedy. So when they told me they were moving from drama into comedy with this project, I camped outside their house for a month until they agreed to have me involved". Sarah adds, "Tim and Zoe have written an amazing story that is funny, heartfelt and the perfect amount of absurd. I couldn't be more excited for people to see Ding Dong I'm Gay."
Writer and creator Tim Spencer comments, "I'm really proud of Ding Dong I'm Gay and what the whole team has been able to produce. It's something I have wanted to create for a long time and to see it on screen gives me a great sense of pride. I feel so incredibly fortunate to work with this team of creatives who constantly upped the ante and brought these episodes to a whole new level of fun."
Writer Zoe Norton Lodge adds, "I've loved working on Ding Dong I'm Gay because the team behind it are wicked, gloriously absurd and equal parts fierce and fearless. I think you can see these things in the final product and it's so exciting to be a part of that."
Comedian Alex Lee, who plays Sweetie, says, "I'm thrilled to be involved in Ding Dong I'm Gay. It's sexy, joyful and silly, and Sweetie is an absolute maniac."
The recently released Ding Dong I'm Gay trailer has been viewed over 43,000 times on social media, proving there is a strong appetite for short-form queer comedy.
Three initial episodes launch today with a full series currently in development, produced by Wintergarden Pictures. The planned series will continue to follow the loveable Ding Dong I'm Gay characters as they navigate the potholes and politics of the contemporary queer scene.
Watch Ding Dong I'm Gay online now.