Games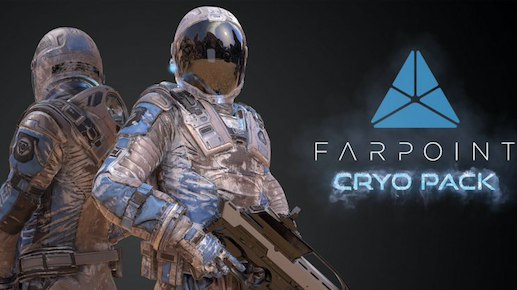 Published on June 30th, 2017 | by admin
New PlayStation VR Titles Released This Week
Sony Interactive Entertainment Australia is excited to share a diverse line up of new PlayStation VR titles that are all now available to download via the PlayStation Store.
From new DLC for Farpoint, to the new music VR experience from Grammy Award winning DJ Duo The Chainsmokers, PlayStation VR lets you experience a new way to play.
Farpoint Cryo Pack expansion (PS VR with Aim Controller support)
The Cryo Pack is Farpoint's first DLC, available to download for free. The expansion takes players to two new regions of the planet, which are covered in snow and ice, with enemies reskinned to adapt to the cold. Not only will players experience these two new regions via co-op, but the Cryo Pack makes these new additions – along with the previously
Click here to watch the Farpoint Cryo Pack DLC trailer.
Arizona Sunshine Launch Edition (PS VR with Aim Controller support)
Virtual reality meets the zombie apocalypse! Arizona Sunshine is a VR FPS that immerses you in a post-apocalyptic, south-western America overrun by zombies. Armed with only your motion-controlled weapons and the scarce ammo and consumables you find along the way, navigate the hordes of zombies coming for your brain in your search for human contact.
Click here to watch the Arizona Sunshine launch trailer.
The Chainsmokers Paris VR Experience (PS VR)
Go on an epic journey with Grammy winning DJ Duo, The Chainsmokers, as you travel through dreamlike environments. You'll influence new remixes of the hit song 'Paris' based on the choices you make throughout the experience. The Chainsmokers' hit single 'Paris' is from their debut album "Memories…Do Not Open". Click here to listen to the hit single and here to watch the VR experience trailer.
Spider-Man: Homecoming VR Experience (PS VR)
Available for free, this new VR experience is based on the highly anticipated movie from Columbia Pictures, Spider-Man Homecoming (in theatres 6th July). Spider-Man: Homecoming VR offers players to suit up as Spider-Man, hone their web-shooting skills, and sling high above New York City in pursuit of the Vulture.
Click here to watch the Spider-Man: Homecoming Virtual Reality Experience trailer.
Ancient Amuletor (PS VR)
Ancient Amuletor is an action tower defense game that throws you into an ancient world to battle magical creatures, monsters and other legendary foes in single-player and co-op multiplayer for up to three players.
Click here to watch the Ancient Amuletor launch trailer.
For all the latest PlayStation news, follow PlayStation Australia on Facebook, Twitter, Instagram and YouTube.