Hardware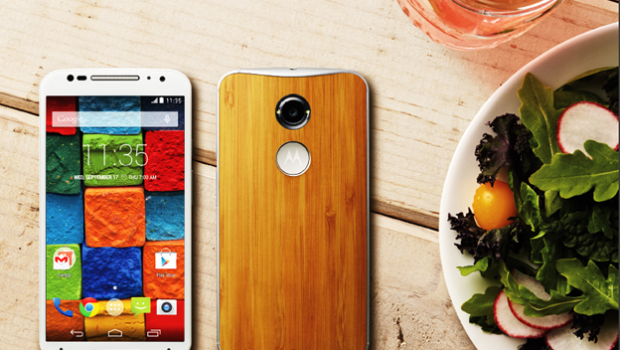 Published on December 12th, 2014 | by admin
The new Moto X available in Australia for Christmas
Motorola brings Pure Style Pure Performance 
Sydney, Australia 12th December 2014: Motorola brings the new Moto X to Australia from 15th December 2014 at selected retailers. The 16GB Moto X comes in black resin or wood finish back panel and will be available for an MSRP of up to A$749 for the resin and A$789 for the wood finish. Please contact your preferred retailer for stock availability.
The new Moto X builds upon the premise that personal technology should actually be personal. The new Moto X has an all new design, new authentic materials, and new ways to respond to you and to assist you throughout the day. Of course it has all the latest specs and technology built in, so you get the performance you would expect of a premium smartphone, combined with a beautiful design aesthetic. View product specifications here.
The new Moto X: Pure style. Pure performance.
The new Moto X is designed with a sense of style and balance, featuring a curved metal frame, vivid 5.2" Full HD display, and authentic materials such as FSC® certified wood that feel great in your hand. Moto X gives you fast performance with the latest, unadulterated version of Android along with the quickest updates. Enhanced voice control lets you select a custom prompt, and use your voice to do just about anything. Plus, Moto X learns your preferences and adapts to you, making everyday interactions easier.
A Pure Android Experience
The pure Android experience on the new Moto X gives you amazing performance and speed by eliminating unnecessary layers of software and complicated features that come between you and the phone.
The Performance You Expect
With a powerful 2.5Ghz Qualcomm® Snapdragon™ 801 quad-core processor and 2GB of RAM, Moto X responds faster than ever with less battery drain. Seamlessly switch back and forth between your favourite apps.
Naturally Intelligent
Motorola focuses on mobile experiences that complement Android, not compete with it. The new Moto X simplifies your everyday life by interacting with you in natural ways. It's smart, so it learns from you. It's responsive, so it adapts to you.
Moto Voice – Do more than ever with just your voice, without ever touching the phone. Use your voice to interact with some of your favourite apps like Facebook, YouTube, and WhatsApp. Even personalise the experience with your very own customised voice prompt like "You there Moto X?"or "Wake up buddy!"
Moto Assist – Life can be hectic and Moto X can adapt its behaviour in certain situations so that you can do more or never be interrupted.
Moto Display – You don't have to wake Moto X up to look at the time or sneak a peek at your latest messages. When your display is off, up to three notifications pulse quietly on the screen without interrupting you.
Moto Actions – Go beyond just tapping and swiping your screen. Use simple gestures to conveniently interact with your Moto X. It knows when your hand is approaching and activates.
Moto Display – Wave your hand to silence incoming calls or snooze alarms. 
13MP Camera
The new Moto X ensures that you never miss the moment. Just pick it up and twist your wrist twice and Moto X is ready to shoot. Touch anywhere on the screen to take the photo. 
About Motorola Mobility 
Motorola Mobility connects people to the mobile Internet with affordable devices that don't compromise on quality, experiences or style. For more information, visit motorola.com.