Games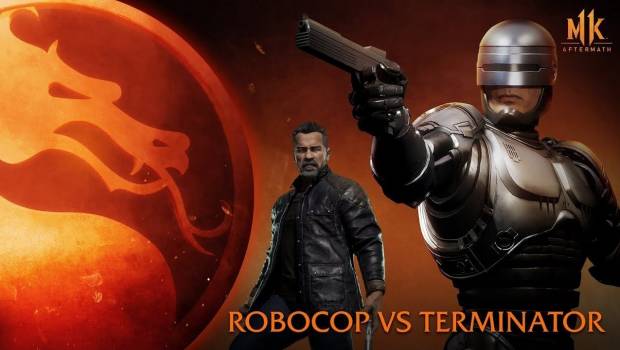 Published on May 22nd, 2020 | by Adrian Gunning
New Mortal Kombat 11: Aftermath Trailer Debut Iconic Konfrontation Between RoboCop and the Terminator
Warner Bros. Interactive Entertainment and NetherRealm Studios have released an explosive, new Mortal Kombat 11: Aftermath trailer featuring the highly anticipated iconic showdown bursting into the Mortal Kombat universe – RoboCop vs the Terminator.
This marquee matchup showcases a Konfrontation for the ages between RoboCop, the highly advanced cybernetic police officer making his franchise debut as a new guest character in Mortal Kombat 11: Aftermath, and the Terminator, the ultimate cyborg assassin who is currently a playable fighter as part of the Mortal Kombat 11 Kombat Pack. In the new trailer, RoboCop is triumphant. Depending on where your loyalties lie, it will be up to players to decide which pop culture icon takes home the victory on May 26 when Mortal Kombat 11: Aftermath launches digitally first.
RoboCop in Mortal Kombat 11: Aftermath features the voice and likeness of actor Peter Weller, who portrayed the popular character in both the original "RoboCop" (1987) film and "RoboCop 2" (1990) sequel, while his opponent, the Terminator is based on actor Arnold Schwarzenegger's character from the "Terminator: Dark Fate" film.
Those who have already purchased Mortal Kombat 11 can preorder the Mortal Kombat 11 Aftermath expansion now, which includes the franchise-first story expansion, three new playable characters (Fujin, Sheeva and RoboCop), three character skin packs (incl. three skins each) to be released over time and the "Thanks a Million" Johnny Cage skin, all $59.95 (SRP) Players can also preorder the Mortal Kombat 11: Aftermath + Kombat Pack Bundle for $69.95 (SRP).
New players can join the fight with the Mortal Kombat 11: Aftermath Kollection, including Mortal Kombat 11 along with all content from Mortal Kombat 11: Aftermath and the previously released Kombat Pack (incl. the Terminator). The Mortal Kombat 11: Aftermath Kollection will be available digitally on May 26 and can be pre-ordered now* for $89.95 (SRP) with digital preorders offering immediate access to Mortal Kombat 11 and the Kombat Pack upon purchase.
All preorders will receive the Eternal Klash Skin Pack at launch, featuring three new character skin variants – "Unbound Rage" Scorpion inspired by Mortal Kombat (2011), "Son of Arctika" Sub-Zero inspired by Mortal Kombat: Deception and "Kori Power" Frost, a Klassic version of the Lin Kuei warrior.
To learn more about Mortal Kombat 11, please visit www.mortalkombat.com or join the community conversation on Facebook (MortalKombat), Instagram (@MortalKombat), Twitter (@MortalKombat), Twitch (NetherRealm), YouTube (Mortal Kombat), Discord (MortalKombat) or Reddit (MortalKombat).